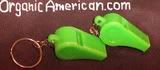 Last week, the shareholders of Ford rejected a motion for measurable environmental stewardship within the company.
The proposal asking Ford to adopt "quantitative goals for reducing total greenhouse gas emissions from the company's products and operations" garnered only 14.12 percent support of the shareholders.
One might imagine that approval of a motion asking ONLY THAT would be assured - at any corporation that even wants to pretend to be environmentally responsible. But no.
Corporations 'talk the talk' in green image advertising all the time - occasionally leading some of us towards cautious optimism about their intentions. This story reminds us that most of them still don't want to walk the walk.
cross-posted from http://www.organicamerican.com