The pickings are getting slim from across the pond. The Brits and Frogs are involved in their own domestic issues.
But Martin Rowson of The Guardian was able to capture Blair's Farewell Tour in Baghdad. Just a few hours after a mortar bomb had fallen in the protected green zone near the British embassy and in a weekend when eight American soldiers were killed and 43 Iraqi civilians were found murdered.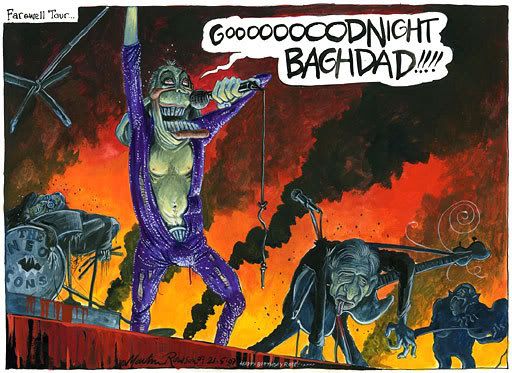 Yep ... that's Rumsfeld on drums, Wolfowitz on base and our very own Prz-nit all the way to the right on guitar ... Wow!


A couple more below the fold ...
We close the nasty chapter on Paul Wolfowitz with an attempt to get into the mind of this complex individual ...

Well then we had the press conference. It seems the evil-doers now offer up something more to fear than bird flu ...
Well this is Memorial Day weekend which means we get to see The Chimp and The First Enabler go through the motions ...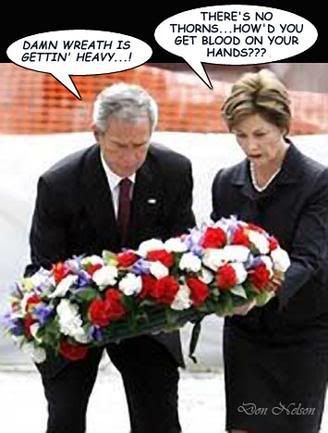 As of today, some 101 men and women have died this month for the sick excuse of a bird shit magnet president George Bush. Someday this perverse fuck for a president will find 'popular support' for a monument. Until then, he will have to settle for the thousands he's created day by day. Here's one ...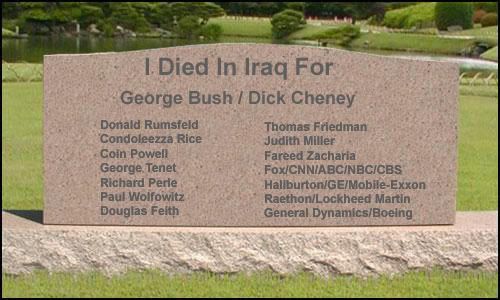 You're all smart ... please find some small way to support our troops. If you'd rather not do the research and 'click and give', I'd like to suggest The Fisher House.