In the Senate
S.154 -- Title: A bill to promote coal-to-liquid fuel activities.
Status: Referred to the Committee on Energy and Natural Resources.
Sponsor: Sen Bunning, Jim [KY]
COSPONSORS(12)
Sen Bond, Christopher S. [MO]
Sen Byrd, Robert C. [WV]
Sen Craig, Larry E. [ID]
Sen Dorgan, Byron L. [ND]
Sen Enzi, Michael B. [WY]
Sen Landrieu, Mary L. [LA]
Sen Lugar, Richard G. [IN]
Sen Martinez, Mel [FL]
Sen Murkowski, Lisa [AK]
Sen Obama, Barack [IL]
Sen Pryor, Mark L. [AR]
Sen Thomas, Craig [WY]
In the House
H.R.370 -- Title: To promote coal-to-liquid fuel activities.
Status: Referred to the Subcommittee on Energy and Air Quality.
Sponsor: Rep Davis, Geoff [KY-4]
COSPONSORS(30)
Rep Bachus, Spencer [AL-6]
Rep Boucher, Rick [VA-9]
Rep Boustany, Charles W., Jr. [LA-7]
Rep Cannon, Chris [UT-3]
Rep Capito, Shelley Moore [WV-2]
Rep Costello, Jerry F. [IL-12]
Rep Cubin, Barbara [WY]
Rep Davis, David [TN-1]
Rep Davis, Lincoln [TN-4]
Rep Drake, Thelma D. [VA-2]
Rep Duncan, John J., Jr. [TN-2]
Rep English, Phil [PA-3]
Rep Everett, Terry [AL-2]
Rep Hastert, J. Dennis [IL-14]
Rep LaHood, Ray [IL-18]
Rep Lewis, Ron [KY-2]
Rep Murphy, Tim [PA-18]
Rep Pickering, Charles W. "Chip" [MS-3]
Rep Rahall, Nick J., II [WV-3]
Rep Rehberg, Dennis R. [MT]
Rep Rogers, Harold [KY-5]
Rep Rogers, Mike D. [AL-3]
Rep Rush, Bobby L. [IL-1]
Rep Shimkus, John [IL-19]
Rep Shuster, Bill [PA-9]
Rep Souder, Mark E. [IN-3]
Rep Tancredo, Thomas G. [CO-6]
Rep Whitfield, Ed [KY-1]
Rep Wilson, Charles A. [OH-6]
Rep Yarmuth, John A. [KY-3]
Problem #1: Bad Energy Policy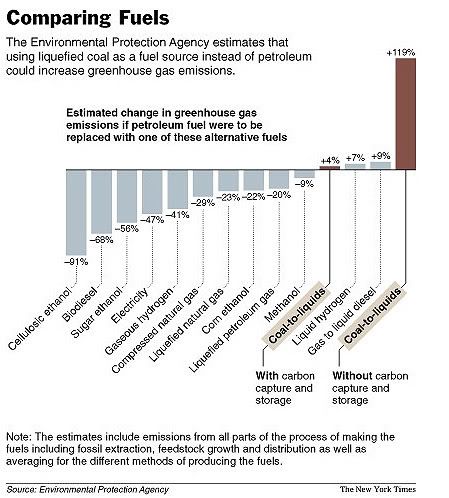 We don't know how to sequester mass quantities of carbon dioxide created during coal liquefaction yet. Even once we figure that process out--a solution that will no doubt reduce the net energy output of the coal to fuel process itself--we've still got a dirty fuel that increases greenhouse emissions compared to petroleum.
Problem #2: Bad Social Policy
The coalfields of West Virginia are a mess. The cycle of rural poverty runs deeper than the veins of rich coal unearthed by generations past. For all of the natural riches extracted from Appalachia, no wealth has remained behind. The colonial extraction economy built on King Coal has been a human, social and environmental failure.
Once, coal mining employed hundreds of thousands of West Virginians. Today--as in so many other sectors of the economy--new methods making workers far more productive. The result is merely record corporate profits with no increase in worker benefits.
At the same time that Mountain Top Removal (MTR) surface mining practices now blight the wild, wonderful beauty of West Virginia, our coal mining employment has been literally decimated-- a 90% drop from 150,000 down to 15,000 workers.
The toll of Mountain Top Removal hits worst, those who can least afford it the least. From Appalachian Voices:
Mountaintop removal involves clear cutting native hardwood forests, using dynamite to blast away as much as 800-1000 feet of mountaintop, and then dumping the waste into nearby valleys, often burying streams. While the environmental devastation caused by this practice is obvious, families and communities near these mining sites are forced to contend with continual blasting from mining operations that can take place up to 300 feet from their homes and operate 24 hours a day. Families and communities near mining sites also suffer from airborne dust and debris, floods that have left hundreds dead and thousands homeless, and contamination of their drinking water supplies.

In central Appalachian counties, which are among the poorest in the nation, homes are frequently the only asset folks have. Mining operations have damaged hundreds of homes beyond repair and the value of homes near a mountaintop removal sites often decrease by as much as 90%. Worst of all, mountaintop removal is threatening not just the people, forest and mountains of central Appalachia, but the very culture of the region. Coal companies frequently claim that mountaintop removal is beneficial for the people, economy and the environment, but the just don't hold up.
Reject the coal surge strategy
Rep. Nick Rahall (WV-03) in a tough spot. [He's one of the driving forces behind this legislation.]
Just about all his district has for an economy is coal. Just about all that coal mining is now mountain top removal. Just about anyone that leaves the district for college never comes back.
The question is, do we double-down on a fossil fuel based coal-economy?
It is a totally tragic situation. Any direction out is going to cause major pain in the short term.
Right now we've got people with poisoned well water, foul air, and a place hardly worth living in a region dependent on coal. Stopping Mountain Top Removal--the right thing to do, in my mind--risks a major economic collapse.
A better way forward
It's time for some new thinking about both the social and environmental solutions for Appalachia and other regions suffering from the negative effects of our fossil-fuel based economy.
The proposed legislation of S.154 and HR.370 is throwing good money after bad. Instead of postponing that day of reckoning, let's figure out how to invest for a more positive future.
I have the audacity to hope for a brighter future for even the least fortunate among us. Can we give the residents of rural coal country drinking water that won't poison their kids, clean air to breath, and a hope that someday their grand-children will have a good-paying job without moving clear across the country? Instead of investing billions of dollars in corporate welfare lets invest that money in helping the least fortunate among us. They've already suffered enough on our behalf.