Prevention of "Voter Fraud" is a dominant electoral strategy within the GOP. Although there are numerous examples of REGISTRATION fraud, actual casting of illegal ballots is rare. As such, political manipulation of the DOJ and efforts to enact voter ID laws and other ballot security measures are largely based upon partisan beliefs, rather than facts.
The cost of these "anti-fraud" efforts to our Democracy is disenfranchisement. The side-effect (and perhaps the goal) of these efforts is suppression of voters who traditionally vote for Democrats. When suppression of Democratic voters disproportionately affects minorities, it violates Civil Rights laws and court-ordered consent agreements prohibiting this activity.
A cadre of young, idealistic Republican "fraud warriors" has been appointed at the DOJ, and there has been an exodus of career lawyers committed to civil rights from the DOJ voting section. Reshaping the DOJ to aggressively pursue voter fraud and deconstruct the DOJ department charged with protecting voter rights appears to be a two-pronged approach to manipulate the electoral process and ensure Republican advantage at the polls. The recent Prosecutor Purge at the DOJ undoubtedly has its origins in this philosophy.
After contributing to cause a fracas based on an initial review of Greg Palast's reporting on caging and USAGate, I sought to comprehensively research the issues of caging in the 2004 elections. To get the facts right, I went to ePluribusmedia for help. During these efforts, larger themes emerged. Several members of ePluribusmedia (especially standingup) helped sculpt the original research and reporting linked below:
ePluribusmedia article
Note: Paul Kiel TPM published a similar, but less comprehensive analysis this morning and reached similar conclusions. Thus 2 independent research groups have confirmed the bias of caging in 2004.
Beacuse of the last minute rush, another article at ePluribusmedia still in Copy editing will follow shortly.
The short story is as follows:
"Caging" was employed in 2004 in Duval County, Florida.
The process of caging in Duval County acquired addresses from "Black" precincts more efficiently than from "White" precincts. The resulting caging list contained more Minority voters than White voters. As such, the method of caging is racially biased.
Although reporting on the issue of caging in Duval County has to date in many cases not been accurate, caging is indeed part of the widespread GOP efforts that effect voter suppression under the rubric of preventing "voter fraud".
Caging lists were not used to make Election Day challenges in Duval County. This was clearly an intended use for the list, but a ruling based on an Ohio caging case and the reporting of Greg Palast bringing attention to the RNC role in Florida caging apparently thwarted this plan.
Caging lists were not restricted to Florida and Ohio. They were also collected in at least Nevada, New Mexico and Pennsylvania. Use of these other lists to effect voter suppression in 2004 is not yet known.
In 2004, caging was initiated and organized by the RNC, with the complicity and co-direction of the Bush/Cheney campaign, in knowing violation of the court-ordered, 1982 Consent Decree.
Below are salient points from the linked article, that include my opinions, apart from what is published in the ePluribusmedia article:
2004 Caging Was Racially Biased
(See ePluribus media article and further discussion below) Based on population statistical data, the process of caging employed in Duval County in 2004 identified Democrats much more efficiently than Republicans, and the almost certain purpose of that (and all caging by Republicans) is to generate a tool to be used to suppress Democratic votes.
Possibly as a side effect of the caging process, Black voters, who traditionally vote for Democratic candidates, were caged at a higher frequency than white voters. As such, caging is racially biased (See below for exact numbers). Whether this is intentional or simply a byproduct of the caging mechanism, it is a fact.
Racially Biased Ballot Security Measures violate the 1982 consent decree
Because involvement of the RNC in measures that disproportionately discriminate against a racially defined population of voters is prohibited by a 1982 Consent Decree, and because the RNC was clearly involved in widespread caging in 2004, the RNC was clearly in violation of the consent decree. However, in a sworn declaration to the US District Court, District of New Jersey, Civil Action No. 81-3876, which pertained to 2004 Ohio Caging lists, Deputy RNC Chairman Maria Cino swore under oath that the RNC "has not been involved in any efforts to suppress voter turnout...."
The RNC and Bush/Cheney 2004 were involved in caging
Documents obtained during limited discovery in the above cited Ohio caging case revealed indisputable RNC involvement in caging (Tim Griffin and others), as well as concern about "GOP footprints" if the caging efforts were brought to light.
Link to "footprints" concern emails
Further, Bush/Cheney campaign National Field Director Coddy Johnson suggested use of caging lists to challenge absentee ballots in Ohio, Pennsylvania, Florida, Nevada and New Mexico. This email was sent to Terry Nelson, Political Director of the 2004 Bush/Cheney Campaign.
Link to widespread caging email
Additionally, Tim Griffin (and other RNC operatives) is the recipient of the Duval County caging list, to which he responded "thank you, perfect". This is probably a big reason no one wanted Tim Griffin to be subject to a confirmation hearing when appointed to be US Attorney in Arkansas. If he told the truth, America would learn that the RNC and the Bush/Cheney campaign was indeed involved in caging in 2004. However, there are indications Tim Griffin will not be truthful about his involvement in ballot security measures. At a recent speech at the Clinton School of Public Service, Griffin told questioners that "I didn't cage votes, I didn't cage mail and I didn't cage animals", and that he had to look up the term "caging" to find out what it means. Importantly, Mindy Tucker Fletcher's response to a BBC report on the Duval County caging list in October 2004 stated that "caging is a commonly used term in the political process by which someone opens a large amount of mail and logs it into a database." Considering that Ms. Fletcher was the RNC Communications Director in 2002, and Mr. Griffin was the RNC Research Director/Deputy Communications Director in 2004, that he would not know the definition of caging strains credulity. Furthermore, documentary evidence has firmly established his key role in caging as a ballot security measure in the 2004 election.
Preventing Caging List use in Ohio and Florida was a Victory for Voter's Rights
Despite the apparent "best laid plans" to enact ballot security measures and challenge voters in the 2004 elections, caging lists were not used to make Election Day challenges in Duval County, and there is no evidence of caging-based challenges in Ohio. Although it was stayed in the afternoon of Election Day, the decision in the Ohio case precluding election day challenges based on caging lists probably played a role in preventing caging list use in Florida. According to Daniel Tokaji, an election Law expert at Ohio State University, there were also three other pre-election legal cases "challenging the challengers" in Ohio that added to the confusion over whether polling place challenges would be permitted. Combine 1) these legal challenges and 2) an affidavit by the RNC that they were not involved in voter suppression, with 3) Greg Palast's BBC report on the Florida caging list and the 4) Clear RNC role in caging operations, and one can surmise the reluctance to call further attention to caging by making election day challenges Duval County.
There were certainly other Election Day issues (especially in Ohio), but voter challenges based on caging lists were apparently not among these.
Potential errors in Prior Reporting on Caging
Despite his possible role in helping thwart voter suppression, Mr. Palast's reporting on caging since 2004 contains numerous claims about the GeorgeWBush.org "caging lists" that cannot be confirmed by publicly available evidence:
Claims about the number of caging lists from GeorgeWBush.org cannot be verified (We got them all, and there is one comprehensive list from Florida and one from Nevada). Claims about the number and location of caged voters on GeorgeWBush.org caging lists cannot be verified (There are 1833 and 21 in Florida and Nevada, respectively). Alarming claims that GeorgeWBush.org caging lists were "made up entirely of voters in African-American neighborhoods" or that most addresses "were in African-American majority ZIP codes" cannot be substantiated based on the available evidence. Furthermore, in what appears to be a poorly researched test case to illustrate African-American voter suppression, Mr. Palast cites one name from the caging list, Randall Prausa, in Armed Madhouse and multiple press releases such as this:
From GregPalast.com, June 15, 2007:
So here's a hanky, Mr. Griffin. This unnamable reporter would rather you save your tears for Randall Prausa. The African-American soldier was on active military duty when he ended up on one of your caging lists, what you term a suspected 'fraudulent' voter subject to GOP challenge because he was not home to get his fraudulent, 'Welcome, voter,' letter from the GOP.

Can you guess, Mr. Griffin, why Prausa wasn't at home? Well, unlike Messrs. Rove and Bush, Prausa was serving his country overseas.

And that's what caging is all about. If you're Black, you get shipped to Baghdad and you lose your vote. Mission Accomplished, Mr. Griffin. Mission Accomplished, Mr. Rove.
However, Mr. Prausa is White and voted in the 2004 election. And according to Duval County voter records, his absentee ballot in 2004 was counted.
Further, of 50 sailors residing at Duval County's Naval Air Station, a group that Palast suggests are "African American Servicemen" in Armed Madhouse and on his website, 43 have publicly available data defining their race. Over half (23 of 43) are White, whereas only 23.3% are Black (10 of 43). Thus characterization of caged servicemen as "Buffalo Soldiers" seems poorly considered.
There is no reason to exaggerate claims about caging
Regardless of apparent errors with Palast's work, the Duval County caging lists were undeniably racially biased. We obtained the entire file of registered voters (Compiled June 8, 2007) from Duval County in response to a request for public records. We also got the list of all the voters removed. For all of these individuals, their race and political party affiliation is publicly disclosed. Of the list of 1833 unique caged names and addresses, 1522 remain on the voter rolls and another 132 are listed as being removed from the voter rolls (although 24 removals were based on felony convictions, none of the 132 were removed due to returned mail). Thus, the ethnicity of 1654 voters (90.2% of the caging list) is available for researchers. Duval County has 548,551 registered voters, and these voters are racially identified as 147,365 Black (26.9%), 352,302 White (64.2%), and 16,108 Hispanic (2.9%). The below table and figure illustrate the selective bias for inclusion of minorities and exclusion of Whites into the caging list.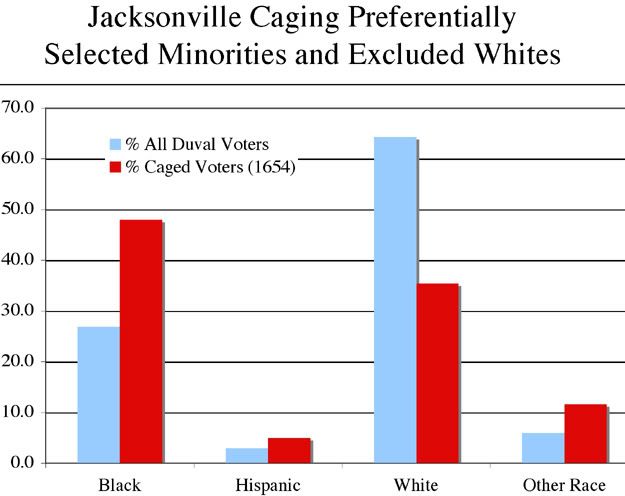 Based on the number of identified voters, a selection of 1654 names should have 1063 white voters if they were selected randomly from the list. However, the Duval County caging list contains only 586 White voters.
Based on Binomial Probabilities assessing White versus Non-White voters, the probability that 586 or fewer White voters would be picked randomly from Duval County voter rolls in a list of 1654 names is 1 in a number followed by 125 zeros.
The truth should speak for itself. Not even the most partisan observer could rationally deny that caging, as employed in Duval County in 2004, is intrinsically racially biased. Caging by the Republican Party is a conspiracy, but it is one part of the Global War on the Constitution manifest in schemes to suppress voters. That said, caging should certainly be investigated further as an unethical and probably illegal scheme to suppress voters, and it should not be a tool of political machinations in our Democracy.
I hope that this research and analysis establishes a verifiable foundation for the very real, very biased, method of Republican caging in Duval County in 2004, and the political machinations associated with its use by the Bush-Cheney '04 campaign, state Republican Parties and the RNC.
This research sourcing and analysis will be made freely available to any and all parties interested in confirming and continuing the work.
.
.
.
.
Note to the many Greg Palast Fans
In closing, I'd like to emphasize that this effort was not undertaken with the purpose of discrediting or otherwise damaging Mr. Palast's reputation as an award-winning journalist on many issues important to Democratic principles and justice. Nor was it intended to minimize the importance of his primacy in bringing the issue of caging to public attention or to discredit the role he may have played in thwarting caging efforts in 2004. Greg Palast's focus on the issue of caging indeed may help prevent unethical or illegal voter suppression in future elections- it certainly helped to get me interested in the issues. However, because efforts to suppress voters by caging are serious and possibly illegal, and because the interest in the caging controversy extends to the highest levels of government, reporting on caging should be restricted to the facts, the truth, and be free of exaggeration or misinformation.
Updated 120pm central: better editing of figure and text to reflect Duval County, rather than Jacksonville City information. Rush to publish to compete with TPM piece prompted my editing problems. Apologies.