Al Gore praised New Jersey Governor Jon Corzine (D) today as the State of New Jersey enacted the toughest laws in the country to combat greenhouse gas emissions
The Global Warming Response Act mandates a state-wide reduction of greenhouse gas emissions to 1990 levels by 2020 and an 80 percent reduction by 2050, making it by far the most stringent environmental legislation of any state in the nation.

It also includes an Emissions Portfolio Standard, which will block dirty power from being imported into New Jersey from other states and an Efficiency Portfolio Standard, which will save New Jersey both energy and money, officials said.
Vice President Al Gore speaks as Gov. Jon Corzine claps his hands during a press conference today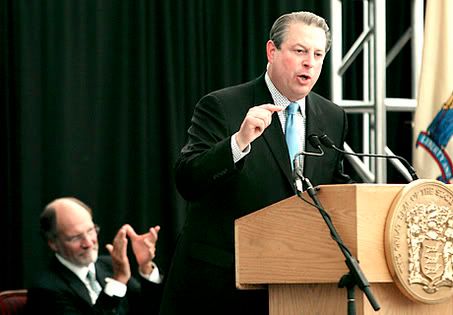 (Photo: Mitsu Yasukawa/The Star-LedgerFormer)
With Gore, environment and business leaders, and legislators gathered at the site of Giants Stadium in East Rutherford, Governor Corzine criticized the Federal Government's lack of leadership on this critical issue as (previously skeptical) business leaders praised his efforts
"In the absence of leadership on the federal level, a burden of reducing greenhouse gases has now fallen upon the state," Corzine said. "I'm proud that New Jersey is one of the first among a handful of states that are leading the nation."

Business leaders, while initially apprehensive of the legislation, have signed on. Ralph Izzo, chairman, president and CEO of Public Service Enterprise Group, Inc. spoke at the bill signing ceremony and praised the legislation.

"Today through this landmark global warming legislation, New Jersey demonstrates its commitment by providing a blueprint for achieving measurable reductions in greenhouse gas emissions that threaten our health and livelihoods," Izzo said.
Gore will return to New Jersey tomorrow for the Live Earth Concert at the Meadowlands. Here is the complete concert and tv broadcast schedule. As a reminder
MSN will stream the Live Earth concerts LIVE from all seven continents starting from Sydney, Australia and continuing geographically and chronologically across the globe. Log on tonight -- Friday, July 6th -- at 9:15pm (ET) / 6:15pm (PT) (since it's tomorrow already in Australia) for the start of what is destined to be an incomparable 24 hours.
As to continued speculation about Gore's presidential ambitions in 2008, Dylan Malone of the Draft Gore group said that it is not that difficult to understand Gore's reluctance to talk about his future plans now
"Of course, Mr. Gore has been fairly dismissive of presidential talk pre-Live Earth," Malone told NJpols. "He knows that he has no choice but to askew presidential politics until after July 7. He has put these things as far out of his mind that he can. It would inappropriate to give him 75 hours of network television coverage if he [were] running for president."

Malone said that Gore will have plenty of time to make this decision sometime late in the summer or early fall. "He knows that the White House is the ultimate place to deal with the problem," Malone said. "He's reached the point where it's become clear that if he wants to see the climate crisis tackled he is going to have to get into the race."
So, should we expect a decision from Al Gore in the next couple of months?
(crossposted at Truth & Progress)