So, I was supposed to be writing the Kossacks Under 35 diary today about getting politically involved--but it just so happens I'm so politically involved that I have to drive up to Sacramento pretty soon to take my seat on the Platform Committee of the California Democratic Party, since the Executive Board is meeting there this weekend. So I'll see you all later.
UPDATE: Oh, forgot to put in a tag...oh what the hell. If I have to actually do the work to put in a tag, I may as well write a diary.
Essentially, the history of my political experience can serve as a good lesson for young Kossacks--or any Kossack, for that matter--on how to get better politically connected and make a meaningful difference--especially locally. And it's not a bad story.
Follow below the fold.
Flash back to early 2004. Could have been February, not exactly sure. I had graduated from UCLA in 2003 the previous summer with my degree in Greek and Latin, but had decided that the academic life wasn't for me. Problem was, I didn't have any other direction to go in, so I was basically treading water, directionless and basically unhappy.
I had always been politically aware, and I had always been a Democrat. I was in the hospital with food poisoning the night that Bush v. Gore was decided--to this day, I'm not sure what made me sicker, Bush v. Gore or the food poisoning. And on top of that, I had a final the next morning. Fun times.
So, it naturally piqued my interest when my brother--whom you know as thereisnospoon--mentioned a Presidential candidate that was taking the nation by storm. I think you know who he was talking about: Howard Dean. "Finally," I thought to myself, "a candidate who is not only right on all the issues, but knows how to talk about them."
I was pretty much hooked on Dean. I eagerly checked the campaign news, almost gloating in his seeming invincibility as each successive bat got filled to double capacity, and each fundraising report looked even better than the last. And I attended some meetups and did some speaker training for the Governor and Chairman. And it was fun, and things were good.
You notice how I haven't mentioned the word "blog" yet? We'll get to that.
We all know what happened, and it was a shock to my system. I was a little depressed, and I found it a little hard to get motivated after putting so much emotional investment in Howard Dean.
But then something wonderful happened: I got on a bus. And it changed my life forever.
You see, later that summer in 2004--could have been June or July, I'm not sure exactly when--I heard about an organization called SoCalGrassroots that arranged for volunteers from the Los Angeles area to head to Arizona to volunteer for the Kerry campaign and help turn out the vote, especially in Tucson. It seemed like such fun! A weekend in Tucson, doing something to save democracy. A chance to get involved. And as it turns out, I had a wonderful time. Participating in protests, working my ass off plowing through volunteer data, countless phone lists, 14-hour days and parties in the evenings.
But it was so much more than that. You see, on that bus I met Gary, who is now my best friend. You know him as Reality Bites Back, and he's the producer, director, editor, and co-star, along with yours truly, of Crashing the States, a film about the impact of the netroots in the 2006 election cycle, which you'll have a chance to see a teaser trailer of at the YearlyKos Screening Series.
But I'm getting ahead of myself, see--because I still haven't mentioned the word "blog" yet in my semi-autobiography.
See, also on that bus, I got the chance to meet the leadership of the SoCalGrassroots organization, and after the bus ride I started attending their meetings. Turned out I ended up being somewhat popular--I was opinionated. I was enthusiastic. And I was also half their age, for the most part. And grassroots activists just love seeing the younger generation get involved.
I took a few more trips with SoCalGrassroots in the 2004 campaign--one more to Arizona, and then a two-week trip over election day to Miami...back when we still thought Florida would be ground zero in 2004. It was the most fun I had ever had in my life to that point, I think. That election night, for instance, was the first time I had ever been tipsy--I had one too many Mojitos with real Cuban cane sugar.
But you know how that night ended up too. At least I didn't end up with stomach pains like I did the night of Bush v. Gore.
I suppose I should mention a blog now.
I first started visiting DailyKos and MyDD during the fall of 2004, but I wasn't an active participant in either site. I started going there because when I googled poll results, I usually ended up being directed to those two sites, somehow or another. So I just started visiting them directly. Back during the 2004 campaign, MyDD had this cool little American map applet where each state was apportioned each share of electoral votes and you could click a state to turn it blue or red and see who would win based on which swing states went which way. I played with that thing for hours attempting every realistic combination. I had them memorized.
I didn't have as much interest in DailyKos at the time. It didn't have that cool little map I could play with. And I had no idea what the heck "kos" meant. I played a lot of online video games back then, and in video game land, "kos" meant "kill on sight"--as in, a player who had pissed so many people in the community off that if you saw him, you were supposed to kill him without question. And who knows--for some LGFers out there, maybe that's not so far from the truth.
But back to blogging. I gradually became more interested in what is now big orange, and posted my first diary here on January 22, 2005. Don't bother going back to read it--because it's not very good. My blogging skills have involved significantly since then. But the more I wrote, and the more traction I got, and the more I participated in the community here, the more addicted I got. And when I first made the recommended list, it was a cause for minor celebration. And I still remember raving about DailyKos to thereisnospoon and constantly hounding him to go visit. Some people elsewhere seem to think it was the worst mistake I could have ever made, but I'm fine with that.
And a lot of other stuff happened in between then and now--causes, candidates, issues. And then dday, whom I had met frequently in meatspace, encouraged me to run for delegate from my Assembly District. You know, become an actual officeholder in the Democratic Party!
And this is where things come full circle--because the slate I joined just happened to be filled with several of the grassroots activists I had known since before I started blogging. As you all know, I ended up winning one of the spots, and participating in group blogger interviews with Presidential candidates with the good folks at Calitics.
I wanted to be more involved, of course--so I applied for a committee appointment. Now, committee appointments aren't easy to come by. You either have to be well-known for something, or have the support of your regional director. Just so happens that I had met my regional director years earlier--as a grassroots activist. And he had read my blog entries over the years and come to know me pretty well. He endorsed my application, and now, guess what: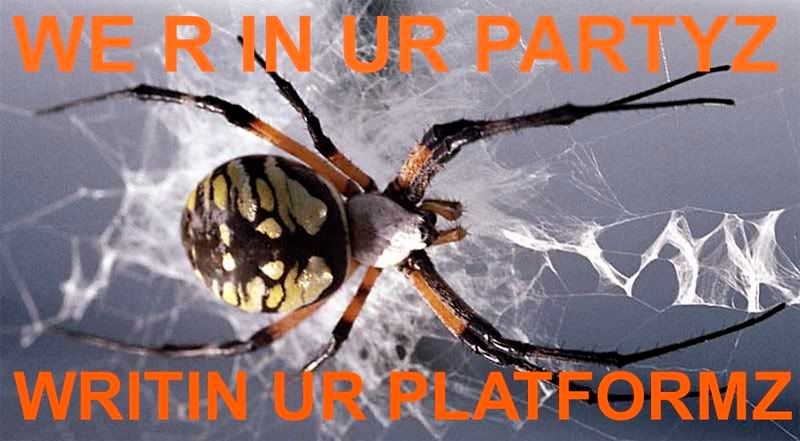 Not that being a delegate, or being on the Platform Committee, is all fun and games. Local politics can be a mess: you have to learn parliamentary procedure, follow bylaws, learn how the system works, deal with petty squabbles, and so many other minutiae. For instance, one of our net neutrality issues got held up in committee because I didn't speak on its behalf because I didn't think I had standing to address the committee, even though I really did. You know, you have to deal with crap like that.
Still, being involved locally is kind of fun. I get to have a vote on who the party endorses in any primary election I'm eligible to vote for (except the presidency, where we don't endorse), and I get easier access to politicians and legislative directors and what not since I'm on the Central Committee--and perhaps I can regale you all with stories about that some other time, since this diary has gone on long enough!
Now that I've learned how things work, I intend to be effective--and like I said at the beginning of this diary, I'm headed up to Sacramento this weekend, and I'm hoping to get some things accomplished that lots of you will be proud of. I'll keep you guys posted, of course.
So, there are some lessons to be learned here...
If you want to get seriously involved, just blogging here likely won't get you where you want to be. There's still no substitute for meatspace (grassroots) activism as a way of meeting people and getting connected.
If you want to get involved in your state party's bureaucracy, you need to learn how the system works. That means reading all the ugly fine print. It doesn't do any good to work your butt off trying to accomplish something if you get ruled out of order when you try to bring it to the floor.
It's still about who you know. The advantage you have is that with the proper amount of energy and enthusiasm, it's a lot easier to meet the right people.
You won't always win. I've had my fair share of setbacks, and I've seen some things that I consider pretty much appalling. But that means you recruit more people to your cause and fight harder the next time.
Know your local issues. You may know every detail about what's going on in Iraq, but do you know what's going on in your own backyard? There are plenty of things at the state and local levels that can be done to improve people's lives, and those deserve attention too. And being knowledgeable about them and spotlighting them can help build your rep.
Have fun. Really, you ought to be enjoying your contribution to saving Democracy.
Feedback welcome! Hope it was a fun read.