How things have changed!
In 2004 I was just an angry guy seemingly alone in Orange County in an ocean of SUVs with W04 bumper stickers. The OC was as red as Utah, 60+% Republican. I found solace in DailyKos.
Today I find myself helping fellow Kossack Ron Shepston get elected to Congress in the CA-42, a traditional Republican stronghold that stretches from south Los Angeles County right into the heart of Orange County.
Ron Shepston, CanYouBeAngryAndStillDream, rides into the California 42nd Congressional District, a righteous and smart straight shooter if there ever was one, he is also one of us.
His adversary is crooked Gary Miller, an unconditional Bush supporter.
I am proud to have been tapped by Major Danby, Ron's campaign manager, for his brain trust. The company is quite impressive; I hope my 30 years living in California, mostly in Los Angeles and Orange County, count for something.
So here goes my take on Ron Shepston candidacy.
Previous diaries in the CA-42 campaign rollout series:

7/15: thereisnospoon's CA-42: A Kossack is running for Congress
7/16: atdnext's CA-42: The Case Against Dirty Gary Miller
7/17: Major Danby's CA-42: I'm managing a netroots U.S. House campaign
7/18: CanYouBeAngryAndStillDream's CA-42: Hi, I'm Ron Shepston and I'm running for Congress
7/19: hekebolos's CA-42: A Netroots campaign-- politics the way it should be.
7/20: dday's CA-42: The Lay of the Land
7/21: OrangeClouds115 CA-42: "I Know His Heart"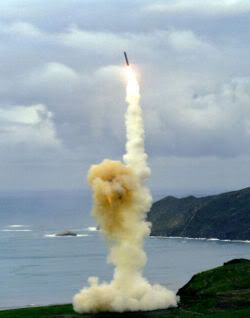 Ron is proud of his military service. Between 1966 and 1970 he served in the US Air Force where as a Sergeant he managed teams of SAC Airmen responsible for maintaining Minutemen 3 nuclear missiles, like the one in the picture, in Malmstrom AFB in Montana. This was at the height of the Cold War; the missiles were on, 7x24. Ron was given serious responsibilities as a very young man. He had to lead teams of enlisted people maintaining mission critical and complex systems.
Today in high tech heavy Orange County, Southern California's Silicon Valley, Ron leads implementation projects in a company that manufactures airline entertainment systems. In a way he is still doing the kinds of things he did in the Air Force. This is a job that also requires listening to customer requirements and understanding complex systems and getting things done by leading people.


Tomorrow, with our help, Ron will be in the US Congress, listening to his constituents and fellow bloggers (Ron is a great listener), understanding the complexities of legislation and leading teams of fellow US Representatives and staffers to get things done. A natural progression. Few people will be as qualified and as competent to tackle the responsibilities of federal legislation as Ron. He is an effective leader who gets things done, an honorable man who shares our world view and our passion to get America back on a righteous track.
His adversary, Gary Milleris one of the richest members of Congress. He made his money as a land developer and speculator. Perhaps he sees CA-42 as his own "plantation". If you have doubts read atdnext's diary about his corrupt land deals.
It would be beyond my comprehension if any CA-42 citizen would vote for Gary Miller once they knew a bit about Ron Shepston. What a stark contrast in character!
There is a film that reminds me of Ron Shepston's candidacy; "Shane", perhaps the greatest cowboy film of all time. His Alan Ladd hero to Gary Miller's Jack Palance's bad guy is the kind of choice the CA-42 voters face next year.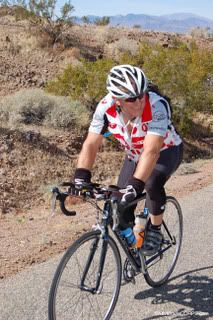 But if Ron rides into a town in CA-42, it will be not on horseback. No, Ron is an avid bicycle rider. The hills and back roads of CA-42 are where he finds inspiration. He is fit as a fiddle thanks to some serious pedaling. Ron is one of those guys who understand both pacing himself for long distances and sprinting to the finish line. This will come in handy in his campaign. The pictures are of Ron riding through Death Valley, CA.
Ron was essentially one of the So Cal Kossacks who did show up to get togethers and campaigned for Steve Young in his heroic attempt in CA-48. There was something about him, he showed oodles of gravitas, even in Kossack meetings and Drinking Liberally events where...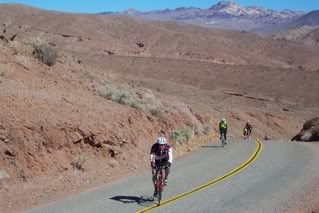 Ron has been anti-war from early on. Just as many of us, he was also a Deaniac before he was a Kossack. His diaries are proof of how passionate he is about the issues. His recent diary on the constitutional crisis we face was a real home run. PEOPLE, we NEED Ron Shepston in Congress, he sees things the way we do and he has a proven track record of getting things done in complex environments through effective leadership.
I cannot think of a better candidate to turn one more Southern California district blue or a better example of a Kossack voice in Congress.
Your contribution, however small, will help fuel his candidacy in this critical take off stage and it will make the Democratic establishment, the local media, and the influential citizens of CA-42 take notice. You can do it in ActBlue.
If you live in So Cal then offer to volunteer, let's do something together that we can all be proud of.
Let's help Ron turn dreams into reality.
Have I said he is one of us?