Fatigue Evaluation of the Deck Truss of Bridge 9340
Minnesota Dept. of Transportation
Final Report
2001
Bridge 9340 is a deck truss with steel multi-girder approach spans built in 1967 across the Mississippi River just east of Downtown Minneapolis. The approach spans have several fatigue problems; primarily due to out-of-plane distortion of the girders. Although fatigue cracking has not occurred in the deck truss, it has many poor fatigue details on the main truss and floor truss systems. Concern about fatigue cracking in the deck truss is heightened by a lack of redundancy in the main truss system. The detailed fatigue assessment in this report shows that fatigue cracking of the deck truss is not likely. Therefore, replacement of the bridge, and the associated very high cost, may be deferred."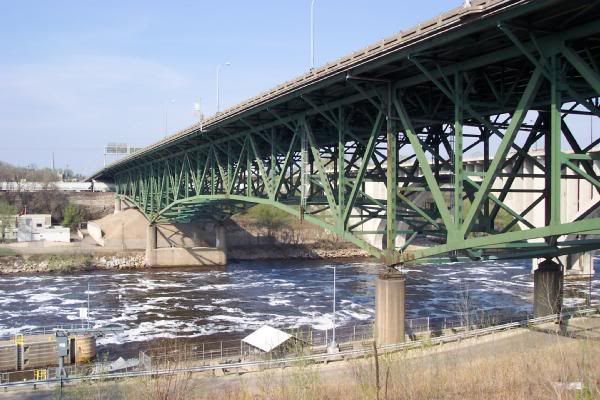 Full report (pdf): http://www.lrrb.gen.mn.us/...
Two- and three-dimensional finite-elements models of the bridge were developed and calibrated based on the measured stress ranges. .. The peak stress ranges are less than the fatigue thresholds at all details. Therefore, fatigue cracking is not expected during the remaining useful life of the bridge. The most critical details, i.e., the details with the greatest ratios of peak stress range to the fatigue threshold, were in the floor trusses. Therefore, if fatigue problems were to develop due to a future increase in loading, the cracking would manifest in a floor truss first. Cracks in the floor trusses should be readily detectable since the floor trusses are easy to inspect from the catwalk. In the event that the cracks propagate undetected, the bridge would most likely tolerate the loss of a floor truss without collapse, whereas the failure of one of the two main trusses would be more critical.

This research has implications for bridges other than 9340. The research verified that the behavior of this type of bridge can be deduced with a modest number of strain gages at key locations combined with detailed analyses.
Model and detailed analyses, meet reality.