One of my favorite YouTube videos of all time is Harry Potter and the Dark Lord Waldemart. Produced by the Harry Potter Alliance, a Myspace group of social activists, and Wal*Mart Watch, it portrays Voldemort as our favorite superstore (whom Rowling apparantly must-not-name due to legal concerns).


Walmart is a great target for Labor Day. They have more labor violations than any other corporation. And fitting for the Voldemort comparison, they weren't as evil before the corporation lived past Sam Wall's death. Corporations fear death above anything else, but lose the soul of their founders in protecting themselves.
Here's where the myth of Labor Rights comes in. They don't exist. At least not anymore. Seeing a new union is as likely as seeing a House elf wearing clothes. It's a fantasy.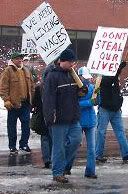 Sure, you may have heard of a union or two, and maybe even experienced a strike when your garbage hasn't been picked up. But those unions only exist in jobs that can't be outsourced to another country. The unions that still exist, and give benefits and wages that the rest of the nation's workers can only dream of, only serve to protect their members, not labor rights as an ideal.
We have strong unions in Government, law enforcement, and municipal services. Guess who pays for that? Us, as taxpayers. It used to be that our employers would try to match the government package, but once they found a disposable worker in China, forget it.
Our other unions in manufacturing only are organized in factories that existed when labor rights were strong. Look at the auto industry, where Ford, GM, and Chrysler blame the costs of unions for job losses overseas, and their foreign competitors open new factories in the US that cannot be organized because the Bush administration will not enforce the law. How's that help America, our industry, and our middle class?
There is a bill that could add penalties to current labor law which would aid all American whether they want to join a union or just form an employee association. And the AFL-CIO and Democratic Senators claim to support the bill. Again a myth.
The AFL-CIO leadership refuses to budge on a small sticking point which prevents any increases to penalties on the much ignored labor law. Why would they do this, and threaten to pull funding from any Senator who supports increasing labor law penalties without altering labor law? Obviously, the AFL-CIO's jobs are not at risk under the current system. So a bit of talk and no walk is their best course of action. And our labor friendly candidates don't give a damn about labor rights or law enforcement, they just want the Union cash.
The Employee Free Choice Act is stalled in the Senate, and our "labor friendly" Democratic Senators continue to allow Republicans and business lobbyists to characterize the bill as "undemocratic." Republicans refuse to increase the penalties for violations of the law because the EFCA also makes the currently optional "Card Check" signature count mandatory, which eliminates Government administered "Secret Ballot" elections. Even the National Federation of Independent Businesses characterizes the Employee Free Choice Act as undemocratic, even though the majority of its small members do not fall under Federal Labor regulations. It goes without saying that a Mom and Pop shop is not eligible to organize (sorry Mom), and most of the slightly larger businesses thrive locally without sufficient interstate trade for the National Labor Relations Act to apply. Ironically, their big business competitors, like Wal-Mart, DO fall under Federal Labor Regulations, but ignore the non-existent penalties for firing union supporters and keeping employee expenses low.
Some of our Democratic Senators who claim to support Labor Rights are running for President. I'm not convinced of their ability to lead. I'm not sure why they haven't explained that the Employee Free Choice Act upholds the laws of our nation, supports small business, and aids the middle class. These Senators could stop talking about upholding "Labor Rights" and actually enforce them, by compromising with the Republicans by adding the much needed penaties for the existing law and keeping the contentious manditory "Card Check" procedure as optional. If the Republicans insist on maintaining a "Big Government" program to administer a superfluous secret ballot election, then let them. But with proper penalties to enforce the law, and additional funding of the National Labor Relations Board to conduct secret ballot elections in a timely manner, the effect of the Employee Free Choice Act would be the same, allowing employees a fair opportunity to choose to organize.
Of course, the Republicans might also oppose enforcing current Labor Laws, but unless the Democrats propose the compromise how would we know? Until the Democrats lead, they merely support the status quo of corporate illegal activity which harms all Americans, whether they are in a Union or not.