Let this graph sink in: due to Bush's "free trade" and reckless deficit policy, one country -- China -- is financing half our deficit, and has the ability to determine whether America enjoys prosperity or suffers recession: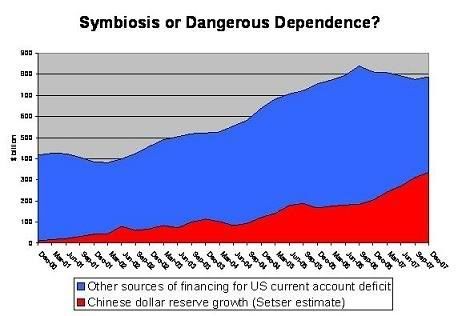 Excuse me, but you'd damn well better start to care about economic policy. Details below.
The above chart is from Brad Setser's blog. This is what a loss of economic sovereignity -- of gradually becoming a banana republic -- looks like. Because of short-sighted economic policies focused on the greed of a few, the Republican Bush administration in 7 years has allowed the US to become exquisitely vulnerable to economic blackmail: blackmail that has already been threatened once this year. I know lots of people here are bored with economic diaries. Well, this is a rant: you'd better start to care, because your mortgage and credit card payments, your job, and whether this country goes through some very hard times very soon, depend on Americans demanding their government take serious notice.
Here's what Brad Setser had to say:
"Can the world's biggest borrower also be the world's greatest power?" The question can perhaps be framed a bit differently: does the maintaining the "balance of financial terror" require that the US accept some constraints on its own policy choices, or can the US count on the world's central banks for financing no matter what policies it adopts?

....US dependence on official Chinese flows is certainly reaching rather impressive levels. If current trends continue – the US current account deficit is around $200b a quarter in the second half of 2007, Chinese reserve growth is around $125b a quarter and Chinese keeps around 70% of its reserves in dollars – China could end up providing close to ½ of the net financing the US needs to sustain its current account deficit in 2007.
Memo to Dick Cheney: "Deficits don't matter?" Like hell, buddy. And lest you think this is a dry, dull economic issue, consider the following from a month ago:
China threatens 'nuclear option' of dollar sales

The Chinese government has begun a concerted campaign of economic threats against the United States, hinting that it may liquidate its vast holding of US treasuries if Washington imposes trade sanctions to force a yuan revaluation.
Got that? China has already used its economic clout to shut up the Bush administration once. If the above trend continues, you need to be prepared for China to tell its spendthrift debtor customer what to do on some other issues, like Taiwan. Or access to oil resources. Or raising US domestic interest rates.
In the old days the US Treasury secretary used to fly to some Latin American or African country and tell them that, despite their economic hard times and unemployment, they'd better raise their interest rates and put more people out of work, in order to service their debt. Get ready for that shoe to be on the other foot.
In my recent "Bankruptcy 2015" diairies, I pointed out that, so far, the US hasn't felt the full effect of its spendthrift ways. That is because, until now, the US dollar has been the world's "reserve currency" meaning the currency foreigners want to hold. So long as that remains the case, foreign countries like China "import" the inflation that we would otherwise feel at home. That is starting to change now. Consider the following:
From the blog econbrowser:
the dollar, like the euro and the yen, is a reserve currency. Indeed, it's the pre-eminent reserve currency, and so the valuation of the dollar depends upon factors in addition to the standard macro ones (see here and here, and this paper). These include:

Desired holdings by central banks.
Relatedly, pegging to the dollar.
Desirability of dollar assets, aside from rate or return (i.e., liquidity motivations).
Invoicing of trade in dollars.
While the last point is unlikely to change rapidly, the second to last point is one where, clearly, conditions have changed. The share of dollar assets perceived as easily bought and sold has shrunk as the asset backed corporate paper has -- if not frozen, then -- slowed.

The first point, regarding desired holdings by central banks, could also change as the perception of the dollar's trajectory is shifted more and more to a downward one
And from Thomas Palley:
China's inflation hit a 10-year high of 6.5% in August, the government recently announced. This increase is directly related to global trade imbalances....

China's current inflation is a textbook case of prolonged under-valuation of a fixed exchange rate in tandem with export-led growth. ....

One important contributing factor in China's inflation is the rise in global commodity prices, including oil and base metals, which are now feeding through into prices. Food prices are also on the rise owing to increased global prices for wheat and corn.... [Also], In coastal areas, which have been the hub of China's export-led growth, wages have started rising....

Most importantly, China is beset by significant asset price inflation that borders on an asset price bubble. This asset price inflation is the product of massive expansion of the money supply caused by China's trade surplus. Dollars earned by Chinese exporters have flowed back to China and been converted into local money by the central bank, which has bought dollars at the fixed exchange rate to prevent appreciation. Holders of these money balances have then bought stocks and real estate to gain higher returns and to protect against potential inflation. This has driven up real estate prices, triggering a massive construction boom that has in turn caused inflation.

The implication is clear. China is suffering from imported inflation caused by higher global commodity prices, domestic demand inflation caused by excess demand in export industries, and asset price inflation due to an increased money supply caused by China's trade surplus.
That, my friends, is an unstable condition, and one that won't last long. When it ends, all of that inflation we've "exported" will be re-imported to the US, and will show up in the prices consumers pay. And that price inflation will likely happen at a time when the US economy is in, or nearly in, a recession.
And lest you think China is the only country whose reaction to our spendthrift ways is important, consider the following news item concerning our friends in Saudi Arabia:
Saudi Arabia has refused to cut interest rates in lockstep with the US Federal Reserve for the first time, signalling that the oil-rich Gulf kingdom is preparing to break the dollar currency peg in a move that risks setting off a stampede out of the dollar across the Middle East.

"This is a very dangerous situation for the dollar," said Hans Redeker, currency chief at BNP Paribas.

Saudi Arabia has $800bn (£400bn) in their future generation fund, and the entire region has $3,500bn under management. They face an inflationary threat and do not want to import an interest rate policy set for the recessionary conditions in the United States," he said.
And oh by the way, that currency you carry in your wallet is worth less every day (h/t taonow).
I repeat: Democrats had damn well better start to care about economic policy.