I stumbled onto this on the internets and didn't see it diaried in the past few days
Clooney, DiCaprio to Make Howard Dean Movie

Leonardo DiCaprio and George Clooney are reported to be in early talks about teaming up for a movie, which The Hollywood Reporter is calling a "political thriller," loosely based on Howard Dean's innovative but ultimately unsuccessful run for the Democratic presidential nomination in 2004.

Mr. DiCaprio is expected to play the young, idealistic communications director who guides an unconventional candidate but is ultimately derailed by dirty politics as usual. So, that means the heartthrob is playing the screen version of Joe Trippi. (Kind of like Robert Redford playing Bob Woodward in "All the President's Men.")
So, if you worked on the Dean Campaign in 2003-2004, I guess here's your chance to be in the movie.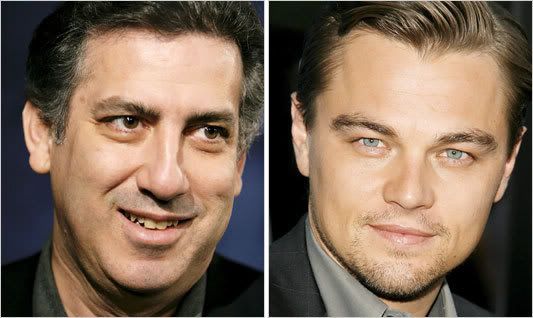 Joe Trippi and Leonardo DiCaprio
Photos: Shaun Heasley/Getty Images; right, Kevin Winter/Getty Images
The Hollywood Reporter adds this
(The movie) "Farragut North," (is) based on the upcoming Broadway play by Beau Willimon. Clooney would direct and produce the adaptation, which is set up at Warner Bros., while DiCaprio would star and produce.

Titled after the Washington Metro station that is located near many lobbyists' offices, the play is loosely based on Howard Dean's 2004 presidential election campaign, during which Willimon worked for the Democrat.
Here on Daily Kos, as Bob Johnson wrote in his diary earlier today, those were the good old days of "fun"
Back during primary season of 2003-2004, the candidate wars here were legend. The "Deaniacs" (as they were called, disparagingly, by "non-believers") attacked and were attacked on a daily basis. Every day brought a torrent of vicious words, with Dean supporters claiming he was the only candidate who could win and many of the anti-Dean folks (particularly, the Clarkies - Hi, Armando!) predicting that Dean and his supporters would desert the Democratic Party if he lost the nomination, run third party, and hand a victory to Bush. And, of course, practically no one liked Kerry.
What I remember most were the "spirited" discussions between the Dean and Clark supporters, the Dean "bat," the terrific diaries that liveblogged the orange cap-wearing, out-of-state Dean supporters in Iowa, and then, finally, the end. But I think it was an important moment in politics as we know it on this blog. I wasn't a Dean supporter in the last cycle but, even before the 2004 Election, became convinced that his style was the future in progressive politics. As I wrote in this diary in May 2004
We Americans love those who go against the grain. Those who question the established norms of behavior in society. Those who dare to be non-conformist. Those who challenge the established political order. We cheer on the handsome movie hero but we love the anti-hero and underdog. Howard Dean was (and is) such a political figure for our times. For he propelled us to think and act differently about our country's complex politics.

A little truth-in-advertising first. I was not a Dean supporter; I supported Richard Gephardt in the Democratic Primaries. But, as Summer turned to Fall last year, I was endlessly fascinated by Dean's political success. Ambivalent at first towards Dean's candidacy and somewhat clueless as to why he was achieving all this political success, I navigated my way gingerly through the many minefields of Daily Kos and the fast-growing group of 'Deaniacs.' Skeptical and leery of this 'Dean Phenomenon,' I even expressed on a few occasions strong reservations about the path Dean was charting for the Democratic Party. And yet... oh, how I miss those days of fast-paced conversations, excitement, fervor, intensity, arguments, counter-arguments, and the spirit that Dean created for the politically active amongst us.
I'm glad to see Howard Dean getting some much-deserved recognition in Hollywood. The good doctor has simply done a fantastic job as Chairman of the Democratic National Committee.
Thank you, Governor Howard Dean.