It is my honor to write this week's installment of Feminisms. In light of some of the more moving diaries offered today, I hope this is taken with the spirit in which it was written, and I would hope I could honor the lives of the people I have had the pleasure of meeting.
I sold cosmetics in department stores for nearly ten years of my life. Yes, I was that girl. Bleached-blonde and tall. Talked a lot. When one does what I did for a living, you, Dear Reader, must know that a person like me is often times HATED right out of the gate by the customer. I am the ENEMY. No matter how poor I am at home, how bad my feet hurt and stink when I take my shoes off in the evening, or how many horror stories I am living out in my off time, I am here at the department store to sell you pretentious things you do not need for an extravagant price.



Sociologists consider prestige line cosmetics an "affordable luxury" that exudes status without the price tag of a new Lexus, for instance. A prestige lipstick or compact says its owner is discerning and of financial means to acquire and therefore periodically replace said makeup item. (I highly recommend the book The Overspent American by Juliet B. Schor.) But the woman behind the makeup counter and the woman holding the wallet are really sparring partners. I am trying to sell you this snake oil so I can eat. You are trying to get a morsel of truth out of me so when you shuck out that ridiculous amount of money for some glorified Vaseline you'll feel better about it. I'm here to fool you, and you're here to fool yourself. Now fork it over.
Of course, like anyone suffering from our all-too present national cognitive dissonance, if one really needs to believe something, one will manipulate the facts to accommodate the desired result (hello, Downing Street). If the woman who is about to lose her husband to his secretary really believes Miracle Makeover 30-Minute Capsule Face-Erosion Moisture Infusion will rewind time 30 years, well, isn't a couple hundred bucks worth taking that chance? Now, I made that product name up, but you get the picture. I've seen women who have obviously spent the last few decades of their lives sucking down Marlboro Lights (I'm guilty of this) rush in to the cosmetics department, scrambling for the "strongest thing you have" that will get rid of cavernous wrinkles that took all those decades to develop. We're trained to not have the heart to say nothing we have will work, nothing is that strong, and really a face-lift is the only thing that will "help" her. Generally, one of two things happens with a woman in this scenario: She either gives up, her fantasy product non-existent at the Lauder counter, or she buys the place out, only to return 80 percent of it a month later when Christy Turlington is not looking back at her in the bathroom mirror.



This is always sad, and after a while it started getting to me, selling the snake oil. I was pretty damned good at it when I was in my very early 20s; shit, I'd love to look like that again now. However, during these glorious years (ha) of my supposed prime I had a very shattering experience behind the counter, and it definitely changed me, the way I sold, and gave me a new appreciation for how I affected people I really did not know.
It was an afternoon and the counter was not busy. About four of us salesgirls (not a P.C. term, but it fits) were just hanging out by the register, probably looking sinister (wink) in our little white get-ups and blonde ponytails. Two women approached the counter. One of the women was wearing a headscarf. She was quite obviously in the late stages of a very powerful cancer. The other woman was helping her; I don't recall if she was a relative or a friend. Either way, they were close.
I'll call the woman in the headscarf "Rose" just for clarity. Rose said that she had never had a makeover before, and with six months left to live, she wanted one. The three girls with me behind the counter had somehow very quietly scattered like cockroaches after Rose made her announcement. I won't dilute the impact of this moment; it changed me irrevocably. I promptly put Rose in the makeover chair and gave her the works. She told me about her cancer. I told her how sunscreen would protect against aging. She told me about some of the pain she was in every day. I told her that our exfoliating face scrub would keep her pores clean. Rose bought me out. I mean she bought the works. Sunscreen and all.
When Rose and her companion left the counter, I ran around to the other side of it, pretty much collapsing into tears and into the arms of my fellow salesgirls. They didn't see how I managed to keep it together during the whole thing...touching her face, listening to her story, and still managing to eke in my normal little jokes and asides, much less get the selling script out straight. I said it didn't matter who she was; the goal was to give her excellent service as we would any customer (I'd really bought into that philosophy) and that I did NOT want to isolate her as a "special case." I wanted her to feel normal. I felt that I had succeeded, in some capacity, of this. My comrades and I, in our youthful inexperience, shook our heads over what had just transpired at our counter. The rest of our workday seemed rather surreal.
I could go on, but Rose was far from the last dying woman I have given service to over the years. I borrowed a car to personally deliver a phone order to another woman who was succumbing to cancer. This particular woman and I had developed quite the rapport over the telephone. When I got to her musty and meager house she was seated in a recliner and a pouch, I can only assume it was a colostomy bag or something of the like, hung to one side of her. I knelt down beside her to explain how to use the products in the free gift that came with what she had ordered. She died within the month, and her daughter came into my store to tell me that it made her mother feel like she still mattered that some strange woman was willing to do that for her.
Now, I swear on my LIFE that I'm not telling you all these things to make me feel better about myself. But there came a point in my "career" of selling the snake oil that the woman with the "need" became more important than her supposed "need" and my demeanor behind the counter started to reflect that. (I've always wanted to write a diary about how selling makeup turned me into a Democrat.) Yeah, it pissed a lot of my bosses off that I stopped doing what amounted to lying to customers in order to make my sales (I'd be a horrible politician), but my numbers were always there, and my customers kept coming back to me, loyally and consistently.
Here is one more story I'll add because it always touched my mother. Another morning behind the counter was dragging along when two women and a small girl approached us. This would have been an otherwise expected development were it not that the younger of the two women was horribly disfigured from an acne so overwhelming that it literally looked like she'd been burned by acid. It pitted and scarred her normally paper-white complexion into a lumpy pink flesh, extending from her hairline to the middle of her neck. In all honesty, it was horrifying.
Her hair was flaxen. I mean, some people (ahem) pay a LOT of money to get hair this light of a blonde—platinum, really—and that silky. Her eyes were ice blue. Her body language expressed timidity, and apparently the older woman was the one who was going to do all the talking.
As it turned out this was a mother and her daughter-in-law. The small girl was the grandchild. "We're here to see if there's anything we can do for her, in the meantime, before we can get her on something stronger," said the older of the two women. They had come for a makeover. Again, the cockroaches scattered.
Standing alone, I put the younger woman in the chair. I asked her, and the daughter-in-law and I had the same name. I sat across from her at the makeup table, the two of us mirrored in this bizarre and what could have been very uncomfortable situation. I wonder if that pinched her, having me there across from her, smoothing oil-free creams and pale foundation over the top of her lumps and scars. Filling the pits. Soon came the excuses. I never really understood why people thought they needed to make them to me. "I'm pregnant," she said. "That's why I'm not taking anything yet." The quite attractive mother-in-law was not condescending to her son's choice in a woman although I did wonder throughout our transaction and now to this day what was really going through her mind.
Either way, I made it a point to compliment her on her perfect silky hair, her ice-blue eyes. I even got her to crack a smile a few times, and I admit, the end product turned out rather well. It must have taken a lot out of this woman to sit across from me and bare what most people with acne consider their shame. But she did. And when she walked away, she was smiling.
And over the years I've heard about the divorces, the deaths, the diseases, the sons in the Army and the daughters who wear too much eyeliner and the teenagers with acne who are constantly in crisis. I'd been told by one widow in particular that she was thinking about committing suicide before she came in and talked to me for about an hour one busy Saturday at the counter, although I never did see her again. I've patched up black eyes and tattoos, made over shotgun wedding brides, their pregnant bellies bumping out behind Disney sweatshirts. I've seen the women practically dragged in by one arm, their belligerent husbands choosing red lipsticks and gaudy shadows for otherwise muted women. I've been told I am a racist by customers who felt they were neglected in a very long and disorganized line. I've been told I was the only person behind the counter who was not racist when I made sure everyone had been greeted promptly and professionally. Ten years of anything and one will be able to say they've "run the gamut." I've run the gamut. Eventually it stopped always being about makeup and moisturizer. It was about getting paid for that job but being a professional listener. So many people just need someone to talk to, someone to help them get it off their chests. I wonder if it surprised them they found that person in me. I wonder what kind of bartender I would have been.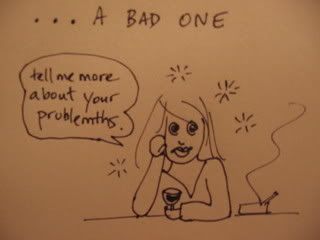 Ultimately, however, it became too exhausting, and perhaps as I suggested before I do have my own horror stories I could tell, and many of them were unfolding during the time I was lending my ear to all of these other people in need. And of course, there were the predatory psychos I had to fight off all the time, that is, the man-sharks circling our easy-target makeup counters, asking us constantly for phone numbers or if we'd like a foot rub. And some of my other co-workers were less than idyllic to deal with. Let's just say that many stereotypes about cosmetics salespeople are spot-on. Shocking, I know.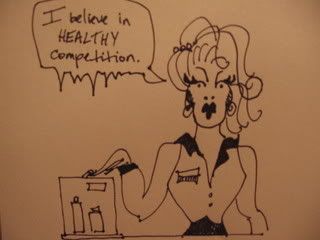 Being a little older now and looking back on these experiences, I do feel proud that I was able to conduct myself in these ways when a challenge, to put it lightly, presented itself. Frankly I do not see how I was able to take much of the abuse I was dealt by the customers who apparently woke up in the morning just to make my life hell that day. I was just one poor girl trying to feed herself but ended up hearing stories—so many horror stories—from an endless stream of women, strangers, some of who drifted back off into the ether and some of whom returned to get the same gratification again and again, needing attention from an overwhelmed young woman who was desperately trying to make a living while still caring about the individual. It just reaffirms that everyone does in fact have a story, and too often they are bad. Is it we women who put ourselves in these situations? Do we just love to punish ourselves and each other? I can't imagine that's always the case; often when I would be able to break through that initial salesperson/customer barrier, most of the time, my customers became faucets, and I found out far more from my customer than a 15 dollar lipstick warranted. Especially on three percent commission.
We women need to give each other a mother fucking break. I won't try to sell you the snake oil—in any capacity—if you don't think of me as your enemy before I have a chance to speak. We do pit ourselves up against each other, don't we? And with all of these horror stories we can try to one-up each other with, can't we use as many friends and allies as we can get our hands on?