Over the past 10 days, I've been mesmerized by my fellow Contributing Editor Devilstower's eloquent, erudite call to action in his series "30 Days to Save the Mountains" (with some assistance from A Siegel). The concern is the Cheney-Bush administration's cynical effort to make it easier for companies to whack the top off mountains to get at the coal beneath. The term "mountaintop removal" ain't metaphorical. It means what it says, and the consequences can be grim. Getting enough members of Congress to back the Clean Water Protection Act (H.R. 2169) is a step toward preventing this expansion of one of the most environmentally destructive practices in the United States.
In Saturday's installment 30 Days to Save the Mountains: Paradise, you get an understanding of why this matters personally to Devilstower:
I was born and raised in Muhlenberg County. Yes, that place from the John Prine song. My mother worked at Paradise. Not Paradise the town -- what remained of that was a single row of forlorn, crumbling shops and the yawning foundations of houses that had turned into concrete-lined pools. No, she worked at TVA's Paradise Steam Plant. That's what became of the town of Paradise after the coal companies "hauled it away." My father was born right down the road from there, in another little town. That one's gone too.

Once upon a time, Muhlenberg County was known for its fine strawberries and the region celebrated a Strawberry Festival each summer. Later, it changed to the Coal Festival. The strawberries were gone.

I lived the first eighteen years of my life in Muhlenberg County, and spent another year working there in my twenties. But I don't know what it looked like. That is, I don't know what it really looked like. Before surface mining changed it irrevocably. Mining gave me a childhood landscape that made a good part of the county look more like a kind of ersatz Arizona than western Kentucky. There were crumbling bluffs left behind at the edge of operations, barren hills of spoil cut through by mini-canyons of erosion. Lakes that were brown, rust red, or a startling crimson. There were also lakes that were crystal clear, because the water in them was so acidic that it held all the iron, and sulfur, and selenium, and God knows what in solution.

The truth is, as a kid, I had no idea this wasn't the way things had started out.
In another installment, 30 Days to Save the Mountains: Says Who?, Devilstower asked:
Who are you joining when you ask your representative to support the Clean Water Protection Act?

You're joining our own Energize America. Opposition to mountaintop removal and contour strip mining has always been a part of the Energize America plan. But while early efforts included attempting to write our own legislation in this area, it was quickly recognized that supporting the CWPA offers the best chance to protect the mountains. And there are better ways to get energy from the mountains than by chopping them down.
In the past week, he also wrote 30 Days to Save the Mountains: A New Day, 30 Days to Save the Mountains: The Curse, 30 Days to Save the Mountains: And Not a Drop to Drink.
A Siegel kicked in with 30 Days to Save the Mountains: What's Right With Kansas? and30 Days to Save the Mountains: Almost Heaven, West Virginia ...:
Clean energy ... Cleaner air ... more jobs ... local revenue ... and less impact on the natural environment ...

At this time, there is a battle under way for defining West Virginia's future. The Coal River Valley remains relatively pristine in the face of all of the MTR throughout West Virginia. Traditional fossil-fuel energy community and coal companies look at that pristine terrain and see "opportunity". (Think, I must say, Once-Ler from Dr Seuss' book The Lorax.) Yet, others look to this situation and see an opportunity to carve a new future for West Virginia and its citizens.
As always, jillian provided us with a plethora of teasers for environmental stores in BREAKING!...the Earth (Just because version): "Science's worst enemy: corporate funding. The biggest threat to science has been quietly occurring under the radar. The threat is money—specifically, the decline of government support for science and the growing dominance of private spending over American research. Discover."
ENVIRONMENTAL JUSTICE
UFWTake Action: Stop toxic methyl iodide from being used in California,
California is one of the largest users of fumigant pesticides. The state must give a separate approval to methyl iodide before this toxic chemical can be used. We asking for your immediate help to encourage California authorities to do the right thing and refuse approval of this deadly compound.
POLITICIANS
It wouldn't be a good idea for Al Gore to run for the presidency, according to Chaoslillith, who pointed out What Gore Supporters are overlooking...: "Say Gore announces what exactly do you think the media will do? Bow before him? No they will turn climate change into a political battlefield, ridicule Gore, science and fact and if Gore loses the primary or the general they will use this to justify further denying the reality of climate change. ... The other reason Gore won't run. He would have to spend more time fixing Iraq, the economy, dealing with the fallout from Bush than spending time on the environment. He has his mission, let him do it how HE sees fit."
Two Diarists took a contrarian stance over a theme Gore put forth last week. Barcelona wrote Gore Is Wrong (with poll): " 'Gore is wrong.' That's right. I stole that line. Because it's true. Al Gore is wrong when he says that fighting Global Warming is a moral issue, not a political issue. It is the biggest political issue in the world today. More than any other, it cries out for a policitcal solution at the highest national and international level. Gore knows this. He can't NOT know it. He's gone as far as he can lobbying governement leaders and CEO's. It's time to lead, but he needs a movement to make his leadership unstoppable, and to maximize his unique and hard-earned credibility around the world. He's clearly waiting for that movement to happen, to come forward. And it is. It's happening. Even the media narrative on him is beginning to change. Now it's all a matter of timing and momentum."
Jim in Chicago reiterated that point in his Memo to Gore: The climate crisis IS a political issue: "I've been thinking a lot about what Gore had to say at The Economic Club of Chicago dinner Wednesday night (superbly diaried by ReEnergizer here). He repeated the refrain: 'the climate crisis is not a political issue, it's a moral issue' as though the two are mutually exclusive. I believe this is a fallacy. For contradiction, one need not look far: I think we would all agree that health care for children is a moral issue, but it is also clearly a political issue right now. ... The Republican Party of today is frighteningly reminiscent of the 1936 version. The way to find common ground with them is to beat them to a pulp on the issues where their stances are clearly to the detriment of a majority of the country (as we're doing on children's health care) and, in the case of the climate crisis, the entire world. If we do that, they will eventually come around and we will have common ground ON OUR TERMS."
In another Note to Al Gore: Poll shows Americans getting more concerned about global warming, Possible Worlds wrote that "A recent CNN poll shows that American are becoming more concerned about global warming than they have been in the past, and they want the US to take action: Sixty-six percent of Americans believe the United States should do what it can to reduce global warming, even if other nations ignore it. This compares with 52 percent of respondents who believed that way in 2001. So not only do a majority of Americans recognize the human contribution to global warming, but they want America to take the lead on addressing this issue, even if other countries do not. This sounds like a pretty direct repudiation, by a solid majority of Americans, of the Bush Doctrine on global warming."
According to friday durdikova in PETA: Al Gore hypocrite for eating meat: "People for the Ethical Treatment of Animals(PETA) and other animal rights groups have criticized former Vice President Al Gore for ignoring the effects of industrial meat production in his Academy Award-winning 2006 documentary An Inconvenient Truth. When Gore won the Nobel Peace Prize, PETA president Ingrid Newkirk, immediately sent a letter to Gore congratulating him, but also asking Gore to become a vegetarian."
sarahlane let us in on a plan in Edwards Evening News Roundup: Protecting Small Farms: "Edwards isn't afraid of a little local Iowa controversy. The Des Moines Register has a story out today about Edwards bold stance on hog confinement farms. Edwards is the only candidate proposing a national moratorium on hog confinement farms. You may think this isn't a big deal, but it is. These confinement farms have put many small family farms out of business, not too mention made it difficult for many Iowans to live with the strong stench."
The Cunctator peeked in at a hearing in Hill Heat Live Blog: Disappearing Polar Bears and Permafrost: "The House Science Committee just held a hearing on the impacts of global warming on the Arctic. This hearing provided the Committee with an opportunity to hear from witnesses on three interrelated matters: (1) the current situation in the Arctic, including the situation facing the polar bear, (2) ways in which warming in the Arctic may accelerate global warming, especially through the emission of more greenhouse gases, and (3) interim steps that could be taken to reduce greenhouse gas emissions while the Congress weighs more elaborate carbon trade or tax proposals."
No New Coal - 54 weeks to election is oregonj weekly entrée, an attempt to get presidential candidates to opt out of coal. "THE PLEDGE – I believe that all new coal-fired power plants should be built with carbon capture and sequestration capacity. Joe Biden, Chris Dodd, and John Edwards have agreed. Bill Richardson says starting in 2010. Barack Obama takes the stance of "if necessary." Hillary Clinton has no position. And neither do any of the Republican candidates.
A Siegel found GOP candidates missing the boat with their own supporters in R Schizophrenia re Global Warming: "As we watch (with dismay, amusement, confusion, disgust) the Republicans striving to be their party's nominee in 2008, the striving for ever extreme right astounds, seeking to gain the 'base' Republican support necessary to emerge victorious through the primaries. Well, one arena seems to show a reverse trend, an increasing split between the candidates and the 'base,' where the leading Republican Presidential candidates seem to be competing to find their ways to sanity."
CLIMATE
thingamabob directed us toward some debate assistance in I got your global warming proof right here!: "The Royal Society (UK) has made available a short little booklet utterly debunking most of the pseudo-scientific claims skeptics use to torpedo climate change arguments. ...After reading this beautifully crafted PDF I thought, I have to share this information with anyone who has ever wanted a nice, concise document to hand to any climate change skeptics (aka head-in-sanders). In any event, the original PDF can be downloaded here, or you can go to the Royal Society's home page and click on 'Is Global Warming A Swindle' (half-way down, centre page) to see the original context and some other links. It's definitely worth a look."
Desmogblog told us about winding his way through the federal bureaucracy in Welcome to my FOIA hell: "In July, I wrote a piece about a major US climate report being stealthily released on a Friday afternoon by the State Department. You can find the report here, it was quite a scathing admission by the US government that very little was being done to reduce greenhouse gas emissions, and that they had very little planned to deal with it down the road. I was not surprised that the report was released on a Friday afternoon, in the dog days of summer, without a mention in the State Department's daily press briefing - it's a common PR tactic when you have to release bad news. Pretty slick, used often and works surprisingly well - don't know what that says about US media, actually I do no what it says, but I'll leave it up to others to point it out. To get to the bottom of the communications strategy behind the report's release, I submitted a daily press briefing to the State Department asking for all communications materials leading up the release. The word I got back today? The request will be processed in the next nine months! Nine months!
huntsu challenged materialism in Carbon Offsets Don't Stop Us From Sh*tting Where We Sleep: "Essentially they (Facebook promoters) are saying that we can consume, consume, consume our way out of global warming when our incredible over-consumption is the cause of the damned problem in the first place! And, not for nothing here, but an even better way to make a difference is not to stay on the Facebook 18 hours a fricking day. Then the energy isn't being used in the first place. And while they are telling us to consume our way out, they are also putting images out there that make no sense."
FishOutofWater Diaries on a scary story in The New York Times – Slow Motion Disaster - Global Warming Drying Up West: Over the past few decades, the driest states in the United States have become some of our fastest-growing; meanwhile, an ongoing drought has brought the flow of the Colorado to its lowest levels since measurements at Lee's Ferry began 85 years ago. At the Senate hearing, Udall stated that the Colorado River basin is already two degrees warmer than it was in 1976 and that it is foolhardy to imagine that the next 50 years will resemble the last 50. Lake Mead, the enormous reservoir in Arizona and Nevada that supplies nearly all the water for Las Vegas, is half-empty, and statistical models indicate that it will never be full again. "Droughts in the west have lasted as long as 60 years according to investigators who have studied tree rings. These droughts were so severe that the Anasazi - the ancient ones - abandoned their pueblos in search of water."
ClimateLurker also evaluated Global Warming and Water in the Western U.S.: "Most people living in the southwestern U.S. get their water from the Colorado River and California's Central Valley, both of which are fed by winter rains and spring snowmelt. Unfortunately, global warming is not only causing more winter precipitation to fall as rain versus snow, but also is causing the snow that does fall to melt earlier. As a result, in some areas reservoirs will fill earlier in the year and less water will be available over the summer. The chart below shows changes in the timing of the spring snowmelt over the second half of the 20th century. In many areas, snowpack is starting to melt three weeks earlier than it did 50 years ago. "
RepubAnon in Are we approaching Peak Water?-updated, and smoo in NY Times: The future is drying up also commented on the subject.
Running out of time: Global Climate Crisis Coming Fast seems to be the headline of about every fifth environmental story in the past year. mary wrote about the latest incarnation: "Scientists have found that carbon dioxide is increasing in the atmosphere much faster than had been predicted. Carbon dioxide accumulation in the atmosphere has accelerated since the late 90's when the increase had been averaging around 0.7% annually. Since 2000, the increase has been 2.9% per year (4 times greater!) which results in an increase of carbon dioxide that is 35% more than the previous estimates used in the IPCC models. And the increases are much greater than had been used for setting the targets for reducing carbon dioxide emissions needed to avoid the worst effects of global climate change."
ENERGY
A Siegel gave us an inside look at a new project, VA Tech helps DC go Energy Smart: "In a gala session at the National Building Museum, Virginia Tech and partners announced the Energy Efficiency Partnership for Greater Washington. The goal is to "reduce greenhouse gas emissions 20 to 50% from existing buildings", using financing for energy efficiency and have the energy efficiency savings provide more than enough money to pay back the loan. Sound familiar to anyone? (Reminder: Energize America's Energy Smart Communities Act.) This is a great initiative. The type of project that can be replicated across the country and pushed aggressively to significantly cut existing buildings' energy use and the associated greenhouse gas emissions.
Coal may not be king for long was greendem's assessment: "Things are looking bad for King Coal. At least 16 coal-fired power plant proposals nationwide have been scrapped in recent months and more than three dozen have been delayed as utilities face increasing pressure due to concerns over global warming and rising construction costs. This change of events, is of course, a good thing. The reality of global warming and the need for the USA to become part of the solution is starting to sink in."
eve said we should Tell Congress: "No Nuclear Industry loan guarantees": "I know from my work as an institutional municipal bond salesperson that multi billion dollar nuclear energy facilities would not be built without a taxpayer bailout clause because Wall Street, institutional investors (including large managed funds and insurance companies) as well as the insurance guarantors of the debt will not take the risk associated with these bonds unless the taxpayer is on the hook in the event of a catastrophic event."
More opposition to nuclear power was the theme of TonyZ's Diary – The French Nuclear Myth: "In their latest effort to revitalize the nuclear industry in the United States, the pro-nuke crowd is telling us that they have the solution to all our nuclear waste problems: the French reprocessing technique. So just what exactly is this magical system the French use to deal with the most dangerous variant of nuclear waste (Plutonium)? Well, as one pro-nuker put it in the comment thread of my last post, 'Burn it up!' ... The French have not been able to build a repository for high level waste. Instead, they use reprocessing facilities that split high level nuclear waste into two piles, plutonium and everything else. After the plutonium is separated from everything else, it then sits around for a while, waiting to either be stolen or diverted into nuclear weapons. See, before nuclear waste is separated, it is so radioactive that a terrorist trying to steal it would quickly be burned to death by handling it. But reprocessing is a terrorist's best friend. Once the plutonium is separated from the rest of the nuclear waste, a terrorist—or a corrupt employee looking to sell it to a terrorist—could easily grab a chunk of plutonium, throw it in a backpack, and walk out of a reprocessing facility with it. A chunk of separated plutonium isn't going to kill a person outright from handling it like a chunk of unprocessed nuclear waste."
green gearhead wondered why "big green" is down on Rep. John Dingell's new proposal in Dingell vs. the greens -- carbon tax or CAFE: "Apparently, Rep Dingell (D-MI) has floated what appears to be a serious carbon tax bill, a policy favored by Al Gore, and what appears to be a real step forward to cutting fossil fuel use. In addition calls for eliminating the tax deduction for mortgage interest on sprawl-inducing homes with over 4,00 sq. feet of floor space. You'd think the enviros would be interested in such a proposal, but, as Gristmill reports, "Big Green savages Dingell's carbon tax." Apparently, Dingell cannot be trusted because of his opposition to increasing CAFE stabdards (He is from Michigan, after all), and so, with the exception of Friends of the Earth, the other big enviro groups are opposing this tooth and nail. Big Green seems to have an irrational attachment to increasing the CAFE standards, which is a bizzare mirror image of the wingnuts' irrational attachment to global warming denial. When I listen to enviros talk about CAFE standards and auto issues in general, I get the idea that it really, really bothers them that those SUV owners get to feed their neuroses by being macho poseurs, and by God, what's really needed is to force those bastards into driving high-mpg Dorkmobiles."
FWIWlamented that there is Still No Oversight For "Energy Traders": "More than six years after the Enron debacle, there is still no regulation or oversight of 'Energy Traders.' Case in point: Brian Hunter and his former employer, the Amaranth hedge fund. During the summer of 2006, the 32-year-old trader controlled 'up to 70 percent of natural gas commodities on Nymex that were scheduled to supply companies and homes in November of last year and more than 40 percent of contracts for the entire winter season...' Trading on unregulated commodity exchanges, 'he made risky bets that led to the fund's collapse -- and, according to a congressional investigation, higher gas bills for homeowners.'"
JohnnyRook chose the historical approach to look at a modern concern in Changing History: From Poison Gas to Corn Ethanol: "On the American farm ammonium nitrate met it's soul mate: corn. Corn grew so successfully with synthetic nitrogen fertilizer that most farmers abandoned other crops and crop rotation to grow only corn. But, what do you do with all that corn? Lots of things ... out of the roughly 45,000 items in an American supermarket one fourth of them contain corn in one form or another. Unfortunately, for farmers this cornucopia of corn became a problem (Not to mention the deleterious effect it's had on the average American's health). The farmers found, as overproduction caused corn prices to drop, that the only way they could possibly make money was to constantly plant more corn in a doomed effort to stay ahead of the downward price spiral. Then along came rising gas prices and energy dependence and then global warming too and things started to look up for corn farmers and their communities because, wow, now they could make ethanol, save the world and turn a tidy profit in the process. At least that's what the farm lobby told Congress. And Congress agreed passing legislation in 2000 requiring the country to produce 7.5 billion gallons of biofuels by 2012. This year, the United States will produce around 6.5 billion gallons of ethanol (and a much smaller amount of biodiesel) and President Bush has called for annual production of 35 billion gallons by 2017. The growth in ethanol production has pushed corn prices up to their highest level in years.
An old question – Climate Change or Natural Fluctuations? – was cokids's topic: "Why do we even bother asking the question? With info like this in a report from the Guardian out of the UK, it looks like a moot point! Who cares! We will all freeze to death long before we bake! With this report, http://www.commondreams.org/... it sounds like we have about 40 years (or MUCH LESS) before we've used up all the oil anyway...heck, we're gonna nuke each other off the face of this earth long before we can be flooded from it!"
FOOD, LAND and AGRICULTURE
FaithChatham wrote an Action Alert: Texas Land Office meets Nov. 6th to consider private bids for Christmas Mountain: "Nov. 6th (ELECTION DAY) the Texas Land Commission will meet to receive bids from private bidders for 9200+ acres of land in Brewster County (Christmas Mountain) adjacent to Big Bend National Park which were deeded to the permanent school fund in the hope that they would be preserved for use by the citizens of Texas and managed environmentally. Land Commissioner Jerry Patterson favors selling to private bidders. Environmental groups such as the Environment Texas oppose selling the land to private bidders."
Mmmm... Genetically Modified Soybean Deregulation. Yummy! was on the menu for OrangeClouds115, a write we don't see enough around here. "Some insane percentage of our country's soybeans are already genetically modified, so my first thought when I saw the headline about "GE Soybean Deregulation" was: You mean it isn't deregulated already? What regulation could POSSIBLY be left on this stuff - it constitutes something like 80% of soy in the US (warning: that stat's from off the top of my head, don't quote me). Well, apparently the Bush administration applied its specialty at making bad situations worse to the US soybean crop. Here's the scoop: USDA SEEKS PUBLIC COMMENT ON DEREGULATION OF GENETICALLY ENGINEERED SOYBEAN."
BEFORE AFTER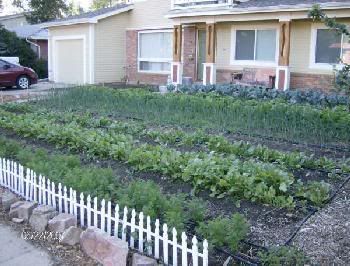 Punster by foot wrote Vegetables of Mass Destruction: CSA right here in the Suburbs: "True confessions: until moments ago, I was planning to further the theme of bawdy VMD titles by calling this one 'Taking a Leek in the Suburbs.' (And maybe I've just furthered the theme anyway!) But, it just didn't sound right at 7 a.m., so, I opted for something more direct, which is fine, too, because there is something really positive happening in the local food scene in Boulder, CO: You've heard of Community Supported Agriculture ... well, recently I met a grower who's taken it a step further: Local production, sometimes meaning the next yard over; knowing the farmer, who is a neighbor you see and greet from the sidewalk; a variety of fresh vegetables each week of the growing season, and you get to see them growing every day; opportunities to volunteer on a farm by walking a few steps out the door with your cup of morning coffee in hand."
GREEN PHILOSOPHY
prpauly opined on why We were not meant to live this way: "We were not meant to live the way we do in America and increasingly many other parts of the world. I am not happy and I have a feeling there are millions of other people who are not happy either. Americans are the worst examples of the lifestyle I am talking about. We work 40 to 60 hours a week to pay for material possessions that we do not need. We see less and less of our families, friends and increasingly other humans. We have virtual worlds to serve our every fancy and desire. We plug into technology and unplug from the real world. We demand instant gratification, and many times get it. We are de-evolving and de-humanizing in a sense."
In a look at another kind of "conservation," sarahnity devoted her weekly column Frugal Fridays: What's in Your Mattress? to Saving vs. Investing: "A few weeks ago, in my diary on how to make a budget, I suggested that people should try to save at least 10% of their pre-tax income. One of the commenters replied something to the effect of, 'don't save, invest!' and I thought, "what we've got here is failure to communicate." Saving is the act of not spending your money. What you do with your savings is investing. Whether you are stuffing it in your mattress, funding your 401K or paying off your mortgage, you are investing your savings in one form or another. Yes, even stuffing it in your mattress could be termed investing. It is investing in cash. It's really unlikely that investment will ever show a positive return, but it's a choice some people have made."
gmoke highlighted an interesting critique on page 206 in Drew Westen's The Political Brain: The Role of Emotion in Deciding the Fate of the Nation in his Diary The Political Brain: On the Environment:
Those on the left also do themselves - and the earth - a disservice by continuing to trot out words such as environment and environmentalism in public discourse. Not only are these tired workhouses emotionally bland, but they are also precisely the words Republicans have successfully branded as the domain of effete, tree-hugging, spotted owl-saving liberals. Instead, we should be using more evocative, less abstract, more emotionally compelling, and hence less readily co-opted phrases. We should be talking about protecting the land of our forefathers, the air we breathe, the water our children drink, the streams we fish, the game we hunt, the trails we climb with our children, the gracious majesty of our landscape, and God's earth. These are evocative images, some for most Americans, and others for distinct emotional constituencies. They say exactly the same thing as 'the environment,' but they speak the language of Georgia and the Upper Peninsula of Michigan rather than the language of Northeastern environmentalists.
RULES, REGULATIONS, POLICIES and POLLUTION
"I love the smell of environmental lawsuits in the morning," Chaoslillith wrote in India to sue Coca Cola and updates on other lawsuits: "The state government of Kerala has initiated the process of filing criminal charges against the Coca-Cola company for pollution."
eve informed us that Exxon/Mobil mobilizes Republicans in Texas House to shut down Houston Mayor's clean air initiative: "Bill White, the mayor of Houston, has been working on a nuisance ordinance for the City of Houston to effect curbs on benzene and butadiene, 2 carcinogens. In Harris County in 2002, reported emissions (and that doesn't include leaks and other unmeasured emissions) included: ethylbenzene 1,055,090 pounds; benzene 850,679 pounds; 1,3-butadiene 494,102 pounds. These are known carcinogens (or externalities, as economists would say) whose health costs are born by the general public while Exxon/Mobil et al clean up with $88/barrel oil as of yesterday's market close. When the mayor contacted Exxon/Mobil to ask what plan they have to cut emissions, an Exxon/Mobil executive responded that the company has no intention of divulging to the mayor and the people of the city of Houston what emission targets they will use."
ca democratwarned that The Largest Man Made Thing on the Planet: "...may be a plastic garbage patch in the middle of the Pacific Ocean, double the size of the State of Texas. Why does it matter? The plastic stops sunlight from nurturing living organisms below the water's surface. The plastic breaks down, but never goes away. And by logical extension the small bits of plastic will enter our food supply (if they haven't already)."
The Great Stink: when England was disgusting (and why America's rivers still are) in dave praeger's Diary was, for my money, the week's best headline: "On the morning of August 8, three inches of rain fell on Brooklyn. On the 3,200 Brooklyn acres that drain into the Red Hook treatment plant, 260 million gallons coursed into the sewers, mixing with millions of gallons of human waste already headed towards a plant capable of processing only 60 million gallons per day. When flow exceeds capacity by that much, the only choice is to channel it all, untreated, into the waterways. And so emergency outflow points in Brooklyn's Gowanus Canal and across Upper New York Bay began to ejaculate diluted sewage. But aside from homeowners whose basements were flooded by Gowanus sewage and beachgoers who swam in feces the next day, few people paid attention. After all, New York averages 53 combined sewer overflows (CSOs) a year, and 772 American communities suffer overflows during heavy rains. But since CSOs rarely make the news and few politicians want to stake political capital on sewers, the political will to fix them probably won't appear until the problem becomes a catastrophe. This is the story of one such catastrophe: a stench so vile that it changed the course of human sanitation."
ANIMALS
Nulwee bemoaned that UPDATED: 5 Asiatic Lions Killed In Indian Park: Five rare Asiatic lions were found electrocuted Friday on the edge of western India's Gir National Park, authorities reported. Pradeep Khanna, Gujarat state's chief wildlife warden, said the lions were killed by an electrified fence that he alleged was put up illegally by a farmer to protect crops near the sanctuary. "The powerful use insult to injury the world over to maintain their power, destroying others in the process. Disproportionately taxing the middle class to support the poor and disenfranchised minorities. Restricting working class or farming communities from accessing land held in contention between the government, capitalists and environmentalists. In the end the resentment only adds to the danger the marginal humans and animals of the world face on a daily basis."
If you had Mark H's gorgeous triggerfish to watch swim about in its tank, you'd never have to watch television again. In his Diary Marine Life Series: Queen Triggerfish last week, Mark introduces us to Lucy. "[She] is a seven-year-old queen triggerfish that was caught six years ago by a friend, and now lives at my education center. Triggerfish are found throughout the world in tropical and semi-tropical seas. Although extremely rare in New England, occasionally a young fry is carried by the Gulf Stream current up the coast from the Caribbean."
Land Use Watch pondered The last stand of the spotted owl (and old growth forests): "With all the attention on Oregon's Measure 49 (vote YES),it's important to remember that there are still other major environmental issues in the West. Notably, the "Western Oregon Plan Revisions" which appear to be on the cusp of decimating much of the remaining old growth forests in Oregon. This is complicated stuff, and I don't claim to know the half of it."
From Hawai'i, LarryHI reported about the Disappeared meerkat -- they DID call a special session: "Who would believe. If you've been following the saga of the Honolulu Zoo's missing meerkat, you'll remember that the story ended with speculation over whether the state legislature would hold a special session. Thanks to the Superferry, the meerkat could be on Kauai now, where it would be an invasive specie (species?), dining on creatures that had no natural enemies before. The special session is designed to overrule environmental protections currently in place that now protect the delicate ecosystem of Kauai and the other Neighbor Islands so that the Superferry can operate. And it's a crying shame."
PUBLIC LANDS, WATER and OTHER RESOURCES
environmentalist called us to ACTION! Chaco Canyon National Historical Park: "Chaco Canyon was a major center of Puebloan culture between AD 850 and 1250. The Chacoan sites are part of the homeland of Pueblo Indian peoples of New Mexico, the Hopi Indians of Arizona, and the Navajo Indians of the Southwest. The absence of roads on the periphery of the Park and as well as within the Park has been key to the protection of Chacoan archaeological resources for nearly 100 years. That may soon end. San Juan County seeks to pave the main access road to Chaco Canyon. Such an action could prove very detrimental to the future of the Park."
Flushing Our Water Out To Sea is what bernardpliers said we are recklessly doing: "Our reservoirs are dropping to dangerously low levels in many parts of the country. So where did the water go? We've been draining our watersheds and putting our faith in much smaller man-made catchments. America used to have vast wetlands that held much more water than our current managed system. Snow melt and floods saturated these swamps and bogs, which raised the water table and provided water to the rivers throughout the year. Even beavers did their part to slow the flow of water and raise the water table. For instance, a hundred years ago, Florida was blanketed in fresh water. There was the Everglades, but even in the northern part of the state, towns that are now high and dry could be reached by canoe or steamboat. All it took to change this marshy land into valuable real estate was to dig ever deeper canals through the swamp to send the water racing back into the river. But dropping the water table 5 or 10 feet just to avoid damp ground is sacrificing a vast amount of water."
Land Use Watch sought to get voters to reject Oregon's Measure 49: The truth about the opposition spokespeople: "For those Oregonians out there, you should have your ballots already, or sometime this week. It's important that as many people as possible vote YES on Measure 49. Measure 49 helps safeguard Oregon's farms and forestland by limiting unchecked development. Recently, the opposition, Oregonians In Action, came out with a totally misleading television commercial. Here's the truth behind that commercial..."
Ecological causes and effects of SoCal fires: Initial thoughts was Dan Quixote's take on the wildfires burning across much of southern California the past few days: "The natural time between fires in most of these areas is a few decades. Fires would pass through, burn off much of the fuels without destroying the local ecology because in most cases, the previous fire was recent enough to keep this fire from getting to hot. By putting out every fire we could for so long, we allowed the fuel load to build up to the point that the fires now get incredibly hot and spread incredibly fast. Some of the areas currently burning have burned recently, but the mean time since the last fire is much higher than what is natural."