It's Halloween Week once more. Time for the candied apples, mulled cider, Jack-O-Lanterns and costumes. Time to hear the Fundies complain about all the "Witchcraft" connected with kids having fun. Time to watch a scary movie. Since this is a political blog, I thought I should combine Horror movies and Politics. Actually the past 7 years or so have been truly terrifying, scary and horrific. So which horror of the past 7 years scared you the most?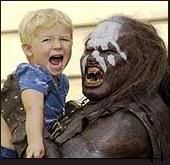 And the nominees are:
Nightmare on Pennsylvania Avenue - (A group of befuddled Supreme Court judges rule that a corporate-controlled narcissist-nitwit has won a Presidential election. Then the nightmare begins!)
The Blair Bush Project – (Two world leaders secretly plot to preemptively invade a country using PowerPoint slides, aluminum tubes, and a drunken madman named "Curveball").
Something Catastrophic This Way Comes - (The story of "Democracy" in Iraq)
Texas Cheney Massacre – (The story of a sinister "man behind the curtain" who devises plans to rule world.)
Escape from New Orleans – (Large groups of people are trapped in rising floodwaters without food, water, or medical help for several weeks).

The Rummy – (A man once thought dead, is resurrected from a previous warmongering regime, and begins making preparations for a new war).
Dead Voter Walking - (The first 4 years were bad enough, but how the hell could they vote for him a second time?)
The Stepford Democrats - (Real Democrats have mysteriously disappeared and have been replaced by phony Democrats).
I Spit on Your Constitution – (What happens when a President and an Attorney General decide that the Constitution is just a "piece of paper").
I was a Teenage Werewolfowitz – (The story of how a group of sinister creatures called "Neocons" plot with large Corporations to take over a government, and ultimately the World.)
Attack of the Killer Spinach - (Due to cuts in government spending (specifically FDA and USDA), various people are poisoned by salads, chili, and lead paint).
What ever happened to Baby Jane? - (The sad story of a sick child without health insurance)
Children of the Damned – (Children of the future try to pay off the debts of their parent's, while dealing with Global Warming, Peak Oil, and an environmentally ravaged Earth.).