The past couple of weeks for Edwards have been amazingly positive and more importantly, he's getting more National attention. But what does this mean to me? What does it mean to you? The narrative is changing and it's officially a three person race!
Contributions are up online: Thursday and Friday, the two days after the debate, made for one of the highest 2-day totals they've seen in months. (He's been ubiquitous on national television -- morning shows and Sunday shows.)

Those are national totals.

What about Iowa? There are two metrics, one of which we don't have available: their hard count of confirmed caucus goers. The other is crowds.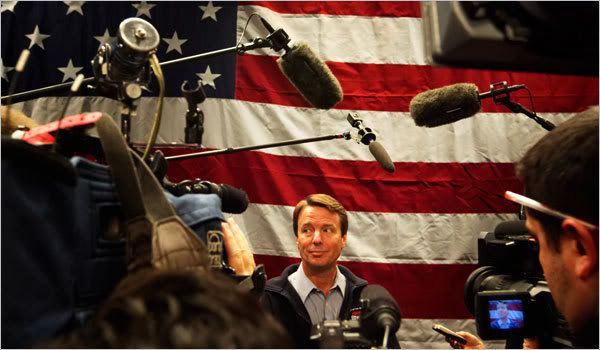 Jacob Silberberg for The New York Times
Contributions are up! This is something I've been saying to myself, yes that counts, that when people find out about Edwards the money will follow. When it comes to the general election he will not have to worry about funds, they will be there and I know Democrats will not just vote for any nominee, they will support that nominee with their contributions.
Now that it's getting closer to the primaries, more people are paying attention. And the debate in Iowa was the last one before the Caucus, maybe even more were paying attention and what came out of that debate is that Edwards was on message and he was on fire!
ABC's Rick Klein: "Edwards Though Wins On My Scorecards."
"3:25 pm ET: Edwards though wins on my scorecards -- he was relentlessly on message, sounding strong, and making a very good case to keep this a three-person race."

TIME's Mark Halperin: Edwards "displayed with mechanized efficiency the same confidence and warm populism that he has nearly perfected on the campaign trail. Grade: A-"

CBS' Vaughn Ververs: "If There Was a Winner, It May Have Been Edwards."
"If there was a winner, it may have been Edwards. His answers to almost every question hewed to his populist themes of sticking up for the disadvantaged and sticking it to corporate America. That should play well among Democrats in Iowa."

Washington Post's Chris Cillizza: "One of the Most Gifted (if Not the Most Gifted) Debater on Any Stage.""John Edwards (First 45 minutes): Edwards is, without question, one of the most gifted (if not the most gifted) debater on any stage. And, for the first 45 minutes of the debate his populist 'us versus them' message really hit home. 'Corporate power and greed have literally taken over the government,' he said at one point; 'You have to be willing to fight....I have been fighting these people and winning my entire life,' he said at another."
There were so many positive reviews of the debate that the website had to have three press releases to cover them all (1, 2, 3). It is about the issues people not just the personalities.
Marc Arminder also reveals that the capaign had to add four new servers for their website over the weekend to handle the extra traffic and on Monday they had the most new e-mail sign ups since the campaign began. The surge seems to be going for Edwards, more people want to hear what he has to say and for a lot of his already commited supporters we knew this was two thirds the battle, getting people to hear Edwards' message!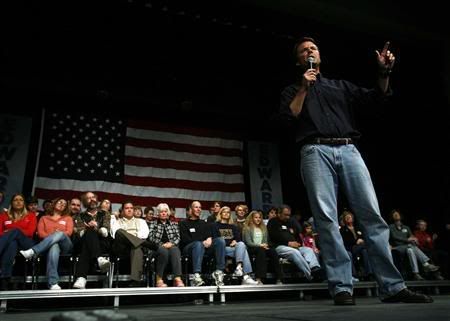 Not only has Edwards been greeted by unusually large crowds for him, he is outdrawing Barack Obama and Hillary Clinton head-to-head. In Des Moines Monday, Edwards drew 400 to Hillary Clinton's 200; in Mason City on Saturday night, Edwards drew 600 to Obama's roughly 300.

snip

Still -- at almost every event in recent days, Edwards has gotten standing ovations. At the end.
At the end is not my emphasis and it's important to note. People went in skeptical and came out convinced (well at least stirred up a bit!). Just a bit more media attention and things start to take off. This isn't my theory by the way:
It's not so much that Edwards is surging 15 days before the Jan. 3 Iowa caucus; he's been strong all along, but the media was paying more attention to front-runners Obama and Clinton. Now he is growing as a factor. Everything is fluid.

"At least early on, there was a lot of glitz associated with Sen. Clinton and Sen. Obama," Edwards said Tuesday on "Hardball." "I think that's faded some, to be honest with you, and now I think we're getting down to the nitty-gritty."
We're getting down to the nitty-gritty. If you can, take the time to hear what is getting people to their feet and their pocketbooks.

John Edwards speaks at a town hall in Lebanon, New Hampshire. Dec. 18, 2007.
I want to end on this though because it's something that really touched me. It was part of Cosbo's edition of EENR and it was a small moment, between John Edwards and a mother in a shelter, that said it all to me. Not just about this one woman, but about all of us.
Horn, 22, talked about how it can take years to qualify for a housing subsidy, and how applicants repeatedly have to fill out confusing paperwork, then wait in the dark for an answer. "You know, it's just like you're going in circles," she said.

When it was over, the photographers and young campaign aides headed to their cars. The man in the suit needed to go downtown to make a big speech about injustice and America's future. On his way to the door, he stopped for a moment, shook Horn's hand and spoke quietly to her. "I'm proud of you. Proud of you," he said. "I mean that. You're gonna be good. You are."

The shelter offers Horn 30 days to get life together for herself and her two kids. After that, she will have to find somewhere else to stay. With that kind of pressure, who could expect her to study up on the presidential candidates? But this one seemed decent, she said. "My aunt likes him," she said, "so he must be a good man."
I'm proud of John Edwards and I am ecstatic that more people are having a chance to hear what he has to say. We're gonna be good too with whomever is the Democratic nominee, there are a lot of positive things heading our way, but I think we'd be even better off with John.