This diary is a quantitative addendum to the excellent diary discussing the qualitative aspects of the MSM blackout of John Edwards.
Before I delve into any of the numbers, I want to make an important point: nothing I say in this diary in any way diminishes what the MSM has done to the other candidates in the race -- Biden, Dodd, Kucinich, and Richardson. The fact that Edwards has received more extensive coverage than these candidates gives you a sense of just how egregiously their campaigns have been slighted by the MSM filter. Moreover, I take nothing at all away from the copious coverage received by the Hillary and Obama campaigns -- I wish the MSM would cover all of us more.
The numbers that I compiled below are a simple way of illustrating that the MSM is actively excluding Edwards from the national dialog the Democratic nomination battle.
When the year began, no impartial observer would have discounted John Edwards' chances, yet for the year, Edwards has appeared in just 18% of the multi-candidate headlines in the New York Times, compared to 93% for Hillary and 91% for Obama.
(When I say multi-candidate headline, I mean a headline which mentions at least two of the top three Democratic candidates. The point of looking at these headlines is that the active exclusion of Edwards from the debate frames the contest as between Obama and Hillary, when it's actually a multi-way contest.)
Even now, with John Edwards surging in Iowa (he's now tied for 2nd with Obama in a "poll of polls" and has gained 3.4 points in these polls over the last month, compared to 2.6 points for Hillary and -2.0 points for Obama), the MSM is continuing this pattern of exclusion.
Of all the multi-candidate headlines on Google News, Edwards appears in just 8%, compared to 97% for Obama and 95% for Clinton.
In other words, out of 2,901 multi-candidate headlines, Edwards appeared in only 228. Obama appeared in 2,813. Hillary, 2,761.
This, my friends, is a f**king blackout.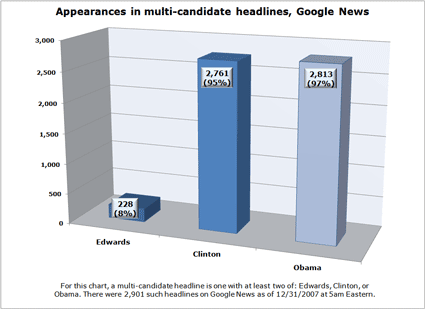 There's no excuse for this.
First, as I mentioned above, John Edwards is surging in Iowa and may well win.
Second, he's closing the gap in New Hampshire -- climbing to within 10 points.
Third, the fact that he trails national polls is absolutely meaningless. I recently found 13 polls taken in the six weeks before Iowa. In one of those polls, they tested Hillary for the nomination -- and she was the national frontrunner with 43%. Remember, that was in 2004! In the other 12 polls, Kerry cracked the top 3 only once. In other words, out of 36 chances to get into the top three, he did so only once -- tied for 3rd. Dean, Clark, Lieberman, and Gephardt all were beating him.
Put simply, in the only places where there's actually going to be voting anytime soon, Edwards is on the same level as Hillary and Obama amongst the electorate -- yet the MSM excludes him from their framing of the race.
Imagine how much better he could be doing if they didn't try to cut him out of the picture?
The MSM blackout is also reflected in an analysis of all headlines in general, including single-candidate headlines.
In the New York Times, there have been 385 headlines mentioning a Edwards, Clinton, or Obama. Clinton is in 55%, Obama 38%, Edwards 19%. (This adds up to more than 100% because of multi-candidate headlines.)
Google News also reflects the same framing. Out of 27,548 headlines, Edwards is only mentioned in 5,254:
It's very important to note that these numbers actually OVERSTATE the coverage of John Edwards because Edwards is a common name. Unlike in the multi-candidate headlines, when any mention of Edwards is nearly certain to be about the Edwards campaign, in headlines that just mention Edwards, you also get articles about Herm Edwards (KC Chiefs head coach) and other famous Edwardses.
Why is the media doing everything it can to exclude Edwards from its frame on the 2008 election?
In my own view, it's because he more than any other candidate is calling bullshit on their corrupt system. For example:

(Update: Newzie requests I add the following warning before this video: "WARNING: Contains Graphic Images of Michelle Malkin's Evil Grin. NOT suitable for children, pregnant women or anyone with a weak stomach!")
Nobody likes having their power taken away. (Just wait until you see the expression on Cheney's face on 1/20/2009.)
That's why the MSM fear John Edwards.