Thomas Peters: slave, millwright, soldier...and politician. His voyage from slavery to freedom began in Part One, when he was kidnapped from Africa and sold into slavery; at the onset of the American revolution, he seized the opportunity to reclaim his freedom fighting with British forces. A talented craftsman, he became a leader of men on the fields of battle.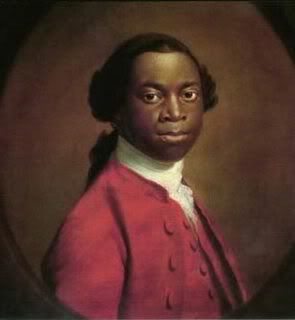 The war's conclusion found him traveling once again, hoping to redeem the British promise of freedom in Nova Scotia. In the 1780s and 1790s, the former sergeant found himself fighting in unfamiliar territory: the world of British politics. From New Brunswick to London, he tirelessly pursued freedom and justice for his community.
Cross-posted at Progressive Historians and The Next Agenda.
Thousands of African Americans left the United States when the British armies evacuated. Some left as slaves of Britain's loyal white subjects; around 6,000, however, left as free men and women. Some had been born into American freedom, but many more of these men and women had liberated themselves in the gunfire of the American Revolution.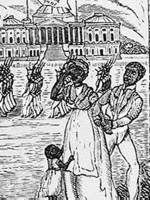 The British cause lost, the Black Loyalists found themselves without a home, and the prospect of re-enslavement a frightening possibility. American General Washington interpreted the terms of the Treaty of Paris to mean that all "stolen" Patriot property, including slaves, would be returned. In New York, where large numbers of Loyalists sought safe passage out of the new United States,
British General Carleton negotiated an agreement whereby all free Black Loyalists would be registered in a "Book of Negroes" (now available online). These men and women would receive certificates of freedom, keeping other Patriot slaves from masquerading as Loyalists:
New York, 21 April 1783

This is to certify to whomsoever if may concern, that the Bearer hereof Cato Hamanday a negro, resorted to the British lines, in consequence of the Proclamations of Sir William Howe, and Sir Henry Clinton, late Commanders in Chief in America; and that the said Negro has hereby his Excellency Sir Guy Carleton's Permission to go to Nova Scotia, or wherever else he may think proper.

By Order of Brigadier General Birch---(courtesy Black Loyalists
New York's refugees were thus saved from a return to bondage, but many other ports dissolved into confusion as white and Black loyalists scrambled for their ships. Tragically, some Black Loyalists found themselves re-enslaved by old masters as the Patriot forces closed in.
The lucky escapees, of whatever race, had few options. England was not 'home' for most of these American-born men and women. Some did choose exile in England; large portions of white slaveholders relocated to the West Indies. Mohawk Loyalists found a new homeland in parts of what is now Quebec and Ontario.


Still others found homelands in Nova Scotia and New Brunswick, Britain's colonies in what is now the Canadian Maritimes. (The country we call "Canada" did not yet exist.) These colonies had a long history of trade and interconnection with the Lower 13; a previous generation of New Englanders had settled there in the 1760s. Despite their official expulsion in the 1750s, determined Acadians still made their homes in the Maritimes, often living alongside isolated Mi'kmaq and Maliseet communities. Halifax, founded in 1749, was a small but busy port when the Loyalists came sailing in. Some Loyalists settled there and in New Brunswick's Saint John, both near the protection of British military encampments.
Thomas Peters initially landed in Annapolis Royal, but soon moved to Brindley Town, near Digby, with over 2,000 former Black Pioneers and their families. Others found themselves in communities like Birchtown, a settlement for Black Loyalists located near the white settlement of Port Roseway (later Shelburne), Nova Scotia. Black Loyalists often found it difficult to receive their promised recompense from the British government.
In Brindley Town, although Peters and his fellows were supposed to receive three years of supplies, they were instead given provisions for 90 days only, and set to work building a public road. It was hardly the sort of independent work a talented millwright might have hoped for. Without proper supplies and equipment, farming and fishing were difficult. Unfamiliar with harsh Nova Scotian winters, many struggled to build adequate shelter. This watercolour image is one of the few contemporary portraits of the Black Loyalists in the 1780s, and suggests the hard work they found themselves engaged in.

Even Stephen Blucke of Birchtown, former member of the daring Black Brigade and a comparatively wealthy man, (he alone could afford a pew in the Anglican church) struggled with housing, according to one observer:
This poor man, like many others in Shelburne Settlements - set off on the great scale, with his expectations much too far exalted; not having sufficiently examined and reflected, whether the land they were seated upon, or the water, which partly surround them, would be profitable enough to tempt an increase of Companions - He began by Building a spacious house, and laying out an excellent Garden, the garden he has well attended to the latter, but the Building he has been obliged to stop the progress of; having only, as far as I could see, completed his Kitchen, with a small Room ---Booth's Diary at Black Loyalists
Land allotments for Birchtown's Black Loyalists (other than Bluck) did not come until 1789, after all the whites' lands had been surveyed. In some areas, blacks never did receive land) By then, many had grown discouraged by the racism (which erupted into an open attack on Birchtown homes by disgruntled whites in 1784) and frightened by the continuing threat of re-enslavement. "Body snatchers" visited lonely coves and heaths to kidnap the unwary and sell them into slavery in the West Indies. Others agreed to work as servants for slaveholding whites, only to find themselves illegally re-enslaved.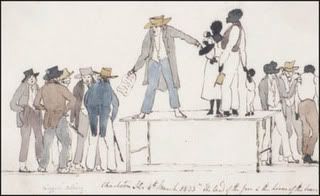 Mary Postell was one of these. Her certificate of freedom had been lost in the hurried evacuation from Charleston, South Carolina; an unscrupulous employer then "sold" her to his own brother. Mary Postell fled Mr. Gray and hid in Birchtown, where she eventually entered a legal plea with the courts:
Mary Postell of Shelburne a Negro woman, maketh oath upon the Holy Evangelist of Almighty God... she became the property of William the son of the said Elijah who was a Captain in the American Army then in rebellion of Great Britain that she joined the troops near Charlestown and when the place was evacuated went to Saint Augustine and came from thence to Shelburne with a catalog then Gray who promised to use her well while at that would live with him that sometime after her arrival how the sent Gray(who was raised in Argyle) her two children and did actually nephew of her to a certain William Mangham and also sold and into of her girl(aged about ten years) to but John who came here to South Carolina as she is informed, and thereafter to sell her youngest child. And this department lastly urged, That said Gray has no right whatever to her or her children and that she is afraid that Gray or William Mangham will seize her and her child and carry them away--- The Deposition of Mary Postell
Despite the dangers and hardships, some settlers managed to flourish perhaps the most successful Black Loyalist settlement was in Tracadie, near Digby, under the leadership of one Thomas Brownspriggs. Representing 74 families, he petitioned Governor Parr of Nova Scotia for land that was remote from white settlements, allowing the families to prosper relatively unmolested by racism. Brownspriggs, a lay preacher in the Anglican Church, also received educational materials for his community from Bishop Charles Inglis and served as the community's schoolteacher.

Yet Peters' experience in Brindley Town proved more frustrating. In 1784, he and former Sergeant Murphy Steele together petitioned Governor Parr for land lots, but were granted only one-acre plots—hardly sufficient for farming. The harsh winter of 1789 made life almost unbearable for all of the inhabitants of British North America, but most especially so for those already eking out such a meager existence. Some Loyalists renamed their home "Nova Scarcity," but the Black Loyalists were too desperate to joke easily about their situation. Desperate for land to support himself and his community, Thomas Peters traveled in April of 1790 to petition the governor of New Brunswick :
To His Excelency Thomas CARLETON Esquire
Lieutenant Governor and Commander In Chief of the
Province of New Brunswick &c &c &c
Petition of Thomas PETERS a Black Man Serjt. of the Late Black Prs.who Serv'd his Majesty 7 years
Most Humbly Sheweth,

That your Petitioner and Numbers of other Blacks are unprovided with Lands, he humbly implores in the name of the whole that something May be done for them as he and many others are now Suffering. Their present Situation is Such that they are incapable of paying the poor tax--

Your Petitioner
As in duty bound will
Ever Pray
Thos. PETERS ----Petition of Thomas Peters, from The Loyalist Institute
Frustrated at every turn, Peters proposed a new strategy: take the plight of the Black Loyalists to the Home Office in London. Armed with documents authorizing him to negotiate on behalf of over 200 Black Loyalist communities, Peters made the long sea voyage, arriving in London in October 1790.
What a strange world it must have seemed to him! Larger than any of the colonial ports he knew, London was also a city with a significant black community and a long multiracial history. Africans had been present in London since at least the early 1500s, when John Blanke served as a trumpeter at the courts of Henry VII and VIII.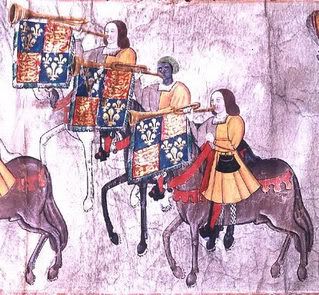 By the 1790s, between 5,000 and 10,000 black men and women called the city of London home.
Some were servants, sometimes the personal slaves of wealthy men and women who had made money in the West Indies. Some wealthy white Londoners kept black servants dressed in "exotic" garb as status symbols and personal servants. Most of the Afro-Britons of the day labored in manual trades, driving coaches, acting as porters, watermen, basket women, and hawkers. A very few overcame the cards stacked against them to become famous.
In fact, by the time Peters arrived in London, several ex-slaves were known to Britain's readers because they had published accounts of their lives in British presses; the first of these was Ukawsaw Gronniosaw, a native Nigerian. His book A narrative of the most remarkable particulars in the life of James Albert Ukawsaw Gronniosaw, an African prince, written by himself, published in 1772 is the first known autobiohraphy of an ex-slave and detailed his life in Nigeria, his captivity into slavery as well as his life in the British Army.

Even better known to British readers was Ignatius Sancho, who had been born into slavery before working as a free man in England; butler to the prominent Montagu family, he later retired and ran a successful grocery business. Sancho was a composer (see his scores here) who also dabbled in acting, and is the first known African man to vote in a British election. (Gainsborough painted his portrait). After his sudden death in 1780, his many letters were collected and published to great literary acclaim.
The accomplishments and writing of men like Sancho fed a slow-growing British abolitionist movement that defied the racist idea of African "inferiority" to Europeans. Ghanaian author Quobna Ottobah Cugoano (baptized John Stuart) published his Thoughts and Sentiments on the Evil of Slavery and Commerce of the Human Species in 1787. It is a blazing moral indictment of slavery, daring to question the alleged moral superiority of whites by revealing the human degredation on which British trade wealth rested.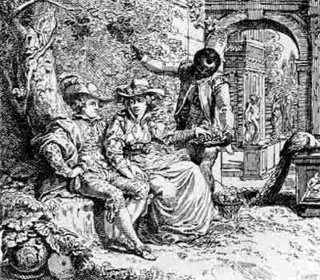 Stuart's work gained special attention in part because of his social connections. He was for some time employed as a servant of the artists Richard and Maria Cosway (they are pictured above with a man who might have been Cugoano.) Richard Cosway served as a personal painter to the Prince of Wales; this meant. Cugoano was personally known to some of the most powerful men of his time.
Through these connections, he made the acquaintance of Granville Sharp and Thomas Clarkson, two of England's most important white abolitionists. In turn, Sharp and Clarkson brought together numerous other abolitionists, black and white, into a small but vocal pro-African group of activists. Among their number was the extraordinary man called Gustavus Vassa by many Englishmen, but better known today by his African name: Olaudah Equiano.
It's hardly possible to do Equiano justice in a few lines, but he would have loomed large in the Afro-British world that Peters encountered in 1790. His 1789 book, The Interesting Narrative of the Life of Olaudah Equiano, or Gustavus Vassa, the African is still a ripping good read, on top of its historical significance as an ex-slave's narrative

This is Equiano's portrait, as engraved for his book. (The painting at the top of this diary has sometimes been identified with Equiano, but evidence for this is sketchy.) After laboring as a the slave of British naval officer and as a manager in the West Indies, Equiano was able to purchase his own freedom. He then worked as a hairdresser, steward, and sailor, traveling through the Mediterranean before joining an Arctic voyage of exploration under the command of John Phipps (incidentally, the future Lord Nelson also sailed on this voyage as a young midshipman—and was nearly killed by a polar bear!). After a dramatic conversion to Christianity, Equiano actually became involved as a missionary in a Latin American plantation—where he came perilously close to being forcibly re-enslaved.
Together with parliamentarian William Wilberforce (subject of the recent film Amazing Grace), these men formed the nucleus of a slowly growing antislavery movement that would one day shake Britain's commercial elites to their core by challenging slavery. But what could they do for Thomas Peters in 1790?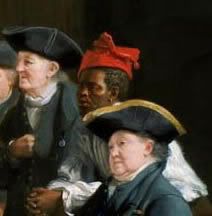 Peter's initial approach in London had been, not to the abolitionists, but to contacts from his military past. There were many black veterans in London of the 1790s, some of them Loyalists who had been relocated to London instead of Nova Scotia or other ports. Undaunted by the vast city, the 54-year old made use of his Army network, and eventually found his way to the home of Sir Henry Clinton, former commander-in-chief of the British forces in the Revolutionary War.
The meeting between the general and the sergeant was a productive one, for Clinton, was able to write Peters letters of introduction for numerous helpful figures including William Wilberforce. Through Wilberforce, Peters met Granville Sharp and other members of the antislavery movement.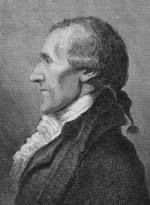 Together, Sharp and Peters drafted a petition to the British government that would change the destiny of the Black Loyalists forever. After outlining their land grievances, Peters' memorial suggested a new direction for the struggling Black Loyalist community:
...That some part however of the said Black people are earnestly desirious of obtaining their due allotment of land and remaining in America, but others are ready and willing to go wherever the wisdom of Government may think proper to provide for them as free subjects of the British Empire.--- The Memorial of Thomas Peters at Black Loyalists
"Ready and willing to go wherever the wisdom of Government may think proper." With those few words, Peters and Sharp launched the migration of the Black Loyalists to an entirely new destination: the shores of West Africa. In part three, we'll follow their journey and the continuing saga of Peters' own struggle for freedom.
Image Notes: all images are believed to be in the public domain under United States copyright law because of their ages.