[UPDATE JUNE 2008: I will be updating this EV list soon (here) as there are now quite a few changes and additions to the serious freeway speed EVs that will be on the market by 2010. The prices here are $6000 under the projected prices currently as that amendment got killed by John McCain's mighty veto pen when he did not show up for the cloturevote]
Unlike when we shifted unconsciously from horses to horsepower we can mold the future with intelligent design and save our dear planet into the bargain. What could be nicer.
If you love your planet, your next vehicle is simply not going to have a combustion engine.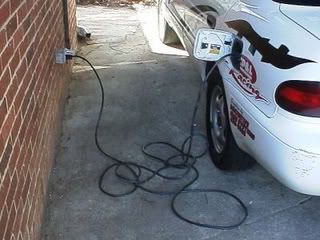 Any more than your next fridge would have a combustion engine.
Unlike when we shifted unconsciously from horses to horsepower we can mold the future with intelligent design and save our dear planet into the bargain. What could be nicer.
If you love your planet, your next vehicle is simply not going to have a combustion engine.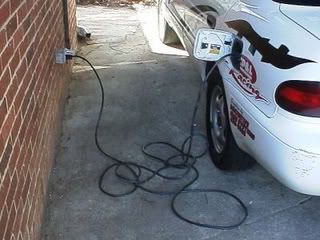 Any more than your next fridge would have a combustion engine. As the Union of Concerned Scientists say if we don't stop farting fumes we will destroy our climate, and as a fellow kossack saysthe internal combustion engine vehicle keeps running out of gas besides. Its just faulty.
Even the Prius.
This week Senator Hatch (R!) joined with Democrats to offer a bill that subsidizes $6,000 - + up to $40,000 - off electric vehicles!
Catalogued below, the first EVs coming...
April 19th, 2007--Washington – During a Senate Finance Committee hearing on transportation energy issues today, committee members Sens. Maria Cantwell (D-Wash.) and Orrin Hatch (R-Utah) highlighted their bipartisan effort together with Sen. Barack Obama (D-Ill.) to begin a shift in our nation's transportation sector away from conventional liquid fuels and toward electrons.
If adopted this would:
The CLEAR ACT offers this subsidy of $6000 in the form of a base credit of $4,000 and an incremental credit of $2,000 for vehicles with extended range or payload capabilities on vehicles that utilize stored energy from plug-in rechargeable batteries, offer zero emissions and are not dependent upon petroleum-based fuels.
Just so you know what civilized countries do in the face of doom, the Japanese government created their hybrid industry with 50% subsidies: they get serious about encouraging green automakers. Not that $6000 off isn't nice (the up to $40000 is for humungous commercial vans and trucks: see below)
But thats why we planetary citizens will have to work all the harder to make up for our own bathtub-sized government, and contact all these Good Samaritans and push them to do the right thing, and faster: so I have included contact links.
Speaking of contact links, the most important one is to call this Republican Senator today (202) 224 3121 ask For Senator Hatch's office, and offer your kudos for encouraging green car buying with this CLEAN ACT, and make sure the other Republican Senators know how to vote on it! You know the Republicans are following Inohofe down the tubes, so you need to really let those few that do show some glimmerings of intelligence on this know that it actually matters to voters that we save ourselves from certain planetary doom...
Because all electric vehicles finally will leave the entertaining world of fantasy like these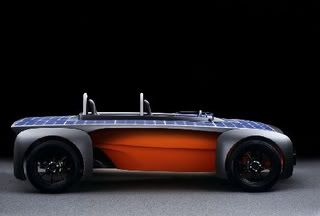 deux voitures electriques de Venturi(UPDATE: See comments: this second Venturi - the eclectic, is actually now available, priced in Euros below)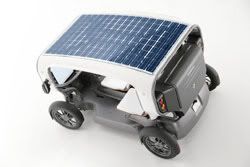 and science experiments, fabulous as they are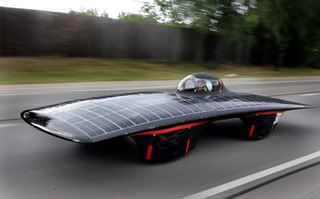 and hopped-up go-carts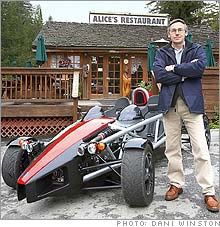 and become reality in the next few years. EVs really are rebounding!
We must do whatever we can to encourage everyone we know to pick the clean option next time, and this subsidy sure helps that.
I have compiled this pricelist with speed and range (how far it can go before a recharge) for those of us who can possibly avoid buying a new car till 2009 when the first of the freeway speed EVs will actually start to come online, and what they will cost after the $6000 subsidy, and where to contact each company to cajole, encourage, redesign, boycott, get on the waiting list or otherwise influence the future of the automobile.
So please contact these companies plentifully and often and you will be able to tell your grandkids what you did right to save the planet by redirecting our most filthy industry to sustainability. Let these companies know there's interest. A lot of what we see coming online now is because of the mandates back in the 90's, and if we don't pick up the ball this time it could be killed again. Heres the options divided into 2 categories, freeway speed and non freeway speed capable(NeighbourhoodEVs), of every EV available by 2009, sorted by impending reality (others seem more like pie in the sky.)
First to dispell some lingering misconceptions about EVs:
Yes coal currently supplies elecricity but even if every electron is coalfired (and in no state is it that bad) still EVs are cleaner than gasoline cars: longwinded source and second opinion summarises:EV = 100 lbs v ICE = 3000 lbs of CO2 from internal combustion engined vehicles
No you don't need to add coal plants because currently unused extra night-time capacity will recharge EVs: source
Some states like California now or soon will use lots of green energy now so grid tied EVs will be greener already: source
No homegrown fueled (switchgrass, corn, cellulosic)vehicles researched because water shortages will become a problem with climate change, and any fuel that needs water will compete with our survival needs for water: horrific example from our future newsclippings: Australias present.
And you can install your own solar garage to power your own car, and don't you think parking building entrepreneurs would jump into that market to recharcge while you are at work?

OK? Doubts all dispelled? Let the catalogue begin!
Freeway capable EVs available by 2009:
Already passed their crash tests: Tesla! Phoenix!
Regulatory hurdles are immense as I found in talking with the ZAP dealer in Alameda. At first, the sheer cost is tremendous. In part because they take fully built vehicles and keep smashing them into a wall. (And then throwing them away.) How many times you have to do that just depends on the results. That is in part why so many makers of EVs have either stopped short of anything or stayed under the regulatory wire by sticking to 3-wheeled or low-speed vehicles (NEVs). I don't think all the regulatory hurdles are innocent. The big automakers probably see them as an effective deterrant to any upstarts. So three cheers for these first two upstarts past the testing line!

IMPORTANT NOTE ON PRICES: AFTER THE $6000 SUBSIDY
Tesla Roadster $84000
130 mph 200 mile range
Contact:CEO Eberhard via his blog about the Tesla to make sure he can withstand Detroit and apologise for this diaryist


who doesn't know any better than to put Tesla on the same page with 3 wheel neighbourhood electric vehicles and pie in the sky like the Chevy Volt, when the Tesla Roadster has now passed their first crash tests! Tesla is Queen of the new EVs.
The second model code name: White Star, scheduled for 2008 will be a sporty four door family car at roughly half the price point of the Tesla Roadster and the third model will be even more affordable... all free cash flow is plowed back into R&D to drive down the costs and bring the follow on products to market as fast as possible. When someone buys the Tesla Roadster sports car, they are actually helping pay for development of the low cost family car.
All 3 will be freeway capable (duh!) and be gradually more within the pocketbook range we need to get every single one of us out of our CO2 fume farter.
Phoenix SUT $39000
110 mph 250 miles range
Contact:Ask Phoenix if you have to be buying a whole fleet to purchase a Phoenix in 2007, like Californias electric utility PG&E just did,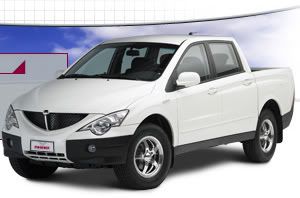 but Phoenix will release a consumer version of its zero-emission, freeway-speed, green vehicle in late 2008.
June 2007: heres the first photos of the SUV version

Nearly there freeway speed EVs:Have not passed the expensive crash tests yet, or in some other way not slated for 2009 but beginning to seem possible
ZAP-X $55000
155 mph 350 mile range
Contact:Check with these ZAP dealerships to see how soon this non-NEV ZAP is coming along. Like the Tesla, this body is by Lotus designs, which seems to be becoming the way you build a non-Detroit car business.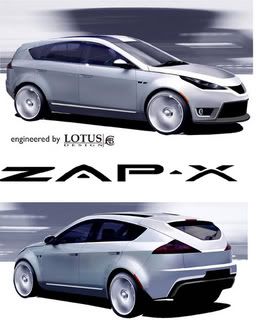 ZAP just got a $78 million dollar order which will help them get to this freeway speed vehicle, even though they have only been making the NEVs (listed below) till now.
Miles Javlon XS500 $24000
80 mph 150 mile range
Contact:Ask CEO Miles why is he still just making NEV vans when we all need this well priced freeway speed car. And to hurry! Great price!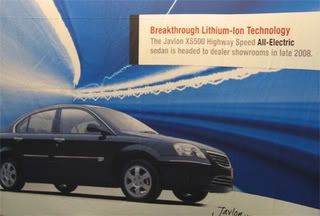 The Javlon design is not finalised but will beby Pininfarina the Donna Karan of elegant design in the autoworld. Can't help thinking that since CEO Miles comes from the fashion industry, this won't be an ugly car. Before you laugh, contrast this with the predictable business-model coming from Detroit. Many of the new auto industry CEOs come from or are funded by the dotcom industry. And they are primarily motivated by green thinking.
Subaru R1e
62 mph 50 mile range
Contact:Ask when we can buy it here (they welcome feedback!)
Although only available in Japan this year it is their Global Warming Prevention Award


winner in Japan and so it may very well be slated for export to us, just as the Prius 1997 to 2000 model was originally sold only in Japan, with those generous 50% government subsidies.
Smart $6000 - $12000
70 mph 50 mile range
Contact:Beg them for the EV version
(If you can't wait for them to bring out the EV version order your proto for $34000 direct from Hybrid Technologies)
Less-fuelish vehicles also get a subsidy and this (ugh: gasoline version) gets 40 mpg. Although currently this is not an EV they are testing this as an EV with 200 cars in the UK, so NOW is the time to go to their site and plead for this to be available here too as the EV version! Tell them you will NEVER buy a gasoline car again.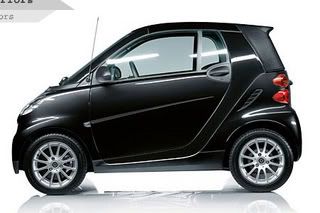 The tiny car made by DaimlerChrysler AG already sells in Europe and Canada and is scheduled to arrive in the U.S. market in the first quarter of 2008.
...the entry-level Smart ForTwo starts under $12,000, the ForTwo coupe is less than $14,000 and the ForTwo Cabriolet is priced under $17,000.
More than 46,000 people have registered on the Smart Car Web site and asked to be updated on an ongoing basis as the vehicle's launch date nears. The company estimates there will be between about 50 to 70 dealers ready to sell Smart cars in the first part of 2008.
EV Version: 72-100 mile range - fleet testing only in the uk as of June 2007
Powered solely by electricity, and chargeable from any three-pin socket, the smart ev can achieve the equivalent of 300 mpg – that amounts to a saving of up to 80% in fuel costs over the already highly economical smart fortwo. The ev can travel up to 72 miles between charges, which typically take around 8 hours for a full charge – ideal for charging at work between your morning and evening commutes. With a top-up charge during the day, the smart ev's daily range weights in at 100 miles.
Mitsubishi iMIEV $11000
81 mph 99 mile range
Contact:Their site (it is hard to see how to get in touch with them)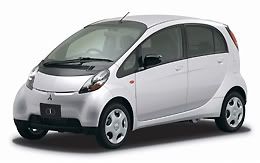 Holding your breath until an affordable and practical electric car is within your reach is probably not advisable. But with a modest auxiliary oxygen supply, you just might make it. Things are happening. Mitsubishi expects to put the i MiEV on the commercial market by 2010.
Chevy Volt $18000
120 mph 300 mile range
Contact:Votefor, no DARE them to make it!
This could be just pie in the sky, or the original EV killer GM might in fact produce the


ugliest EV option out there for masochists. Give poor CEO Lutz some design assistance and encouraging feedback. Already the National Resources Defense Council has made them this hardhitting ad: gratis. I never saw their EV1 ads at all in California, so visibility matters, don't you think?
Update July: not pie in the sky...and not ugly in real life

ACPropulsion EBOX $64000
90 mph 140-180 mile range with customised batteries
Contact:Tom Gage to order yours
I interviewed this ex-Chrysler CEO of ACPropulsion and discovered he believes, like Gore, that we must tax CO2 to provide the carrot to consumers to accompany the stick of higher CAFE standards.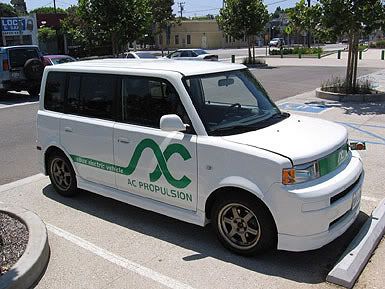 and the t-zero

UEV Spyder $63000
freeway speeds 70 - 150 mile range
Contact: Call them to order yours
UEV is following the Tesla business model, starting with small run of expensive sportscars and hoping to go bigger with a $29000 ($23000) sedan next.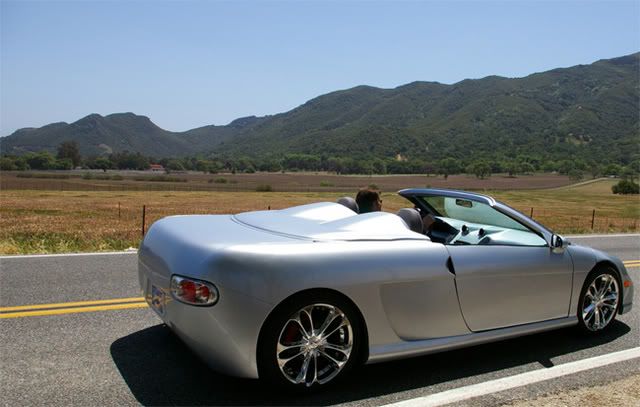 Tango $102000
150 mph 40-160 mile range (depending on your battery choice)
Contact:the inventor dad and son team to order yours
Tango is refining the design If they want to clean up it a little heres my 2 cents! but their unique concept of a single-width vehicle that you can ride two abreast in freeway lanes is just a groundbreaking case of a paradigm shift. While you can order now from this company, someone should invest to make it be the big supplier it should be!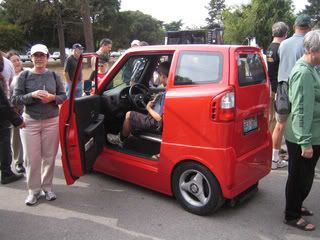 1929 Mercedes Gazelle $19,000
75 mph 15 miles per charge
Contact:electrictransport because they can also convert your current whatever to an EV.
It takes a certain flair to drive this sort of glamourous old thing but since it is freeway


speed, I included it because its fine for the bold who live close to work in sunny climes.
Smith Electric Vehicles
50 mph 130 mile range
Contact:I suspect not too many kossacks order for industrial uses, but how many of you will see the UPS man tomorrow at work? Or shop at Whole Foods tonight? Ask why don't they go electric next time. And tell them about this subsidy, which for heavy vans goes up to $40000. Widespread adoption of electric trucking could really clean up some serious hunks of carbon currently spewing into the atmosphere!
Tanfield/Smith Electric Vehicles is starting with the first 200 during 2007, to put together the world's first zero emission 7 ton truck


Any socially conscious business using up to 14 ton delivery trucks should see this part of the CLEAR ACT:
Medium and Heavy Duty Vehicles.
Medium and heavy duty applications of the same vehicle technologies utilized for passenger vehicles offer similar benefits related to energy efficiency, diversity, and emission reductions. The CLEAR ACT offers credits for individual weight categories and amounts vary with the largest vehicles over 26,000 pounds (14 tons) receiving up to $40,000 for fuel cell or battery electric, $32,000 for alternative fuel, or $24,000 for hybrid applications.
The new EVs all use batteriesthat use plain old lithium salts like you see covering the Salt Lake City flats in Utah. Lithium is the 31st most abundant element on earth, the crust contains 65 ppm of lithium. There is at least 100 million tons easily extractable and the ocean reserve is essentially limitless.
NEVs. These are in my view not truly paradigm shifting vehicles, as few of us can manage a daily commute with driving only 25 mph or even, like with the ZAP, 40 mph. However they are cheaper, and I hope that they can help those few of us out there who can get by at this speed move to a cleaner world.
ZAP $6000(with subsidy)
40 mph 25 mile range
Contact: please make a less wobbly mirror
Surprisingly this feels roomy enough inside, but it has a very wobbly rear view mirror!


I testdrove this, my review is in my previous EVdiary about the need to tax CO2 to really change what we drive.
ZENN $6000
25 mph 35 mile range
locations available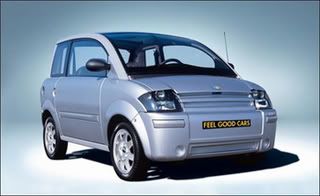 I testdrove this too in Santa Cruz and the responsiveness is great. It starts speedily and stops on a dime. It looks relatively normal. But the 25 mph limit made it too slow for me, although they do have a 35 mph version coming later this year. I didn't glean any sense of any freeway speed ambitions coming from this company, unlike both ZAP and Miles who have obviously started in the NEV speeds in order to finance the jump to their freeway speed vehicles.
Dynasty IT $39000
25 mph 40 mile range
Contact:To bitch about the relatively high price


This Canadian company is not planning to go to a freeway speed vehicle, per the general manager, because of the prohibitive costs of crash testing.
The Velocipede $7000
speed: your pedaling limit, range: your pedaling limit
Contact: 1-800-227-3528 between 8 a.m. and 12 p.m. Eastern
This is the first human powered vehicle (HPV) to have a carbon fiber monocoque chassis, the same material found in the fastest high-performance Formula 1 automobiles, making it the worlds most advanced three-wheeled velomobile.


Designed by world-renowned designer Michael Goretzky, the customized vehicle combines the low-impact exercise benefits of a recumbent bicycle with the stability of a three-wheeled cruiser and the aerodynamics of a concept automobile. Carbon fiber provides the chassis with an exceptional strength-to-weight ratio, making the chassis as strong as the steel used in modern automobiles at a fraction of the weight.
Miles X40S $11950 4 seater
25 mph 65 mile range
Contact:showroom for dealerships near you

GEM $795! and up
25 mph 30 mile range
Contact:to select your option
Made famous by Ed Shultz, (the reformed rightie on The Jones Radio Network)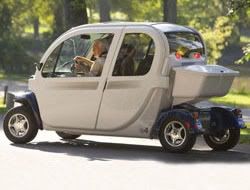 the oldest NEV around, the GEM car would start at under $1000 with the $6000 subsidy!
Hmmm.....In Your Face version!

KURRENT $3800
25 mph 35 mile range
Contact:to go with the flow...
Given the 4.1 kW motor, acceleration is leisurely, particularly with people aboard. Lifting off the go pedal reveals fairly aggressive regenerative braking to maximize the battery range.


The car feels fairly solid, thanks to the stiff aluminum frame. Even with the short wheelbase, the ride was stiff but not intolerable, and it didn't feel like the car was going to fall apart. Handling isn't really much of an issue for a vehicle with such a low top speed, but it didn't feel tippy going around corners.
Redesigning cities to be NEV friendly:
It is possible to change our neighbourhoods to be more friendly to slower driving... We just need to decide to, like Peachtree, Georgia did, by putting in 80 miles of paths for electric vehicles only.
Home appreciation in Peachtree, Georgia the last year has been 7.80 percent, so I guess theres some interest in this new idea.
Have you ever wondered what a town would look like if electric cars were the rule rather than the exception?

One city has done it, transforming itself to a NEV town where you can indeed take time to smell the roses... as detailed by the hilarious EVangelist Lynn, at electric cars are for girls:


Picture a town with 7500 electric cars registered.

.Where the high-school has special parking designated for electric cars.
.Where most all the households have at least one electric car.
.Where the kids do their first driving behind the wheel of an electric car (safer!),
.where the moms run them to school and soccer in the electric car (saving money on gas!)...
...in other words, a community where the electric car is woven into the carpet of (quieter, cleaner) everyday life.

Now picture that town in the deep South.

The town is Peachtree City, Georgia...

To be sure, few other American suburbs can match the extent of Peachtree's path network – which developers of new neighborhoods are forced to expand by local law. Over the years, the paths have become a secondary road system almost completely disconnected from the primary road network. With built-in bridges and tunnels, the miniature roads function as shortcuts between neighborhoods and, for teens, a quick route to the public pool.
Now, nearby communities like Tyrone and Fayetteville are creating their own path systems as the crush of Atlanta's urban growth approaches. What's more, city officials receive dozens of inquiries a year from communities across the country interested in developing their own golf-cart policies.

...and the electric cars are golf carts.

There are at least 75 miles of golf cart paths

connecting the residences with the businesses and parks and churches and libraries and schools, and - oh, yeah, also the golf course. I've heard it said that you never have to drive your regular car if you don't want to although most people do have one. They just never drive it.