In late 2003 the Kerry campaign made a radical decision: it decided to close most of its New Hampshire campaign and bet everything on Iowa.  It's not an often discussed decision, but it remains the best tactical decision I have ever seen a campaign make during the primaries.  It was based on the fact that national polling is irrelevent before Iowa, and to some extent so is New Hampsire Polling
What made the decision fascinating at the time is that Kerry's campaign manager was Jeanne Shaheen.  While best known as a governor of NH, she is also without a doubt the master of the New Hampshire primary.  She has run 3 winning NH campaigns: Carter in '76, Hart in '84 (where I met her) and Gore in '00.  Obviously two of those races (Carter and Hart) represent some of the biggest upsets in recent political history.
What Shaheen knew was that Iowa would completely re-make the NH race.  And so it did.  The tables below show the polling taken before the Iowa results were known, and the impact Iowa had on the final New Hampshire results:

As the data shows, Iowa completely changed the race in New Hampshire. In fact, you can argue that this understated the impact of Iowa.  To some extent Kerry's polling improved before the Caucus results were known.
Based on my research, here is the impact of the Iowa finish on the NH results.

Here are some scenerios based on NH polling in May and June:

The data above is based on the following: First in Iowa is worth 14 points in NH, Second is worth 3.5 points, Third reduced the NH total by 3.5 points, and the other candidates support is reduced by 25%.
1984 was a strange year were there was an overwhelming front runner - which is not the race in '08.  What '88 and '04 teach for '08 is the following:
A first place win essentially is worth about 14 points.  Most of the undecided will move to the winner of Iowa.  For Edwards - whose numbers are sagging in NH - winning Iowa will be critical.  Second Place doesn't seem to hurt a candidate, and in fact has tended to help marginally.  The key is if the second place winner is a surprise.  Should Richardson place second, he might be looking at a significant NH surge. Alternatively, if Hillary were to take second, the question is whether her lead in NH would be big enough to withstand the surge from the winner in Iowa.
Third place has traditionally spelled trouble.  Dukakus had a huge lead and was able to survive it.  However, a third place finish for either Edwards or Obama would be a disaster.  
There were two other multi-candidate races that have taken place under the modern schedule, '84 and '88 (in '92 Iowa was not contested, in '80 there was more than 2 weeks between Iowa and NH.  The modern Iowa Caucuses did not really begin until '76)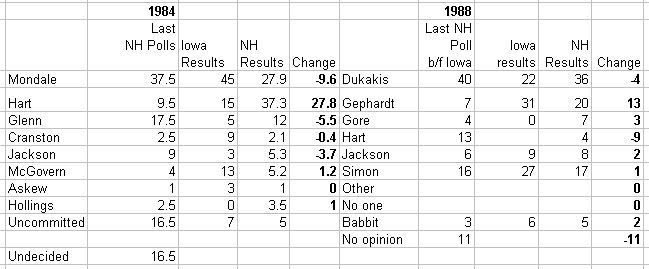 In many ways the '88 race most resembles the '08 race.  Gephardt was favored to win in Iowa, and still got a significant surge from his win in Iowa.  This must give hope to the Edwards people.  Even though Edwards is the current favorite in Iowa, there is still good reason to think that he would get a significant boost in NH should he win.
In 1984 I worked for Gary Hart.  My most vivid memory is of February 25th.  On that day the NYT ran an article stating that Walter Mondale had the largest lead in the history of polling for the Democratic Nomination .  He was leading by 50 points (57 to Hart's 7).  On the SAME DAY, though, came news that had had picked up 14 points in 4 days, and was now down only 38-25 to Mondale in NH.  I will never forget the irony - the national media was reporting meaningless National Polling - while the local press was focused on the surge hart had received out of Iowa.