(For those not familiar with my diaries or comments by now, I am a very strong Edwards supporter. But the stats I present here are what they are.)
So, the most recent figures I could find on money spent in Iowa on TV ads are these from MSNBC.
Obama (more than $9.5 million) has spent the most among all the candidates -- followed by Clinton (more than $7.5 million), Romney ($7 million-plus), Edwards ($4 million), and Huckabee ($1.4 million).
Here, Obama outspent Edwards by at least a 2.4:1 margin, and Hillary outspent him by at least 1.9:1 margin. Combined, he was outspent by the other two by at least a 4.25:1 margin.
Who got the most bang for the buck below the fold....
Now, let's look at the delegate counts.
Obama: 940
Edwards: 744
Clinton: 737
So how much did each candidate spend per delegate that they picked up?
Obama: $10,106.38
Clinton: $10,176.39
Edwards: $5,376.34
Interestingly enough, Obama and Clinton spent almost the exact same dollar amount for each delegate they picked up. That surprised me. When you're in the millions of dollars spent, and yet the numbers per delegate only differed by $70.01, that's an incredible coincidence. Edwards spent about HALF as much as the other two for each delegate he earned.
People want to talk about how Obama brought in the youth vote, but would that have been possible without the massive spending he did on TV ads? I recognize there's field and staff and organization too, but let's not discount advertising, since millions were pumped into that, without giving a logical reason why it wouldn't matter. (For the statisticians reading this, can you simply regress the turnout on Obama's charisma, as many in the media are now doing, or were the ads a confounding factor?)
In the end, who got the most bang for their buck when it came to TV advertising? And again, if someone says TV ads don't matter, then why did each candidate spend several million dollars in TV ads?

I also thought this video from JedReport spoke volumes.
Notice in the middle of the report, Andrea Mitchell compares how much better Obama did with young voters (i.e., under 30) than Hillary did: 57% to 11%. That's quite a discrepancy, to be sure. But why not mention that Edwards was getting 14% support from young voters, also more than Hillary was getting? It may not be by much, but it was still more. Don't try to tell me that time constraints were the reason that was deleted from the narrative. BTW, those numbers were entrance poll numbers. As Edwards had the biggest gains from the entrance poll (where he was getting only 23% to Hillary's 27% and Obama's 35%), it's natural to assume his numbers among young voters must have increased in the final count. (I don't see a young woman category in that poll; must be data NBC has that's not available to the public.)
And as JedReport also showed a few days ago, there is a definite media blackout of John Edwards.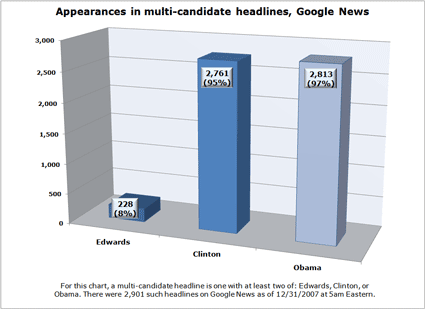 There is simply no way you can explain that away. Given the numbers he was polling at in Iowa and nationally, the discrepancy is simply too large to justify a non-bias in the mainstream media coverage of Edwards.

Finally, on electability, now that Huckabee seems to be frontrunner for the GOP, with Romney and McCain still in there, let's not forget what the CNN poll last month showed in head-to-head matchups.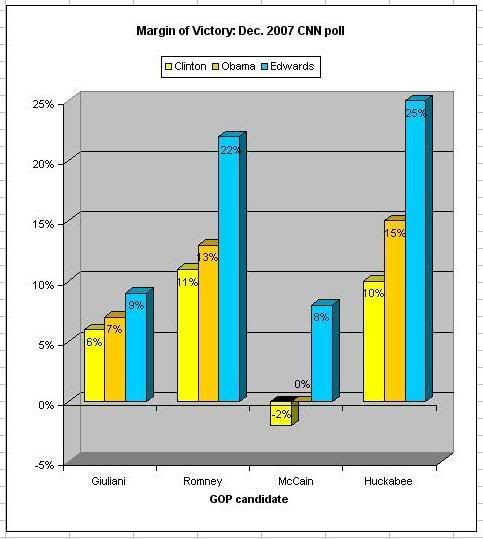 And from Real Clear Politics (h/t Terre), on the margin of victory in head-to-head matchups:
| Candidate | Giuliani | Huckabee | Romney | McCain | Thompson |
| --- | --- | --- | --- | --- | --- |
| Clinton | 1.8% | 4.8% | 4.8% | -5.00% | 7.5% |
| Edwards | 2.7% | 14.3% | 16.5% | 3.7% | 13.3% |
| Obama | 5.7% | 10.4% | 11.8% | Tie | 12.0% |

I've been saying for a while that "electability" arguments have been approaching this thing all wrong. I do believe that regardless of whether Hillary, Obama, or Edwards is our nominee, we WILL win the White House come 2008, also regardless of who the GOP nominee is. That's not the problem. I still think that if a state did not vote for Bush either in 2000 or 2004, they're staying in the blue column for 2008. There's just too much emotion ranging from dissatisfaction to outright hatred of the GOP, at least in those states, for them to flip to the GOP.
And after Thursday, Iowa looks like it's bursting at the seams to re-enter the blue column. After 2006, same with New Hampshire and Ohio, and several other states. This is why to me, simply taking back the White House is somewhat of a red herring.
No, the "electability" argument for me has more to do with margin of victory than it does victory itself. As I've been repeating for months on end now, so much that it sounds like my own personal stump speech:
And as mentioned before, margin of victory is also crucial in that it needs to be greater than the GOP's margin for theft, chicanery, and voter suppression. Did you guys really think the GOP is gonna suddenly stop intimidating black voters or shredding registration forms? I don't think so. A 3-point lead can be stolen, and nobody bats an eyelash, because it was all within the margin of error. And while even an 8-point lead is still technically within the margin of error, since most Americans don't know what that means, if the polls show our candidate up by 8 points or so, and they lose, most Americans WOULD bat an eyelash over those results.
For me, "electability" also has to do with downticket races. You win by 2 points, there may not be coattails for Democrats in House and Senate races, not to mention a slew of other statewide seats. (Secretaries of State, anyone? As Ohio and Florida showed, they're sort of important positions.) There will always be people who vote for a split ticket. Now, you win by 10 points... coattails! 8-)

Update: Rasmussen has the new New Hampshire poll out now, and people are talking about how Obama's shot up. But check out Edwards' numbers in the Rasmussen poll.
| Candidate | 6/28 | 8/9 | 9/16 | 10/23 | 11/5 | 11/29 | 12/11 | 12/18 | 1/4 |
| --- | --- | --- | --- | --- | --- | --- | --- | --- | --- |
| Obama | 21% | 22% | 17% | 22% | 24% | 26% | 31% | 28% | 37% |
| Clinton | 38% | 37% | 40% | 38% | 34% | 33% | 28% | 31% | 27% |
| Edwards | 10% | 14% | 14% | 14% | 15% | 15% | 17% | 18% | 19% |
I think it's interesting that going back to June, we NEVER see Edwards lose ground in support, even as Hillary and Obama go up and down.