Crossposted from Docudharma
Now that Barack has been anointed in corn....It is time to ask some tough questions.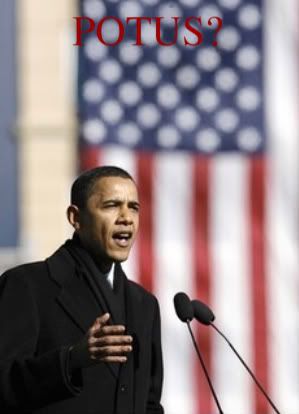 He has said that the country needs to be united, and it is tough to argue with that! The question is ....how? Will he attempt unity through healing the wounds George Bush and friends have inflicted on America and the world? Or by sweeping them under some national rug of unity?
My hope is he sees the necessity of beating back the very forces that UNunified the country through their incredibly destructive and self serving partisanship. WE didn't start this fire, Karl Rove and newt Gingrich did, the power mad Republicans in the WH and in Congress did. Giving them a free pass on both their crimes and on the damage that their brand of burn the house down politics has done, in the utopian idea of some form of unity with these lying sacks of hackery and deceit won't help. Bush will be gone, but his accomplices in Congress will still be there. And in the worst case scenario, the scariest one, they play Obama's good intentions like a fiddle, mouthing platitudes while sharpening their very bloody knives.
Of course the race is not over and I am certainly not anointing Obama. I would be asking these questions of whoever had won in the cornfields. Let me repeat that...I would be asking these questions of whoever had won in the cornfields. But the specter of naivete and gullibility do hang over Barack's head slightly more than the other two candidates, both due to his inexperience, some past statements about cooperating with Republican politicians, and his well....niceguyness.
IF he is speaking of a Unity of The People, that is indeed a worthy goal...if on the other hand he is speaking of Unity with the remains of the Bushco crime family that will linger like a bad smell...that is a different matter all together. Unifying.....working with...reaching out to, Republican VOTERS is one thing...attempting to unify with the Republican politicians is another one completely. Half of Bush's base (Republican voters) have abandoned him, reaching out to these folks makes a certain amount of sense. Reaching out to Republican politicians who have still not abandoned Bush and expecting to pull back anything but a bloody stump is just plain naive.
So here is the question, candidate Obama, phrased in political speak (Since no pol will announce that he/she is "going after" Bushco when they take office.)
Will you appoint and independent investigator to hunt down and expose the evidence of wrongdoing by your predecessor?
Will you roll back the Unitary Executive powers that Bush has claimed?
Will you take the necessary steps to restore Habeas Corpus?
Will you restore the Fourth Amendment so that citizens will be safe in their homes from their own government?
Will you close Gitmo and the Secret Prisons?
Will you launch FULL investigations into the politicization and subversion of the DOJ and the intelligence agencies?
When you take office, will you remove all remnants of "The Bushies" in the DOJ and instruct your newly staffed Department of Justice to vigorously pursue investigations in to the many and various....and many....criminal and suspect activities of the Bush Administration?
Or will you announce, as so may others have done before you, on so many occasions that the "past is past" and that we "must move on" and let the outrages and illegalities of the previous eight years fade away?
Please remember that many of the perpetrators of todays injustices were also involved in Watergate, were involved in Iran Contra and the Death Squads in Central America. That these people have continued in power, continued to pursue their own agendas out of their twisted ideologies, that these in fact are the very people that have CAUSED the disunity in America that you decry.
The People of America and the world simply cannot unite and heal our differences while these cancers on real democracy exist in our midst, unexposed and unpunished. In order to unite us into a new and healthy nation and restore our role as a world leader, this cancer must be excised.
Will you be able to do that President Obama? If your promise of hope and unity for America means anything, that is the first step, cleaning house. Can you make that promise to us? Can you deliver on that promise?