I don't want to bring you this news. But I have to.
Is it bad?
Yes, it's bad.
Four more men have died in Iraq, the first casualties of war in 2008: Staff Sgt. Ryan D. Maseth, 24, of Pittsburgh, Pa.; Pfc. Joshua R. Anderson, 24, of Jordan, Minn.; Cpt. Thomas J. Casey, 32, of Albuquerque, N.M.; and Maj. Andrew J. Olmsted, 37, of Colorado Springs, Colo. They were fathers, sons and soldiers, guys who once played varsity football, rode motorcycles, blogged and, long ago, played with G.I. Joe action figures. Their stories have broken my heart like they'll break yours.
Please join me in remembering their lives which, like candles, burned brightly and lighted the way for others.
"I Got the News Today," 1/6/2008

Staff Sgt. Ryan D. Maseth, 24, of Pittsburgh, Pa.

Staff Sgt. Ryan D. Maseth, a Green Beret, died by accident. According to the Pittsburgh Tribune-Review, two soldiers found him dead in the shower "from cardiac arrest caused by an apparent accidental electrocution." The Department of Defense says that the incident is under investigation.
A faulty water pump. A family in mourning.
Editor & Publisher posted this excerpt from a story by Pittsburgh's KDKA:
(Ryan's father and former Marine Douglas) Maseth says he's devastated.

"I could have put this to rest a lot better if he would have been shot or he would have got killed by an IED," he said. "I'd have said, 'OK. That's what happened.' How can you justify getting electrocuted in a shower?"

While he waits for answers, he's making arrangements for Ryan's twin brother, Brandon, to come home at least temporarily. (Ed.: His younger brother is evidently home on leave.)

"I don't want to lose another boy," Maseth said. "Who wants to lose one? I don't (want to have) the chance of losing two."
The Tribune-Review notes Brandon Maseth is in Iraq as a Ranger with the 82nd Airborne, and his younger brother, Andy, is in an airborne unit, still stateside. My God, how much that family has at stake.
As Doug Maseth told the Pittsburgh Post-Gazette,
"What I thought about every time they went to Iraq is I hoped I never have one of the Army soldiers knock at my door, and I didn't want to face the facts that it could happen," he said.

"And it did."

His sons' serving in combat creates constant worry, but he said he supports their decisions.

"They chose that way of life and I support them, that's what they want to do with their lives," he said. "That is their job. They are going to do their job. It's like you or me going to work. I think that's the way they looked at it."
It sounds like the Harley-riding Maseth, who was on his second deployment to Iraq, was no stranger to risk. His stepfather, Scott Harris told the Tribune-Review that Maseth was "starting the last phase of special-forces training when he was hit by a speeding car while crossing a street. The collision flipped Maseth about 30 feet through the air and fractured his skull, but he recovered and finished training. Maseth was getting ready to try out for the Delta Force, an elite counter-terrorism unit, Harris said. If Maseth didn't qualify, he was planning to become a Black Hawk helicopter pilot."
As his mother said, ""Ryan was very ambitious, goal-oriented and motivated. Ryan always had himself in some kind of school."
His bio from the U.S. Army Special Forces Command (Airborne) bears that comment out, listing Maseth's military education (the Basic Noncommissioned Officer Course; Survival, Evasion, Resistance and Escape Course; Warrior Leaders Course, Combat Life Savers Course, Unit Armor Training Course, Special Forces Qualification Course, Ranger Course, Air Assault Course, and the Basic Airborne Course) as well as his awards and decorations.
All the training in the world may not prevent an accident, and it is tragic that such a hard-working soldier with so much potential was cut down so early in his life and career.
Godspeed, Staff Sgt. Ryan D. Maseth.
***
Pfc. Joshua R. Anderson, 24, of Jordan, Minn.
Like Staff Sgt. Maseth, Pfc. Joshua R. Anderson was 24 when he died in Iraq "of wounds suffered when an improvised explosive device detonated near his vehicle," says the Department of Defense.Shakopee News adds that while on patrol, "he was riding in the passenger seat of a fully armored Humvee when the bomb went off on his side of the vehicle."
There ended the life of another good man.
His father, Keven Anderson, on getting the news:
"I saw the Army guys walking up the driveway and I knew," he recalled. "They walked up, and I said, 'Is it bad?,' and they said, 'Yes, it's bad.'"

(snip)

"He was a very loving father. He loved his family. He loved his country. And he served his country to the end, just what he wanted to do," said Keven Anderson.
Anderson, a combat medic who used to give out candy and Band-Aids to Iraqi children, was born and grew up in Jordan, Minn, pop. 3,833, according to Wikipedia. One of the teachers at its high school paused to remember Joshua Anderson in conversation with a reporter from the Star Tribune:
Norma Timmons, of Carver, was Anderson's ninth-grade English teacher.

"He was a very nice young man," Timmons said. "The thing that keeps coming to mind is his cute little grin."

Timmons said she heard about Anderson's death at the school on Friday. She's taught at Jordan High since 1978, and she said Anderson stood out in her memory because he was always helpful and worked hard.

"It's a terrible loss," she said.
He had only been in Iraq for a few months – since October – and was scheduled for home leave in May. While away, he kept in touch with his wife, 20-year-old Hannah Anderson, via the internet:
She spoke with him online just two days ago. They signed off as they always did, each typing: "I love you. Always and forever. Forever and always."

"Everything we talked about were what our plans were when he came back. He said he didn't want to reenlist. He couldn't deal with being deployed away from me for so long, but this deployment would bring us together and make us stronger. He talked about having more kids. He said he loved me, and I said I loved him, and those were our last words," Hannah Anderson said.
He was also a father, and leaves behind their 3-year-old daughter, Savannah. ""Me and my daughter were his everything. And he was our everything, too," said Hannah Anderson."
When Anderson was still in high school, says the Pioneer Press, he helped a friend whose father was suffering from brain cancer. Evidently, the experience was transformative and in 2006 he enlisted – always with the goal of helping others. The Iraqi children, recipients of Band-Aids sent by Anderson's family, called him "Doc." So did the members of his unit.
My condolences go out to his family, whose hearts are surely suffering tonight. I think especially of his mother, Lynn Anderson, who watched him play with G.I. Joes when he was a child:
"It's hard to believe he's gone," his mother said. "He was doing something he was proud of, and we were proud of him, too. It's like my heart has been ripped out of my chest."
He will be buried in Fort Snelling National Cemetery.
Godspeed, Pfc. Joshua R. Anderson.
***
Cpt. Thomas J. Casey, 32, of Albuquerque, N.M.
On Thursday, Pat Casey of Cape May Point, N.J. got the news: Her son, Cpt. Thomas J. Casey was killed in As Sadiyah, Iraq, "of wounds suffered when insurgents attacked their unit using small arms fire during combat operations." He died alongside Maj. Andrew J. Olmsted.
Casey's mother told The Press of Atlantic City that she has always been proud of her son, and that "(h)e did what he wanted to do and I respected his decision," even as she worried about him during his two deployments to Iraq. Sadly, her fears were realized and she plans to attend his funeral at the Santa Fe National Cemetery, where he will be buried with full honors. He also leaves behind his father, John Casey; wife, Leslie; and two sons, Joseph, 3, and Michael, 16 months.
A graduate of the Albuquerque Academy and the University of New Mexico, Casey studied Spanish and Portuguese, and picked up Korean while in the military; he served as a linguist, according to one report, before becoming a military intelligence officer. While on his second tour in Iraq, he was part of an 11-member Military Transition Team, said his mother, which is embedded with the Iraqi army; as the Nevada National Guard says that Casey was "an embedded trainer with 2/3 Armored Cavalry Regiment of the 2nd Infantry Division (and) was part of a team responsible for training Iraqi police and Iraqi military forces."
Despite the training and responsibility that her son had, what his mother remembers most fondly is the rubber chicken:
"My favorite memory of him was at a swim team meet. Before the meet everybody was gathered at the diving board cheering loudly. He was leading the cheers with a dead rubber chicken. He was a big Teddy bear," Casey said.
The following heartbreaking exchange took place in the comments section of "From the Front Lines," Major Olmsted's blog for the Rocky Mountain News:
Major Olmstead,

My name is Jeff Casey and I am CAPT Tom Casey's younger brother. Three army guard members arrived at our door today to tell us that Tom was killed in small arms fire today (1/3/08). They also told us that both his wife and my monther had already been notified of which neither had actually occoured. I am writing to you to determine if my brother has actually fallen in small arms fire like they said or if the army got that piece of information wrong as well. If you get this and the information turns out to be false, please have Tom contact us as soon as possible. Thank you

-jjc

Posted by Jeff Casey on January 3, 2008 04:09 PM

(snip)

From what I can piece together, Major Olmstead and my brother CAPT Thomas John Casey were the 2 soldiers killed in Diyala province yesterday. I can only assume that they took the lead when the team was ambushed, and are the true definition of heros. Tom was one hell of a brother/soldier/father/friend and I will miss him dearly. My condolences go out to Andrew's family, we know exactly what you are going through

-jjc

Posted by Jeff Casey on January 4, 2008 05:42 AM

Major Andrew Olmsted and Captain Thomas Casey were both killed when we were ambushed. They both displayed tremendous courage under fire. I am proud to have served with them. They will be greatly missed. We were all blessed to have known them. They will always be my brothers in arms.

Captain John Thompson
Nightmare 3

Posted by John Thompson on January 4, 2008 06:37 AM
Godspeed, Cpt. Thomas J. Casey.
***

Maj. Andrew J. Olmsted, 37, of Colorado Springs, Colo.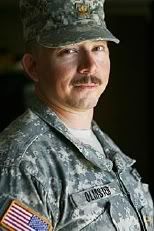 In light of Maj. Olmsted's final post, which has made so many of us weep for a blogger-soldier we never knew, and given the many tributes (here, here, here and here, to note just four) which have been posted across the blogosphere, there is little more I can add in memory of this good man.
But I have to try.
Andrew Olmsted was the first casualty of Iraq in 2008, says the Rocky Mountain News, one of several sites where he regularly blogged about life, the Army, Iraq and "Babylon 5." He leaves behind many written pieces – see the archives for "From the Front Lines" – any number of online friends, his military buddies and a family that loved him very, very much.
From the comments section of Andrew Olmsted's last RMN post:
Captain Thompson, thank you for your kind words about Andy. We loved him dearly and he will be sorely missed. His wife Amanda is clearly having a hard time dealing with this but we will try our best to help her through this most trying of times. Please stay in touch with us if you can. We want to know if there is anything we can help you and your group with. email: (redacted)

Colonel Niksch, thank you for your comments about my son Andy. He loved the Army and felt it was a privelege to serve with so many fine men. He had so many talents. My wife and I and my other two children are having a hard time dealing with this. God bless you and the other members of the Armed forces and keep you safe.

(snip)

This is Gina Wilson, Amanda (Andy's wife) is my siter in law, we heard about Andy last night and are in complete shock. We have nothing but the utmost respect for Andy and his batallion they were over there trying to make a difference for all of the American Citizens. Andy was home for a few days in October when my father in law (Amanda's father) passed away and we enjoyed seeing him. My daughter Elisha (Amanda and Andy's niece) grew very close to Andy and we were going to all meet in Disney when Andy's tour was through, he was going to show Elisha Disney for the first time. We were looking forward to all of us being together. I hope that everyone lights a candle for Andy and his batallion tonight and as that flame flickers, think of Andy and what he was doing to make a difference in America. God Bless the Olmsted family in this time of sorrow, may you find comfort in knowing that Andy died a true hero and Amanda, you know that you always have Ian, Elisha and I, we love you very much and will keep in touch with you and keep you in our prayers. Mr. and Mrs. Olmsted Elisha, Ian and I send our deepest condolences. All our love.

(snip)

I am Andy's niece and I have so much sympathy for my Aunty Amanda and my Uncle Andy's parents. I loved him so much and enjoyed playing with him when he was home. I will miss him and I loved him. I love my Aunty Amanda. Love Elisha

(snip)

We are Amanda's brother Ian's in-laws. I haven't know Andy that long. The last time I saw Andy was when he was home for his father-in-laws funeral in October. When the funeral was over I kissed Andy and said thank you for keeping us free, be safe. Andy and my husband John (who served in Vietanm for six years) had a discussion about war and how proud my husband was to talk to him. Andy was one in a million, very respectful to all who met him during that sad occassion. My husband called him sir, his response, "no I should be calling you Sir, for serving in Vietnam". My husband cried last night when he heard that Andy had been ambushed. Amanda, Kathy,Ian, Gina & Elisha, we are so sorry. Mr. & Mrs. Olmsted and family please accept our deepest sympathy, you are in our thoughts and prayers. The world has lost a wonderful individual. God Bless You All.

I believe that Andy is walking through the shadow of death and yes "he fears no evil" - Thank You Andy for keeping us safe and free.

Linda & John Di Fazio
From a friend and colleague...
I write this as the sun sets over the desert in New Mexico at Camp McGregor on Fort Bliss. I met Andy here in November 2004 and served with him for the next two years. I found him remarkable in that despite the crushing work and concerns brought on by serving in the Army these days, he always had the time to think, write, and discuss--and I, for one, am better for knowing him. He gave each day of a measure seldom seen; he made life better for countless Soldiers. Having just read this long string of comments and Andy's final post at Obsidian Wings, I am confirmed in my belief that a great light has been extinguished. I will miss you, Andy.

Colonel Wm Michael Derrick
From Hilzoy, who published Andrew Olmsted's final post over at Obsidian Wings:
Andy and the unit had adopted a cat and a dog that were running around wild. A little less than a week ago, I think, I was talking to Andy on the phone, and the cat was howling in the background, and Andy was trying to get him to eat, without success. Andy loved the cat.
And the punchline to this story is: Andy was allergic to cats. Every stroke and every tummy rub had to be paid for in antihistamines. But that never stopped Andy.
I never read anything Maj. Olmsted wrote until I heard about his death. But a man who inspires such love from his family, such respect from colleagues and such engagement from his readers – a man whose fundamental decency was not balked by allergies or war – that is a man to be missed.
To quote Maj. Olmstead's final post, and in his honor, then:
"The flame also reminds us that life is precious. As each flame is unique; when it goes out, it's gone forever. There will never be another quite like it." --Ambassador Delenn, Babylon 5
Godspeed, Maj. Andrew J. Olmsted.
***
In memory of all 3,910 flames that have gone out:
***
About "I Got the News Today" (IGTNT)
I Got the News Today is a diary series intended to honor service members who have died as a result of the wars in Iraq and Afghanistan; its title is a reminder that almost every day a military family gets the terrible news about a loved one. Diaries about the fallen usually appear two days after their names are officially released, which allows time for the IGTNT team to find and tell their stories.

Click here to see the series, which was begun by i dunno, and which is maintained by Sandy on Signal, silvercedes, noweasels, MsWings, greenies, blue jersey mom, chacounne, Wee Mama, twilight falling, moneysmith, labwitchy, joyful, roses, SisTwo and me, monkeybiz.
Please bear in mind that these diaries are read by friends and family of the service members chronicled here. May all of our remembrances be full of compassion rather than politics.