How are you all today? I know things are pretty crazy as the primary wars continue simmering, but despite all that I just wanted to share that I'm feeling pretty fired up because I just got back from casting my vote for Barack Obama to be the Democratic nominee for president.
Hey, wait a second... there aren't any primaries or caucuses today. How can that be?
Well thankfully my state of Illinois has early voting (I'm talking above the board early voting not that "vote early, vote often" stereotype ;) ), which was instituted along with other voter-friendly reforms after state Democrats succeeded in wresting control of the Illinois Senate from Republicans -- in part because of strategies like that "present" voting one you may have heard a little bit about that was devised by Illinois Planned Parenthood and implemented with the help of solidly pro-choice Democrats like Barack Obama to protect Downstate Democratic seats put at risk by the votes they might cast on hot-button bills rammed through the legislature by anti-choice Republican Senate President Pate Phillip.
But that really has little to do with why I cast my vote for Obama today.
The reason I voted for Obama has more to do with my grandmother, the woman who made me a Democrat despite the fact I grew up in a home with a Reagan Republican father.
Though she has been gone four years now, I think of her often, especially on election day, as one of the things that made her most proud in her life were her years of service as an election judge. Honestly she had an almost religious reverence for the right to vote and I feel blessed to have grown up with such a civic-minded person.
My grandmother was a Democrat her whole life because it was Democratic policies and rhetoric that gave her immigrant family hope that was realized in the lives of her children and grandchildren and she shared that hope for America with me at every opportunity. As it is Barack Obama's rhetoric and policies that rekindle those hopes she instilled in me as a child for the Democratic Party and America as a whole, I have elected to support him and his ideas and plans for change in Washington. If my grandmother was still alive I think she would do the same as I see so much of what made her and so many of her generation's peers Democrats in what Barack Obama offers the political discourse.
With her stories of growing up around the Southern Illinois coal mines as a child of Serbian immigrants whose playmates were Polish and German and Italian and like her didn't speak English at home but only learned it in school, my grandmother gave me hope for a diverse America where people of all backgrounds could come together in community as Americans with equal opportunity for all people and I think Barack Obama offers the best chance of realizing that hope.
From her stories of growing up poor during the Great Depression and having to give up her own aspirations of becoming a teacher to drop out of high school to work in a family friend's store and contribute to her family's earnings yet finding her family eventually lifted out of poverty due to hard work and worker-friendly New Deal policies put forth by Franklin Delano Roosevelt and other Democrats, she gave me hope that my future grandchildren can have a better life than I did and that I can experience the same pride and joy in seeing that happen that my grandmother derived from her grandchildren's success and I think Barack Obama offers the best opportunities for realizing that hope.
Thinking of the warm smile that enveloped her face as she talked of how FDR made her and her family feel during his fireside chats and the feeling of solidarity that came from their victory gardens and her stories of exhilaration seeing John F. Kennedy campaign through the Chicago suburbs in person during the 1960 campaign, I realize that Barack Obama makes me feel the same way as a proud Democrat and a proud American and that he is the Democrat that offers the best shot of offering that same feeling to all people with his inclusive and uplifting message. He also stands the best chance of rallying the public around his candidacy and his policies for a better America, I feel.
Of course, those positive things I just mentioned existed only in my grandmother's memories and heart. My lifetime has been a lot less favorable for Democrats. At the same time I remember her happy stories about the past, I also recall the intense yet ultimately helpless exasperation she expressed for Ronald Reagan's reckless deficit spending policies and fervent opposition to the first Iraq War as well as the second one and realize just how much Republican actions have hurt this country and why it's so important we elect a Democratic president this fall.
And with the recollection of the Clinton years and my grandmother's endless frustration in finding her talk radio stations populated by right-wing Clinton haters and hearing allegation after allegation regarding the Clintons and having to defend them constantly yet seeing few Democratic victories and all too few things to be proud of as a Democrat during those years, I realize just how important it is that we elect a Democratic president who can unite the people around Democratic policies and move us beyond the polarization so that we can have a long-term Democratic majority in Congress as well.
Now my grandmother is dead and gone (just like FDR and JFK) and I miss her terribly. I miss her smile, I miss her laugh and I miss the chance to talk about politics with her the way I did as a kid.
But as I look at one of the most prized possessions I inherited from her that resides on my desk --- the framed Bill Mauldin cartoon drawn after JFK's assassination for which as long as I can remember hung on the wall of her living room...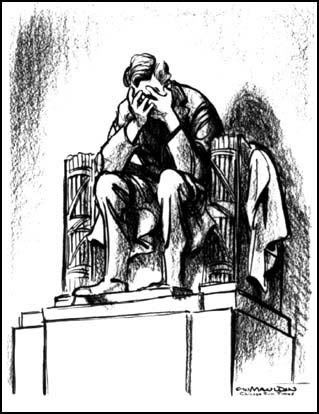 I feel better having just returned from casting my vote for Barack Obama's hopeful vision for the Democratic Party and America when I think about what the future might hold in a Barack Obama presidency.
And that hope is only reaffirmed when I think back to my recent conversation with my Reagan Republican father frustrated with the GOP who told me earlier this month he's thinking of voting for Barack Obama, too.