A lot of ink and electrons have spilled recently over one candidate's admitted use of illegal drugs as a young man. Earlier this month Hillary Clinton's New Hampshire co-chair, Bill Shaheen wandered into the thicket when he said, "The Republicans are not going to give up without a fight ... and one of the things they're certainly going to jump on is his drug use." Shaheen also said Obama's candor on the subject would "open the door" to further questions. "It'll be, 'When was the last time? Did you ever give drugs to anyone? Did you sell them to anyone?'" Shaheen said. "There are so many openings for Republican dirty tricks. It's hard to overcome."
The Obama campaign cried foul, calling the remarks "desperate." Shaheen resigned the next day, and Sen. Clinton personally apologized to Obama. However, it now appears that was an insincere gesture and that Shaheen was actually right about the attacks, just not where they would come from.
The latest was Sunday, from a longtime Clinton supporter and Black Entertainment Television founder, Robert L. Johnson, who backpedaled on remarks he made on stage with Sen. Clinton at a packed Martin Luther King event in NYC. Johnson later explained he was refereeing to Senator Obama's community work, not his personal drug use. Few people outside the Clinton camp are buying that explanation.
(CNN report, Johson, Bill Clinton phone interview)
We now have a growing generational rift between old school civil rights leaders like Johnson, Al Shapton and even Bill Clinton against Obama. Michelle Malkin put it well, "Obama is indebted, but not beholden, to the civil rights gerontocracy."

With less than two weeks to go the younger Obama supporters and establishment Clintonites battle it out in South Carolina and things there appear to be getting ugly and as one Clinton supporter, state Sen. Darrell Jackson put it, "painful." Senor writer for The State.com, "South Carolina's Home Page," Wayne Washington, wrote on Jan. 12,
"The Clinton-Obama battle has the potential to become a wrenching divide for black voters. Historically those voters have been strong backers of Bill and Hillary Clinton. But many black voters now are drawn to the prospect of a black man winning the presidency."
Going into South Carolina Clinton is walking on eggshells. She will be met by some angry young black men like state representative, Todd Rutherford, now openly challenging the liberal status quo, "If they are going to call themselves black leaders, and people are running by them to vote for Obama and they are standing there and pointing in the other direction, then maybe they need to be replaced," Rutherford said.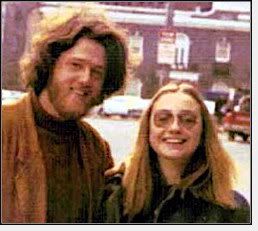 It's clear the spotlight has been unfairly focused on Obama, so what about Hillary? Did Bill ever share his stash with her? What was life really like for the twenty-something Hillary in 1971 Summer of Love Berkeley where, as I recall "The air was sweet with hash," and where she and Bill shacked up (lived together) in a cozy apartment on Derby Street, three blocks from People's Park? What about the numerous reports of drugs, guns and huge loads of cash flying around Mena, Arkansas in the 1980s when she was that state's first lady, and while making her first million on some rather spectacular investments? At any rate, Hillary Clinton's web site bio does not mention anything about her possible use of illegal drugs. Yet even more conspicuous by its absence is any discussion of Bill's well-known (at least in Arkansas) illegal drug use over the years, or his reported cocaine overdose in 1980, (source).
Of the so-called "top tier" candidates, no one needs the Cannabis Culture more than John Edwards. According to OnTheIssues.org, Edwards is another self-admitted toker of the sticky-weed. By courting the marijuana vote he could motivate millions of voters that see little distinction between Clinton and regardless his candor, Obama, on this particular issue, especially in the pot-friendly west.
Edwards has promised to immediately end DEA raids on "legal medical marijuana clubs," primarily in California. (vid) In Dec. 2003 Edwards was rated "B-" by VOTE-HEMP, indicating a pro-hemp voting record.
Coming from most politicians I would not believe it, but from a nerd like Dennis Kucinich who claims he's never smoked marijuana, I can buy it. It's also no surprise one of the smartest members of the House thinks cannabis should be legalized, taxed and regulated like alcohol. There's no reason to doubt one of the most honest men in the U.S. Congress, but Dennis you really don't know what you are missing...
Why is it important to know about a candidate's past or present illegal drug use?
It's the hypocrisy and credibility factors. Why should I support anyone who would punish me, brand me with a criminal record, in a "special" court or subject me to some kind of mandatory drug "treatment" for doing something he or she has admittedly done, or perhaps still does? Saying it was a "mistake" or a "youthful indiscretion" is all well and good, if it's honest. But, how are we to ever know?
Welcome to Urine America Challenge '08. To put and end to all this nonsense, all the candidates should submit to random chemical analysis of their bodily fluids, hair, nails and blood and make all results available to the public. This isn't an unreasonable demand. It's the same indignity millions of working Americans are regularly subjected to in order to get or hold even a minimum wage job, with no health insurance. With the fate of the world at his or her fingertips, why should the President be exempt?
As fun as it might be to read Hillary's lab results, there is an even more important drug test I think the candidates need to take. Call it the Prohibition IQ Test. It consist of only three, true or false questions:
1. True or false? Illegal drugs are out of control.
True or false? Our current drug laws are mostly unenforceable.
True or false? Our current drug laws are widely ignored, corrupted and mocked by the general public.

Of course the answer to each of the above is "true." Going forward then, our intelligent candidates who pass the above test will need to reassess his or her continued support of drug control policies that they admit are essentially just plain stupid, if not racist and elitist. Policies that don't actually control drugs yet do incarcerate millions of mostly poor and minority people. Laws that are, by design, intended to have a much bigger impact on poor people, especially non-white poor people while the vast majority of drug offenders, who are white and middle-class, are safely tucked away behind closed doors, out of reach of the long white arm of the law. Perhaps worse of all, policies which if left in place too much longer and combined with a sinking economy will result in a massive crime wave, more race and gang wars, and a near total breakdown of law and order along the U.S. Mexican border and in major urban areas across the country. Meanwhile, the answers to the test above remain the same.
However admirable candidates admitting past illegal drug use may be, connecting that experience – one that over fifty percent of high school students will also have - to the reality of our drug- and gun-infested schools and streets is, sadly, unheard of on the road to 1600 Pennsylvania Ave. The debate we so badly need over the nation's failed drug policy has again been lost in the shuffle.
Obama has chosen to play his personal drug use story as the familiar existential tale of youthful folly, regret and lessons learned. Liberals are expected to admire his candor and acquired wisdom, then politely drop the subject. It's been that way since you-know-who and his sideways, "I didn't inhale." Progressives have been laughing at that for many years, and now it's time to take it to the next level.
On the one hand Obama is holding his experience up as an example why young people today should avoid drugs, as if they could. However, here was a young man who did drugs and is now a national political figure. That's a head spinner. Especially if you are any of the thousands of young people denied student loans because of a drug conviction.
So does Obama have a secret plan for drug policy reform? Thus far he has not proposed anything substantially more or less than Clinton or Edwards. They are all a breath of fresh air, yet for the most part merely replace the word incarceration with "treatment" and continue to ignore the fundamental problem, adult drug prohibition.
At this link, LIVEFREE, the NH Marijuana Policy Initiative you will find videos of most of the Presidential candidates and their positions on medical marijuana, hemp and drug policy.
OnTheIssues.org, candidates voting records and positions on drug policy.