Welcome to the Midnight Oil. This diary is open for discussion from a few minutes after midnight through a few minute before, some two or three days later. The intro remains the same, but the body is always changing. And you are allowed to comment one or two days after its posted, even if the host bog says its "too late to vote onto the wrecklist".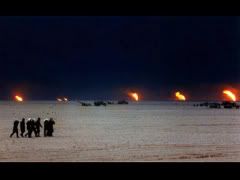 ....................................
Populist movements don't build themselves, they grow from a process of people learning how to support a series of populist campaigns in a populist way, rather than as passive consumers of corporate political marketing campaigns.
It doesn't matter what the "horse race" outcome of the campaign is, if we fight the campaign. Fighting it, we learn how to fight. Learning how to fight political battles, we become citizens again. Becoming citizens again, we reclaim the Republic that lies dormant beneath the bread and circuses of modern American society.
Picture Credit: David Leeson (#8)
House Rules: This is Not Your Everydaily Kos
Be excellent to each other
You are allowed ... encouraged ... to say something hours ... days, even ... after the Oil is lit
Say something, come back eight, twelve hours later to see if there was an answer
Feel free to use the Rec button to let people know you passed by ... but be careful not to overdo it, we don't want this thing up on the wrecklist!
Don't worry about "jumping the tip jar" ... We don't need no steenking tip jar!
Backward : Permalink : Forward

Daily Diary Roll
Spreading fires
High-speed to Barcelona by DoDo (Daneel) (European Tribune)
OK, Senator Obama, if you want to hit this one out of the park ...
Pretending to be a candidate diary
Congressional races round 2: California by plf515
Hey! Let's play "Spot the Edwards Democrat"!
Overnight News Digest: The Most Destructive Project on Earth by Magnifico
No clue why Magnifico did not drop this link by himself on Friday
Critique "Solar on the Radio" by gmoke
List the first and not the follow-up? What a silly Bruce I almost was.
Matthews shows picture of Bin Laden while talking about Obama. by Eternal Hope
Among the Messiest of the Mess Media
Law Professor, Internet Folk Hero, Congressman? By Andrew Golis (TPMCafe)
THE COMMUTING PARADOX by Ezra Klein (Tapped)
Elections in Pakistan by Colman (European Tribune)
Guerrilla Media Warfare. by: Gabriel D
Yes, of course I left a comment saying to do a video samizdat, too.
GM's Lutz: Global Warming "total crock of S--t!" by A Siegel
Made the reclist, but some of us may not look at the reclist
Al Gore: The Dangers of "Sub-Prime Carbon" (UN Summit on Climate Risk) by: stormchaser (Docudharma)
The Candidate of the Permanent Will by David Sirota (CREDO Mobile)
Assail the Seven Seas: Nearly all of world's oceans tainted by human activity, says study (Grist)
Another Washington Post Fusillade for "Free Trade" by Dean Baker (Beat the Press)
Democracy in Pakistan, Despite Bush Policies By William Hartung (TPMCafe)
This Is How Legislators Spend Their Time by Stephen Suh (Cogitamus)
Define "cheap" (and define "competition", too) by Jerome a Paris (European Tribune)
FDA Proposal on the Promotion of Off-Label Uses Highlights Drug Agency's Recklessness: Statement by Sidney Wolfe (Public Citizen)
Mental Illness: A Cause Near & Dear To Me by poligirl (h/t poligirl)
My Basic Solar Advice by gmoke (h/t LaEscapee)
Original Sparks
Has America Betrayed the NATO Alliance? by Vigilante (European Tribune)
Heather Ryan Answers Questions From Kossacks by RDemocrat (h/t One America tagpage)
The Subprime Borrower Protection Plan By Dean Baker (Center for Economic and Policy Research)
Anglo Disease: The end of an era? by Jerome a Paris (European Tribune)
Gov't Censorship Alert: U.S. Judge Shuts Down Wikileaks.org by: Valtin (Docudharm)
Two Great Ladies in Two First Districts by RDemocrat (h/t One America tagpage)
"I don't swim in your toilet, so don't pee in my..." by: GreyHawk (Docudharma)
EENR for Progress: Corporate Media and the Progressive Movement by Ellinorianne
EENR, nuff said
Kosovo declares independence by jandsm (European Tribune)
NB. The bulk of the info is in the commentary
One third of US food supply at stake. by Eternal Hope
Stand there and Bleed- by asdjrocky
asdjrocky tells us to get off our rear ends and back into the fray
Attention Edwards Supporters! by nannyboz
nannyboz's proposal to hire Edwards as our lobbyist
ET Future: 1. Wicked Problems by Sven Triloqvist (European Tribune)
I am so going to steal this for a future Midnight Oil
Money talks. Coal walks? by A Siegel
A message to the Secessionists of One America this Day by Larry Kissell
Congressional Elections: Americans for Ryan!! by RDemocrat

Midnight Thought
Is the present mess any worse than a National Primary, dominated by 30 second sound byte ads and providing a revenue windfall to television networks, both broadcast and narrowcast, and raising the hurdle for a grass roots popular campaign even higher than they are now?
Well, heck, I don't know. The present mess is pretty bad but ... all in all, given the example that jumping up to the first Tuesday open date on the calendar does not, in fact, make you decisive, and given the example that breaking the rules agreed to by the state parties working together under the auspices of the National Democratic Committee is not the high road to massive influence ...
... it seems like we - we, here, means both the body politic in general and progressive populists in particular - would really would end up better off running the the next Open Primary under the current mess than as a National Primary.
So, no, I don't think that the present mess would be improved by a Mess Media Dominated National Primary (and I am not copyrighting that phrase ... I'm releasing it into the Public Domain, so feel free to use it anywhere and everywhere without bothering with attribution ... but do attribute it if you are running for President and making a speech ... you don't want to pull a Biden, after all).
But, just because a Mess Media Dominated National Primary is teh suck, doesn't mean the present mess is the best we can do. Oh, no, there's plenty we could do better.
And fighting for electoral improvement is, after all, an old Progressive Populist fight.

The National Primary Calendar
First, we can only put this rule into place the year after a Democratic President is elected, because otherwise nobody would dare aggrevate Iowa and New Hampshire.
March: the smallest ten states may hold their primary
April: the smallest twenty five states may hold their primary
May: the smallest forty states may hold their primary
June: all fifty states must have held their primary by the end of June
Territories and Districts of Columbii are allocated with the smallest state in the system with a larger population.
No presidential caucuses. A caucus is a reasonable way for a private organization to determine delegates to a convention to make decision, including electing delegates to a higher level convention ... but the Two Main Parties are by no means just private organizations. The Two Parties benefit from substantial legal support and government electoral support for a Two Party System. Disenfranchising someone from voting for the nominee of their choice in the party of their choice because they are working a late shift ... that flies in the face of progressive populist principles.
And, yes, caucuses in some states, and Iowa in particular, have been effective party building exercises, but we do have to put the rights of populace ahead of partisan political interest, if we are progressive populists.
And, yes, certainly if a party chooses to have caucuses for other purposes, they may do so, and if they choose to have it at the same day as Primary day in their state, they may do so, and if they choose to have hold each caucus at a location convenient to a Primary polling station, so that people may vote in the primary on their way into the caucus, they may do so ... but its gotta be a Primary.

No Disenfranchising Marginal Candidates
Allocation of delegates may follow some complex mix of congressional district and statewide proportional allocation ... as at present. However, if there is any threshold rule in effect, then there must be Optional Second Preference Voting (OAC Archive post).
Under this system, in addition to voting for their first preference, any voter may also cast a vote for their second preference. If their first preference is eliminated under the threshold rule ... or indeed, just because of the way that rounding works in the proportional allocation of delegates ... then their second preference vote is counted.
This can be done the hard way, or the easy way. This proposal is to do it the easy way. Apply the threshold, those under the bar are eliminated, and any of their second preference votes for those originally over the bar are added to the total.
This eliminates the whole "how can you throw away your vote" appeals, and allows everyone to cast their first vote for the candidate they wish to be nominated ... and also, their second preference vote either for the candidate that is second in their estimation, or if they wish the "top tier" candidate they dislike the least.

Is that it?
Oh, good lord, how could I write a Midnight Thought on Electoral Reform and completely omit Edwards' Platform?
All votes must be paper ballots, filled out by the voter's action, and that ballot is the official vote for purposes of auditing and recounts.
And, yes, if the vote is filled in by touchscreen in support of voters who cannot vote by pen and paper, the touchscreen machine prints out the filled in ballot which the voter can inspect before inserting it in the ballot box.
My personal preference would go further, all the way to a normal democracy that counts its ballots by hand in the presence of scrutineers, but I'm not going to press on that point at the outset. However, a paper ballot, the direct result of the voter's action, as the formal record of the vote ... that is not negotiable.

Is that it?
Yup, that's it. Waddya think?
One Country (1990)
...
Who wants to please everyone,
who says it all can be done
Still sit up on that fence,
no-one I've heard of yet
Don't call me baby,
Don't talk in maybes
Don't talk like has-beens,
Sing it like it should be
Who laughs at the nagging doubt,
Lying on a neon shroud
Just gotta touch someone,
I want to be

So don't call,
me,
the tune,
I will walk away
...