There is a point to this exercise.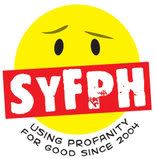 So, about a year ago I'm playing basketball on a Sunday morning and my wife is home with both the kids and we are out of something important... like diapers and milk... and she decides to go to the grocery store. She rounds up my daughter, gets her in the car, and then goes back into the house looking for my then two year-old son. She calls to him once, then twice, then finally hears him coming down the stairs saying, "Tatue" over and over again.
"Tatue?" my wife thinks. What's a "Tatue?"
And that's when she sees it...
...my son had managed to go into our bathroom and find the last vestige of our dating life, which happened to be a large black dildo... with a crank on the end.
So, my son is pointing with the dildo and gesturing with the dildo and waving it in the air like a wand and saying "Tatue", which my wife finally realizes means STATUE.
Oh, lord, he thinks its a statue.
Well, now the negotiating starts. My wife would REALLY like my son to put down the... um... "Tatue"... but my son has other ideas and refuses to go out of the house without it.
I'm sure I'm going to lose most of the non-parents here, but the parents will back me up that when you have kids, and something must be done, a parent will sometimes make a ridiculous choice just to avoid a temper tantrum.
So my dear wife... having considered the tinted windows in her car... makes... a deal.
IF he'll get in his car seat, my son can take the "Tatue" in the car, but NOT in the market.
My son thinks, "Cool!" and off they go.
The drive from the house to the local Ralphs is three minutes and it was apparently at the one minute thirty second mark that our little tale takes its next turn:
"Mommy, Truman has the 'Tatue' in his mouth."
Small child. Large black dildo with crank. Deep throating. Chewing. Gnawing.
Swear. To. God.
My wife is now doing that thing where she's driving, but her flailing hand is reaching back desperately trying to stop the horror behind her... to no avail.
The final scene in our short film is one single image, shot from the point of view of a sixty year-old woman pushing a shopping cart.
What she sees is a five year-old girl staring, confused, as her overwhelmed mother tries desperately to separate her son from a dildo... big, black dildo... big black dildo with a crank... big back slobbered-on dildo with a crank... that the two year-old (who's long since forgotten the deal about not taking it into the store) has clutched in his hands.
I relate this... first because its true... and second because, as you go to type that horrifyingly nasty comment to the idiot who backs the other candidate, maybe you'll think of the above and remember to take all of this a little less seriously.
Just a thought.
UPDATE: During the course of this diary, my son has gotten up twice and in the process I've realized... we are out of pull-ups... and now we are out of milk.
I'd go to the grocery store... but I'm worried about my Karma.
If I never diary again... be nice to each other.