The ideals of freedom, security, and opportunity are like unto a milking stool (the proverbial "three-legged-stool"). With any one leg missing the whole structure fails to support even its own weight. With three sturdy legs the stability of the whole is great indeed. As a child I watched my father milk a small number of cattle. He knew with great certainty the value of that three-legged stool.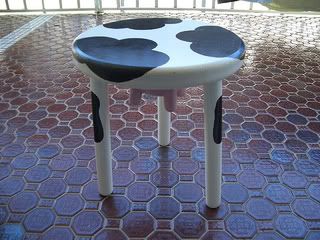 Cyflo, Flickr, Creative Commons
Follow over the fold for more pondering of the three legged stool as a metaphor for our political situation today. In addition I propose some general solutions for consideration in the future.
In recent years we have witnessed a steady erosion of our civil rights including the freedom of speech and assembly. We have watched our nation invade and occupy a nation which may have not been our friend but which had not attacked us. The action has provoked a worldwide reaction which leaves us more vulnerable and less secure in our national state than ever before.
We have 48 million people in this country today who live day to day without health insurance. The elderly and our children number in the millions on that list of insecure people. There is no excuse for one of the world's richest nations not to provide the finest healthcare at an affordable cost to every person in the country. The time has come for some measure of national healthcare program. I favor a system aligned with the current Medicare system and available to every person in the country. We cannot afford to allow the increased costs and the increasing deaths attributed to the failure of so many to find health care earlier in their lives. We need a system of national payment for private medicine, what one may call socialized payment for privatized medicine. We need local health facilities in our neighborhoods. We must focus on preventive medicine and on health education if we are to restore the health of our citizenry.
Many in our state live day by day without knowing if or not they will find a roof over their heads at night. Homelessness is a major issue across the nation let alone here in Delaware. Many of the homeless are veterans from the Vietnam era to the present. Increasing numbers of Iraq veterans are reported to be included in the lost ones. We as a nation must work to serve all our citizens to see to affordable housing is provided for one and all. Every homeless person is a dark mark against our society overall. We cannot afford to let those people go untended. The solutions will not be found in any single program or in any single state of the union. The solutions must come from many different directions with government playing its role in support of local initiatives.
We need public monies available to fund grants for people in need for help with rental costs. We need to build more public housing. We must work in every way possible to see all who need housing have full and equal opportunity to safe and clean living quarters.
We must begin to develop and to sustain rehabilitation programs for the drug and alcohol addicted in our society. Many homeless persons are addicted to one more mind altering substances. They have a great deal more hope of finding steady shelter if the addiction if first resolved.
Global warming is decreasing our environmental security. Much of Sussex County lies 3 feet or less above sea level. How many years can our climate continue to warm, the seas continue to rise, and we as a state maintain the homes and businesses of the low lying parts of southern Delaware? We must act now and we must act in aggressive ways if we are to have a real impact on global warming. We are already very late in the game. If we fail to take action soon we may lose in the end.
As a nation we must invest in wind, solar, and geothermal energy sources to replace our current carbon based fuels. We have many opportunities on the horizon but we must move soon.
Our infrastructure including roads, bridges, dams, dikes, and public buildings continues to fall into disrepair. We must act and act soon to reverse this erosion lest we have nothing left from which to rebuild.
We as a nation must work to insure opportunity for every one of our citizens. Education is a high priority. All our children deserve access to the finest education available in this nation. Delaware is a small state by comparison to others. We have a total population smaller than that of some large city school districts. We can use our size to good advantage by installing and testing educational protocols which are already known to be successful according to researchers in the field. We can also be a testing ground for new theories of education. We have many fine openings to explore in the future.
The nation must begin to rebuild our manufacturing base. We have lost too many jobs to the ravages of unchecked capitalism. We must work to see to FAIR trade around the world. Fair trade works to the benefit of all involved in the trading scheme and allows those benefits to spread throughout the system. We have a large population of both skilled and unskilled laborers available and ready for hire. We must work together to find ways to provide gainful employment for the benefit of our overall society.
Every person who desires a job should have the opportunity to choose a job which both suits the needs and the skills of the worker and which matches the needs of the employer. We need job training programs for the unemployed. We must increase our support of our educational institutions which provide both higher level education and training in trade skills.
What place does the Federal Government play in all this? The place of government should be to protect our rights as granted in the Constitution and the Bill of Rights. Government should not be in the position of restricting our rights. The single most important function of government is as guarantor of basic human and civil rights for every person in the nation.
Government should be concerned with seeing to a level field for all in society. Businesses large and small deserve protections to insure fair competition. People of all races, creeds, colors, and sexes have a right to equal treatment in the workplace as in all of our society. Government has the task of seeing to fair taxation to see to the maintenance of society at all levels.
We are spending, according to recent estimates, $12 billion a month to sustain our military presence in Iraq and Afghanistan. If we were to do nothing but reduce those expenditures to zero sum balances we could begin to move toward solving many of our nations problems. We must repeal the tax cuts put in place under both the Bush and Regan administrations. Those cuts which the administration proposes to make permanent benefit a too small part of our society at the expense of the very large majority. The current budget deficits are in large measure the result of tax cuts in the face of increased spending. Fairness in taxation is a governmental duty which may not be shirked for the benefit of the rich or the powerful. Government is representative of ALL the people.
We who oppose the invasion and occupation of Iraq must hold steadfast in our opposition. Congress has seen fit to pass all the major war appropriations bills of any consequence put forth by the Bush administration in the last 8 years. The time has come for that support to end. It is my belief we should withdraw ALL our troops and leave Iraq to the Iraqi people. There is little or no hope of real reconciliation within the country so long as the American military remains an occupying force. Not one time in the course of history has military action been successful at quelling an insurgency.
We must offer diplomatic and economic support along with other forms of aid to help the people of Iraq rebuild what we have destroyed. A diplomatic solution to the entire Mideast region is necessary if humankind is to have any hope of peace and security around the globe in future years.
There will be many other issues facing our nation as the years pass in this century. So long as we all hold steady and true to the principles of freedom, security, and opportunity for one and all we may have real hope for a brighter future. The future will not be filled with ease and plenty without major efforts on the part of many. We, every one of us, must stand together united as we form the pillars of support for the three legged stool we call the United States of America.
Peace
Be reminded I am campaigning for the US House of Representatives in 2008. Please check the website and donate if you are able. The help of many is necessary for a successful run. Every bit counts in a grassroots candidacy like mine so don't be afraid to put in small contributions. We spend wisely and take good care to look for maximum benefit when we use campaign dollars.