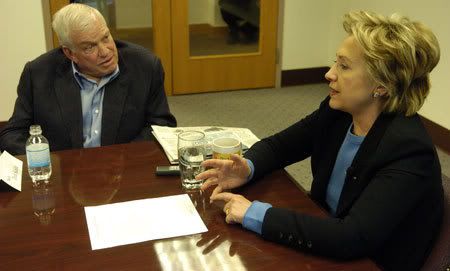 Hillary conspiring with the evil, RICHARD MELLON SCAIFE
Crossing over to the dark side, yet again, Hillary sat down with the editorial board of the Pittsburgh Tribune-Review, and its owner, the infamous, Richard Mellon Scaife. Together, they jointly attacked Barack Obama for attending Jeremaih Wright's church.
But this begs a question (echoed later by Keith and WaPo, in the above clip): Hillary, how in hell could you kiss-up to Scaife!
"You know, I spoke out against Don Imus, saying that hate speech was unacceptable in any setting, and I believe that," Clinton said. "I just think you have to speak out against that. You certainly have to do that, if not explicitly, then implicitly by getting up and moving."
source
You note, Hillary failed to take the opportunity to "reject and denounce" Scaife and his sinister history.
Scaife is one of the money men behind the war-mongering, neo-conservative American Enterprise Institute.
Scaife also funded the Arkansas Project: which led the 1990s right-wing witch-hunt, ultimately leading to the Paula Jones law suit, the appointment of Ken Starr, and the .
The Pittsburgh Tribune-Review was the epicenter of the "Hillary killed Vince Foster" conspiracy theory through its stooge, Christopher Ruddy.
You think we forgot, HILLARY ???
In November 1994, Ruddy was hired to investigate the story full-time by the Tribune-Review.

In between Ruddy's departure from the Post and joining the Tribune-Review, he put out a report through the Western Journalism Center criticizing the Fiske investigation as inadequate. With the help of Scaife, the Center took out full-page ads in major newspapers to promote the report (Scaife gave $330,000 to the Center in 1994-95 before ending his support).

Ruddy's claimed that Park Police had the scene of Foster's death as described in their reports.

Ruddy later built on his work on the Foster case for his book,
In a 1981 "Columbia Journalism Review" profile of Scaife, reporter Karen Rothmyer attempted to interview Scaife:
"Mr. Scaife, could you explain why you give so much money to the New Right?"

"You fucking Communist cunt, get out of here."
source
This is who Clinton consorts with - the ENEMY!!
She will say and do anything.
She will deal with anyone, including the Devil himself, to get claw her way to power.