I shouldn't be up this late because I'm working at a polling site tomorrow morning at 6 AM, but I went out to see Obama tonight and had to share!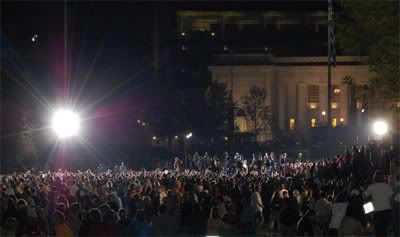 I'm working the polls tomorrow as an inspector so even though I knew about the rally tonight for a couple days, I didn't plan on attending. I have to be to my site by 5 in the morning and didn't think I could do it. This afternoon, I got the email about Stevie Wonder appearing with Obama and it sort of tipped the scales. I started a part-time job this spring which has taken up a lot of my time and I feel like I've missed out on a lot of the election excitement. After going in this afternoon to set up my polling site, I decided I owed myself a little fun!
I called a friend who has done a lot of volunteering and asked if she wanted to join me. She already planned to go! She was parking at a friend's house downtown and I knew I wouldn't get there on time so I arranged to meet her somewhere on Mass Ave., an arts district on the east side of the downtown area. As I parked my car, I looked up to see her across the street on the next block! That had to be a good omen.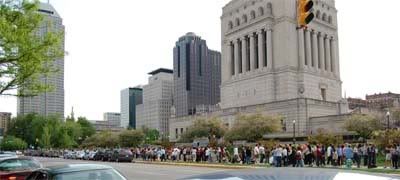 We walked a few blocks west on Michigan St. and this is the scene we came upon. That large stone block looming large is one of our many war memorials. You can see how the line stretches out into the distance. To the right out of the photo is the point where people were entering the park where Obama was speaking. We had to walk three blocks away to get to the back of that line! And, of course, these are city blocks.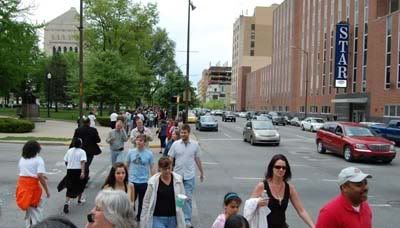 This is the corner where we ended up. You can see the War Memorial through the trees. That's the offices of the Indianapolis Star off to the right.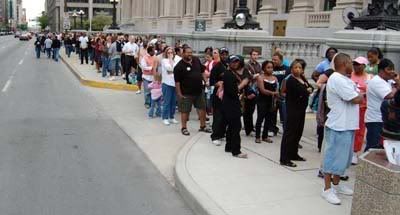 And that's the line stretching out behind us. There are differing reports on how far it went. The paper said it stretched down our block and halfway around to the next the corner. People on the street were telling us it stretched another block beyond that. Either way, it was a long walk!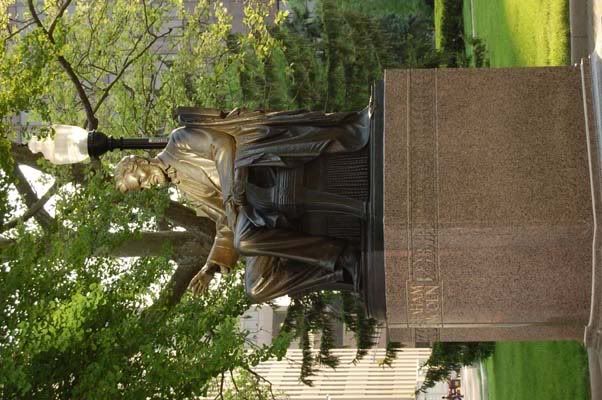 It was a beautiful night to be out. Seventy-five degrees and sunny. When we crossed New York St., we walked alongside University Park and I saw this statue of Lincoln illuminated by the sun hitting windows across the street. Seeing Abe, that tall, funny-looking lawyer from Illinois, aglow seemed like a good omen, too!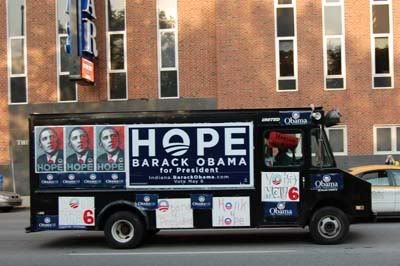 We had a good time standing on line, however long it was. The folks waiting were great, vendors and volunteers circulated along the line, and we were treated with the spectacle of different vehicles that were there for the rally as well. This van made the rounds a couple times.
Finally, the line started really moving and we were back up to the War Memorial block. I noted that it was lit with Democratic blue, which seemed like a good omen. It rained a little but didn't dampen our spirits. Before we knew it, we were entering Veteran's Memorial Plaza where security was set up then across the street and onto the American Legion Mall. We were quite a ways back when Stevie Wonder sang and we couldn't pick him out of the crowd on stage. By the time Obama came on, though, we'd worked ourselves a little closer.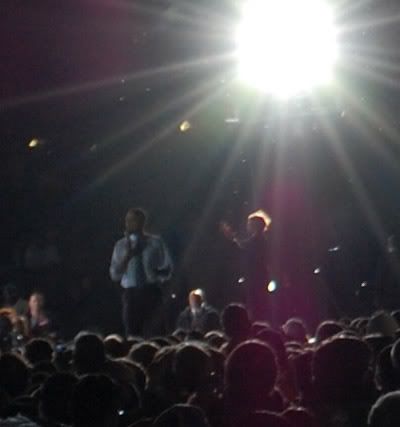 It was awesome to be in the same place as Barack Obama, and a little surreal. As he spoke, I found myself nodding in agreement a lot.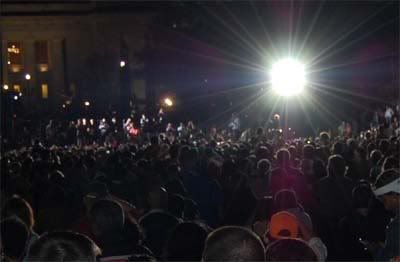 I watched the crowd, too. It looked like America in all its beautiful diversity. And everyone was wonderfully kind to each other. Too older women in front of us knew I was taking photos and offered to let me in front of them for a better shot! As I was taller than them and we were still a half-block away, I declined but I was touched.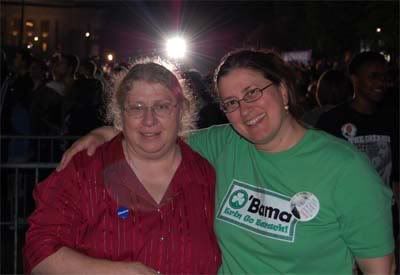 After Obama finished up, the crowd started to disperse. I had someone take a photo of my friend, Mac, and I. She's worked really hard as a volunteer and I hope it pays off. The polls have Obama behind but as I posted earlier, no one has talked to my husband who will be voting for the first time in his life tomorrow. No one has talked to my college roommate, who was a Democrat back then but started voting Republican after marriage but will vote for Obama tomorrow. I'm hoping for an upset but however it turns out, I'm thrilled I had the chance to participate.
Enjoy the photos! I won't be able to monitor the diary. I have to eke out a few hours of sleep! Send caffeine vibes my way tomorrow and envision an Obama win in Indiana! Thanks!