Just short of calling for Hillary to drop out of the race, Edwards stated that he just doesn't see how Hillary can win the nomination, based on the numbers.
Appearing on the Today Show, John Edwards also essentially stated that he believes Obama has a better chance of winning the general election:
"I think Barack Obama has a better chance. It looks like he's going to be the nominee."

"He brings the capacity to unite the Democratic party, to bring in new voters and to get people excited about change.

...People are looking for a leader and someone they can trust and someone who will fight for them, every day. I think Obama will do that."
Watch it here:
Edwards stated throughout his campaign that he believes Obama is committed to bringing about serious change and recently was quoted as saying:
"One is, I think he really does want to bring about serious change and a different way of doing things. And secondly, I think it's a great symbolic thing to have an African-American who could be president."
The admiration goes both ways. Obama praised Edwards' courage and passion at the recent North Carolina Jefferson-Jackson Dinner and noted he "wont forget either of the Edwardses," if elected:
Obama took the podium later and, as Times reporter Peter Nicholas noted, he dropped an intriguing hint that he won't forget either of the Edwardses if elected president.

Said Obama: "I'm so grateful for their contribution and I'm looking forward to working with them in the next administration to make sure we are doing everything we can to deliver on the full promise of America.''

Obama also commended the couple for spotlighting poverty in America, saying the Edwardses "really set the tone for this presidential race with their courage, with their ideas, with their passion and commitment to working people and to making sure that we focus our attention on not just the haves, not even the have-littles and want-mores, but have-nots.''
LA Times
After the Today Show appearance, Edwards was a guest on Morning Joe where he further discussed whether Hillary should stay in the race, saying that while he admires Hillary's strength and tenacity, there comes a point where she needs to decide where the line is where she is not longer advocating but damaging the party.
Edwards on Morning Joe
On both programs, Edwards also discussed his new project, "Half in Ten: From Poverty to Prosperity," that aims to cut poverty in half in ten years through intiatives such as: raising the minimum wage, creating better access to child care, expanding unionization, expanding the Earned Income Tax Credit and Child Tax Credit, among other measures (Center for American Progress).
Half in Ten: From Poverty to Prosperity

The Center for American Progress Action Fund is committed to cutting poverty in half in 10 years. Under the leadership of Senator John Edwards, CAPAF has joined with ACORN, the Coalition on Human Needs, and the Leadership Conference on Civil Rights to create the Half in Ten campaign.
Edwards noted that while he's not concerned about a job or title with a future administration, what he is concerned about is ensuring the ending poverty becomes a centerpiece of the next Presidential Administration. Ending poverty is the cause of Edwards' life and he intends to remain in the fight and give it everything he's got.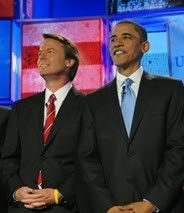 Edwards hinted that an endorsement may be forthcoming, stating that who he voted for is who he will endorse. I have a sneaky suspicion that John Edwards voted for the same candidate I did in the recent North Carolina primary.