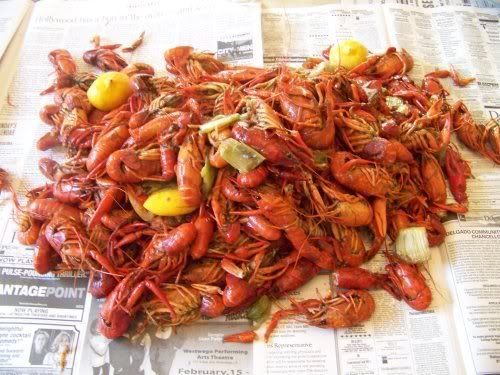 It's that time of year, when the weather in Southeast Louisiana is nice (when it's not raining, of course), and crawfish are cheap and plentiful. Those are the perfect ingredients in making a crawfish boil.
More photos and comments below the fold...
he Raw Materials
We start with live crawfish. You can buy them by the sack from most seafood stores in New Orleans. Some seafood places "purge" the mudbugs for you, by hosing them down with cold water before they're sold. If yours weren't purged of the mud from which they get their name, then best to soak them in a pot of cold salt water for a while.
One of the weirdest things you'll ever hear a New Orleanian say is "don't eat the dead ones!" What they're admonishing you not to do is eat crawfish that were dead before they hit the boiling water. You can tell the difference because the "dead ones" tails don't curl up in the boiling water.
Next we prepare the water in which the bugs will be dropped. Everyone has their own family or secret recipe for crab/crawfish boiling, but many are based on a prepared seasoning mix.
This is Zatarain's Liquid Crab Boil. It's a highly concentrated seasoning mix that is so strong, it's not a good idea to let it come into contact with your bare skin for an extended period of time. The directions on the label suggest using one tablespoon for 5 gallons of water. The basket in the photo above is for a 40-gallon pot.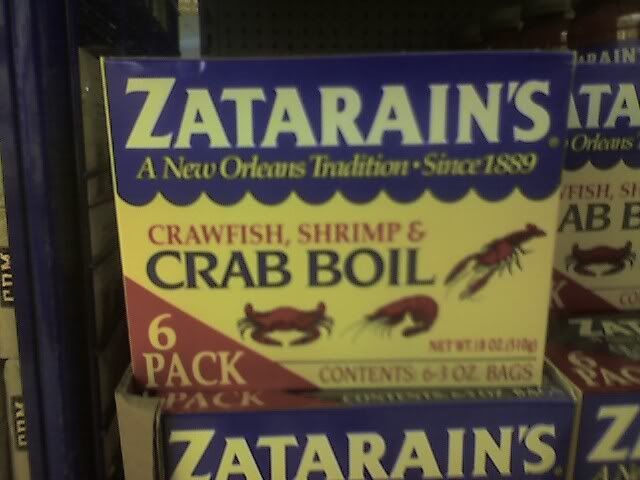 Some folks opt for the dry seasoning packages, which you can just drop into the water. Along with crab boil, toss in some ears of yellow corn, cut in half, a few pounds of red creamer potatoes, along with a few onions, lemons, some celery, and lots of raw garlic. Fill up the pot with water (careful to factor in the crawfish in their basket), and bring to a boil.
When the water's boiling, lower in the crawfish: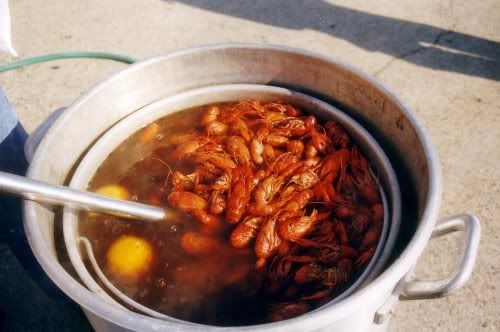 Let them cook for 8-10 minutes, then turn off the flame to the pot.
Allow them to soak for another 10-20 minutes, then raised the basket to drain: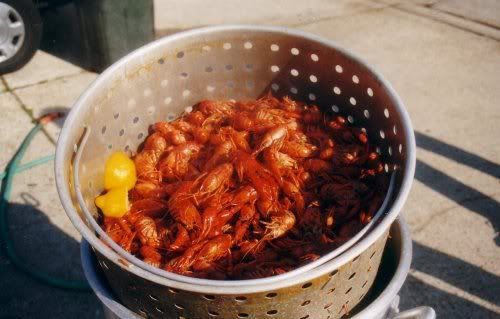 The easiest way to serve crawfish is to cover a table with newspaper, dump them out, and let everyone have at it!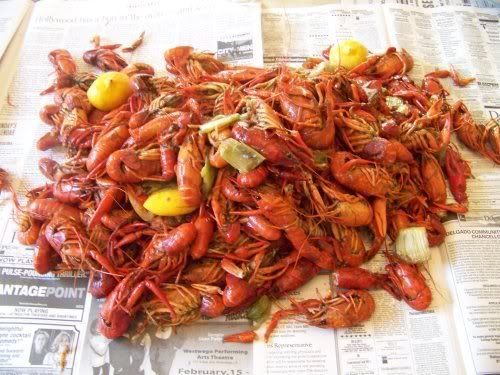 We're not done with spices, however, because you need some cocktail sauce to dip your berled bugs in: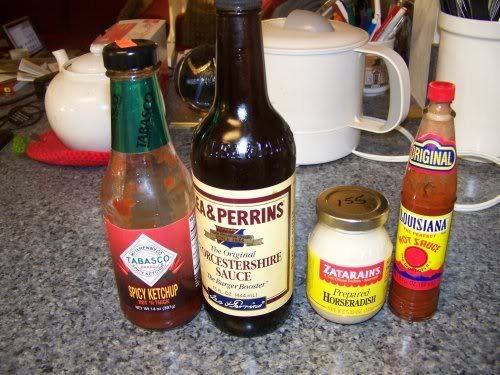 Combine Ketchup, Worcestershire Sauce, Horseradish, and Hot Sauce: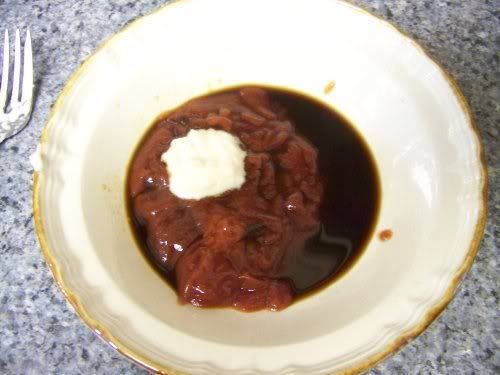 And now you're ready to dip your crawfish as you peel them. Enjoy the corn, potatoes, and garlic as well.
And beer. Copious amounts of Abita Amber or your favorite beverage!
Such is spring in New Orleans, and yet another reason why we get a bit upset with people from less-civilized parts of the world when they wonder why this city must be saved.