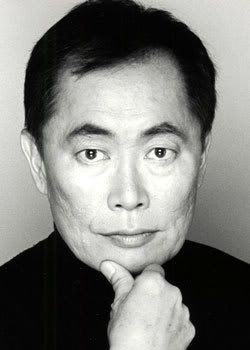 As a consequence of last week's California Supreme Court ruling overturning the state's ban on same-sex marriage, county clerks are saying the phones are ringing off the hook. Thousands of weddings appear to be in the offing. This being California, a number of those will be celebrity affairs. Among the people who have announced plans to tie the knot is 71-year-old George Takei, best known for his performances as Lt. Hikaru Sulu, the helmsman of the USS Enterprise, in the original Star Trek television series and six Star Trek movies. He'll be marrying his business manager and long-time companion of 21 years, Brad Altman.
Takei told Reuters:
"There's no tradition in terms of same-sex marriage. We are designing and shaping our own wedding in our own way, so it's going to be singular and unique," added Takei, who first made his wedding plans known on his website during the weekend. ...

"As an American, I was delighted that we're getting closer and closer to more truly being faithful to the Constitution," said Takei.

Referring there to his boyhood experience as one of thousands of Japanese-Americans sent to U.S. internment camps during World War II, Takei said he was "keenly mindful of the subtle and not so subtle discrimination that the law can impose."
Media Matters Senior Fellow Paul Waldman writes at The American Prospect:
The The California Supreme Court's ruling legalizing gay marriage will not be important in November -- here's why.

What a difference four years makes. When the Massachusetts Supreme Court ruled in late 2003 that gay couples had the same right to marry as straight couples, the nation had a collective fainting spell, and constitutional amendments affirming the super-straightness of state after state popped up like dandelions. Republican politicians tripped over each other to predict the demise of American civilization if the marriage equality outbreak were not contained, and Democrats tugged at their collars and tried to explain their nuanced and complicated positions on the issue.

Yet last week when the Supreme Court of the largest state in the union issued a similar ruling, making California the second state with full marriage rights for all citizens, the political reaction was remarkably subdued. Yes, there will be a constitutional amendment on California's ballot this November, and the campaign there will be hard-fought. But on the national level, there were no raised voices, no cries of anguish, no calls to man the ramparts -- at least none to which anyone paid much attention. All soon-to-be Republican presidential nominee John McCain could muster was a spokesperson reading from the old script, mumbling that the Arizona senator "doesn't believe judges should be making these decisions."

If you didn't know all that much about McCain you might think his muted response reflects a moderation on gay issues uncharacteristic among Republicans. But you'd be wrong.
The Overnight News Digest has been posted and includes Efforts to close Guantanamo at standstill: Gates