This is mostly just photos as a follow up to my diary last week showing bird photos from Ecuador. This week I will show some examples of the non-avian fauna of eastern Ecuador. I'm going to use two themes to hopefully make this diary a bit more substantive: our perception of wilderness and what the current biodiversity loss really means.
I've visited Ecuador three times and spent the bulk of my time there in the Oriente, the eastern 40% of the country that is part of the drainage of the Amazon. This is by far the least populated part of Ecuador and even today much of the easternmost part of this region is roadless. Areas along the base of the Andes have been extensively deforested and settled by people coming from further west in the country. Oil exploration has seriously disrupted the lives of indigenous people and caused significant environmental damage in parts of the northeast.
I've visited three sites all with primary rainforest that has never been logged. The differences between the three are instructive.
Jatun Sacha - On the Napo River near the base of the Andes in northern Ecuador. Jatun Sacha is an 'island' of primary forest that has been preserved by a private foundation. The area has a high diversity of plants, insects, frogs, and other small organisms. However larger animals such as monkeys and macaws are almost completely absent. The forest isn't large enough to maintain viable populations. The surrounding area has a substantial human population, roads, farms, etc.
Tiputini Biodiversity Station - Also located in northeastern Ecuador, Tiputini is adjacent to a large national park and to lands belonging to indigenous people. At the moment these areas are largely undisturbed primary forest although their future status is uncertain. The station is also located a considerable distance from any other communities so hunting pressure is very low. Tiputini has been described as the best place in the new world tropics to see wildlife.
Kawpawi Lodge - Located in southeastern Ecuador far away from oil exploration and other outside sources of disturbance in a vast area of primary forest. As I mentioned last week Kawpawi is run by the Achuar people who live in the area. Although habitat disturbance is minimal larger mammals are rarely seen because of local subsistence hunting.
Now for some pictures.
Here are three examples of larger animals seen near Tiputini.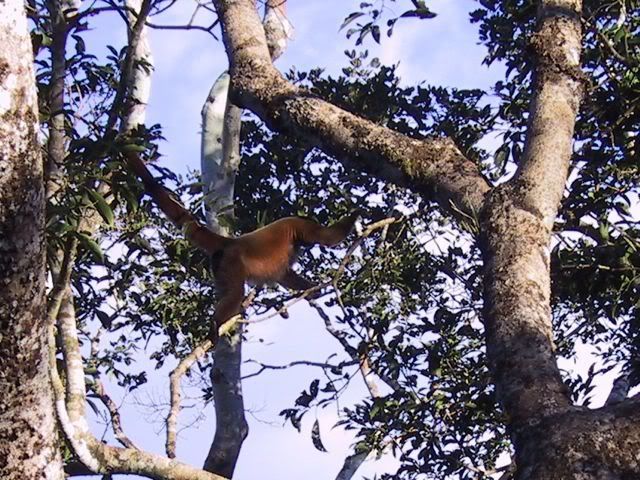 This is a woolly monkey swinging by the canopy tower. Woollies are highly desirable as food and tend to be rare any place there is hunting. They are very common around Tiputini.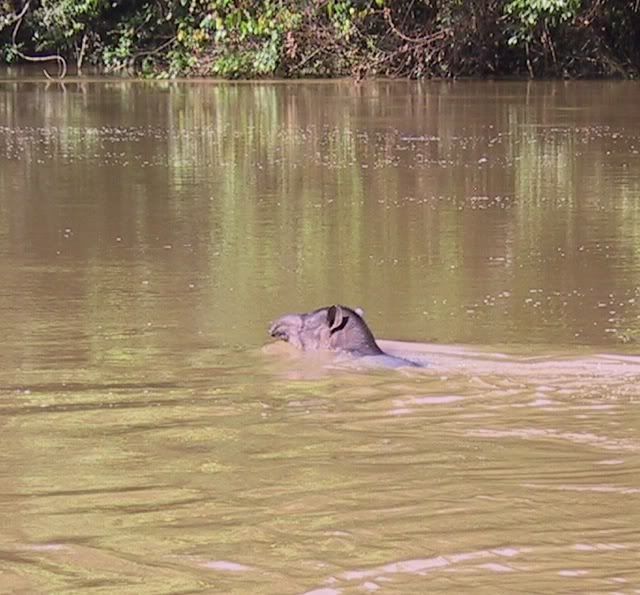 This is a tapir swimming in the river. Tapirs are related to horses and rhinoceros and are the largest native mammals in South America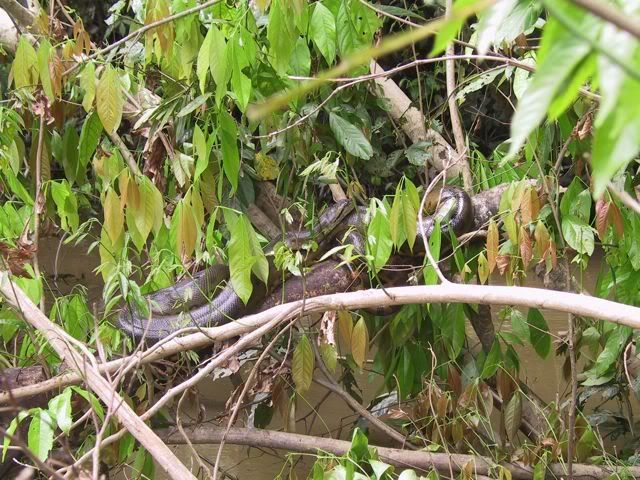 This is an anaconda, estimated at 4 meters in length.
When I was at Tiputini I realized that I was experiencing the Amazon region much as Alfred Russell Wallace did in the 1800s. Wallace, the co-discoverer of natural selection with Darwin, spent extensive periods in the Amazon and in Southeast Asia, collecting specimens for museums. At that time undisturbed tropical forest dominated these regions.
Even the Tiputini station, a handful of building with no more than a few dozen people there at any time has an impact on the surrounding area. The noise of humans and the generator at night almost certainly keep many nocturnal animals away from the station. They have automatic cameras set up on the most distant trails and at salt licks and have documented many animals, such as giant armadillos and bush dogs which have rarely if ever been seen even by the most experienced guides.
Each fall for the last six years I've taken groups of undergrads on a field trip to a local patch of prairie. These students are not biology majors and are mostly from the Chicago suburbs. Some of them regard this as a trip to the wilderness. Going to Tiputini made me realize that all of our perceptions of nature are determined by our experiences. It made me realize how much the world had changed.
The other point of this diary is that discussions of conservation and diversity tend to focus on larger animals, mostly mammals and birds. These organisms are a tiny fraction of the living things on earth. One of my favourite things to do is take a walk at night through the forest. An amazing array of tiny creatures will show up in your flashlight beam. Here are some examples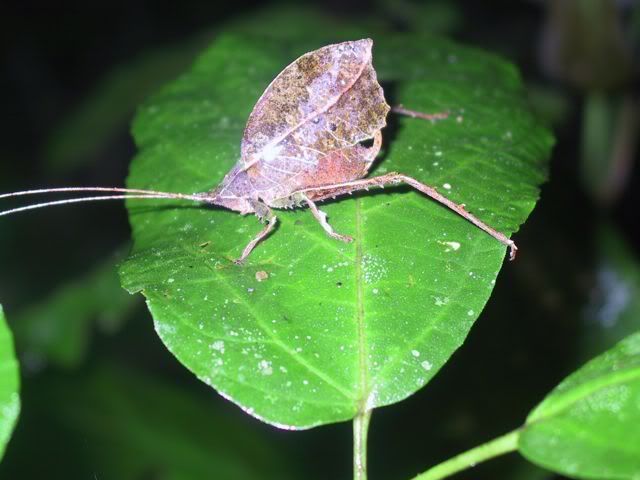 Leaf mimic katydid

Mantis

Polka-dot frog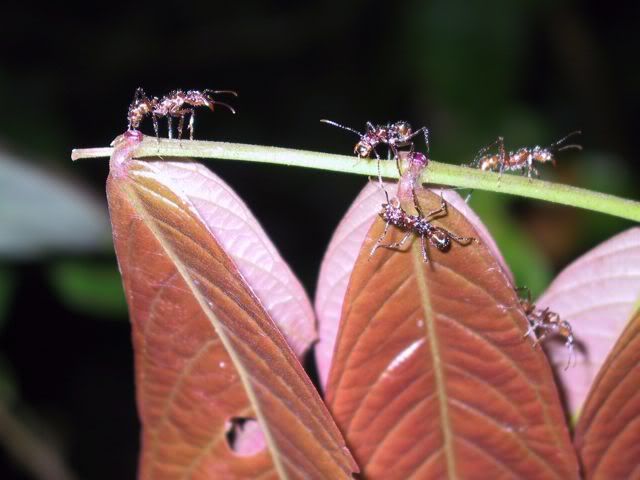 Ants tending a plant - ant/plant associations are very common. The ants get food from the plant and protect it from other insects.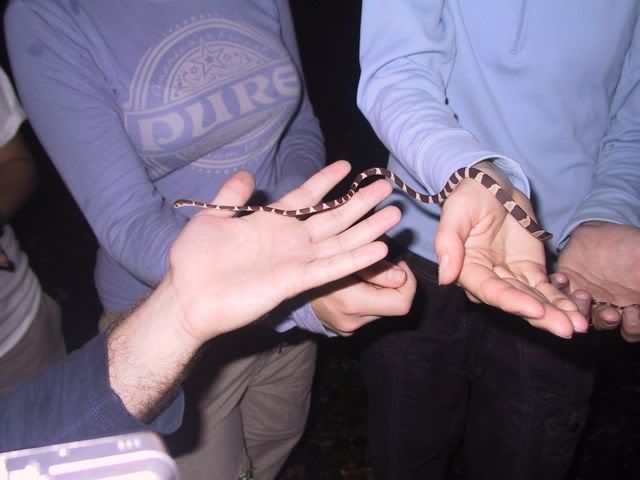 Blunt-headed tree snake
Compared to the larger animals relatively little is known about these organisms, and even less about even smaller and less obvious forms of life such as fungi. However most of the living things on this planet are small and obscure. They don't receive the attention given to monkeys and jaguars. So many of them are going extinct without our knowledge.
So we are losing the results of millions of years of evolution. Not only useful products but fascinating information.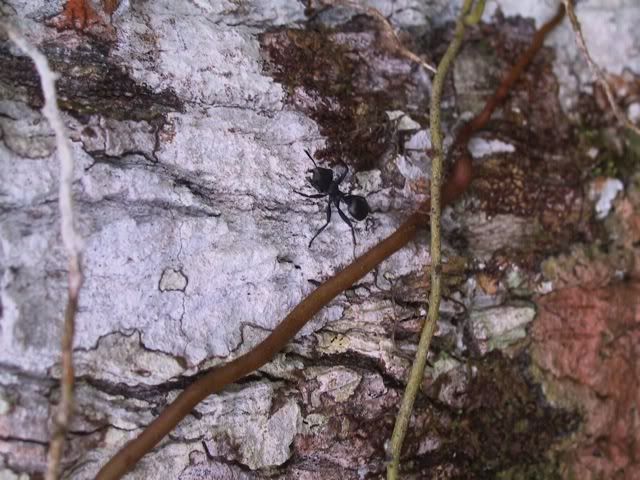 This is an ant that lives in the forest canopy. They have a flattened head and body that allow them to glide. If they fall out of the tree they can control their descent so that they land on the trunk only a short way down.