Since the blowup over the incident with the two women who were wrongfully removed from sitting behind Senator Obama because they were wearing hijabs, there have been several diaries here discussing the issue, and I have tried to read all of the comments.
I was distressed by some of the remarks made in the diaries, and I won't call out anyone's names but my distress is based on the fact that I often wear a headwrap as a black woman here in the US for religious, cultural and ancestral reasons.
Some people who commented even asserted that the volunteers who took these steps were correct, since it would "protect" our candidate from the current slew of right-wing smears.
I was perturbed by what I feel is both a xenophobic and ethnocentric perspective on head-covering, and to explain how those of us who do wear them can identify with the feelings of the two women who were discriminated against. More importantly, I want to raise the issue in a broader context, and to discuss how this speaks to larger issues of diversity here in the United States.
My concern is two-fold. I am not Muslim. I do not wear a hijab. I wear a gele. So, if I go out to a rally to support my candidate, will some over-zealous volunteer decide, wrongfully, that I don't deserve to be in a photo?
The gele, or African headwrap is an old cultural tradition, and is found not only in many parts of Africa, but is part of a tradition, both cultural and religious, in the New World - in the Caribbean, in Brazil, and right here in the US in Lousisiana and other parts of the south.

During the sixties, many black women learned to reclaim a pride in their African heritage, and have embraced fabrics, styles and colors that enhance their beauty. For a long time many of us have been subjected to attempting to look like our white sisters, and millions of dollars have been made by hairdressers and beauty product manufacturers who sell products to straighten and remove any traces of kink from black hair textures.
It started with the "afro" hairstyle or a "natural" as it was called at that time, but has since then evolved into braids of all kinds, as well as hair that is "locked", and also the reclaiming of the beautiful head wraps worn by women of Africa. Some of our popular songstresses sported headwraps when they chose to make a statement about a link to Africa.
Nina Simone
Aretha Franklin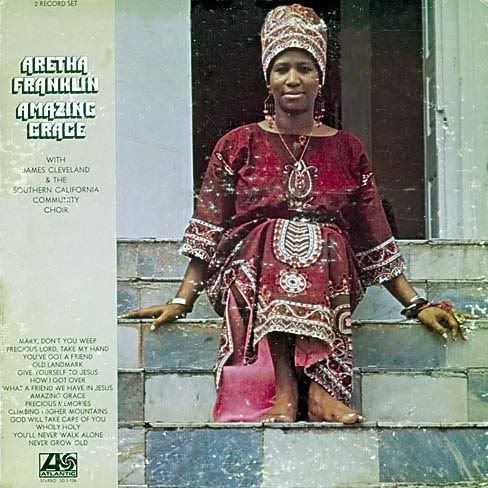 I'm not knocking any of my sisters who continue to straighten their hair, but in todays world we have choices, and I choose to wear my hair curly, and also to wear head wraps.
Me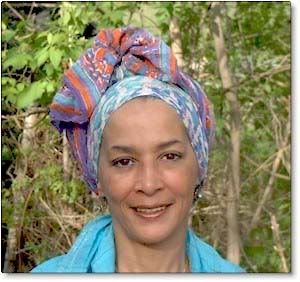 Historically, in New Orleans free women of color, many of whom were of mixed-ancestry were mandated by law to cover their heads - to distinguish them from white women.
Creole woman in a tignon
A portrait of Queen Marie Laveaux - high priestess of New Orleans in a tignon
A tignon (also spelled and pronounced tiyon) is a series of headscarves or a large piece of material tied or wrapped around the head to form a kind of turban that resembles the West African gélé. It was worn by Creole women in Louisiana beginning in the Spanish colonial period, and continuing to a much lesser extent to the present day.
This headdress was the result of sumptuary laws passed in 1785 under the administration of Governor Esteban Rodriguez Miró. Called the tignon laws, they prescribed and enforced appropriate public dress for female gens de couleur in colonial society. At this time in Louisiana history, women of color vied with white women in beauty, dress, ostentation and manners. Many of them had become the placées of white French and Spanish Creole men, and this incurred the jealousy and anger of their wives, mothers, sisters, daughters and fiancées. One complaint that found currency with the authorities was that white men, in pursuing flirtations or liaisons, sometimes mistook and accosted women of the elite for the light-skinned, long-haired, but mixed-race women.
As a result, Governor Miró decreed that women of color and black women, slave or free, should cover their hair and heads with a knotted headdress and refrain from "excessive attention to dress" themselves in jewels or feathers to maintain class distinctions. But the women who were targets of this decree were inventive and imaginative. They decorated tignons with their jewels, ribbons, or by using the finest colored materials with which to wrap their hair. In other words, "[t]hey effectively re-interpreted the law without technically breaking the law"[1]--and they continued to be pursued by men.

The tignon can be wrapped in many ways, and part of its uniqueness is that it was and is worn in an entirely different way by every woman. Madras was a popular fabric for tignons among both free and slave populations, and has become iconic. Tignons were often created out of scraps of undyed fabric given to slaves by their masters. The fabrics, of course, were of seemingly disparate weaves, prints or patterns. Wasted or flawed material was made to unaccountably match and appear festive. The tignons worn by women of color or African women slaves in Louisiana and the Caribbean could be much more distinctive than those worn by American black slaves, and even had hidden messages.
Black women who worked in the fields also covered their heads, to escape the relentless sun. We did not have the luxury of parasols, or to be seated on shaded verandas.
The tignon or gélé is experiencing a resurgence in American fashion. It is found particularly in Creole-themed weddings. Celebrities such as Erykah Badu and Jill Scott have revived it, transforming the controversial headwrapping into a celebration of American culture.
Erykah Badu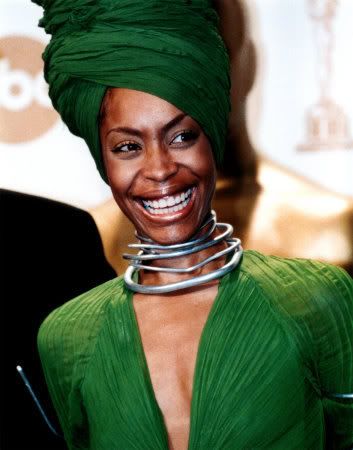 But there are also religious reasons for the head wrap. Over 60 million people in the New World practice African Religious traditions (ATRs) known in Cuba as Lukumi, or more popularly as "Santeria", in Brazil as Candomble, and in other parts of the Caribbean as Voudoun (Haiti) or Shango (Trinidad)
The covering of ones head (ori) which is a sacred part of the body is done during ceremony. For those familiar with Hindu theology - think of the head chakra.
I am an initiated priestess in the Lukumi Cuban tradition and I cover my head when in ceremony, or when going through periods of mourning, or celebration. We also wear white clothing at gatherings or during specific time periods.
Some of my ancestors were from New Orleans, and wore the tignon. I wear my head covering as a badge of pride - not shame. I respect the religious traditions of others, and when I chose to embrace an African Diasporic religious tradition,to become an initiated priestess because Christianity didn't fit into my world view, it did not mean that I then reject the views of those of different faiths. I respect the hijab, the yamulke, the turban, the kufi, the big hats my Christian aunts wear to Baptist church on Sundays, and those who wear no head coverings at all, or who sport baseball caps with no religious significance at all.
Me - In ceremonial attire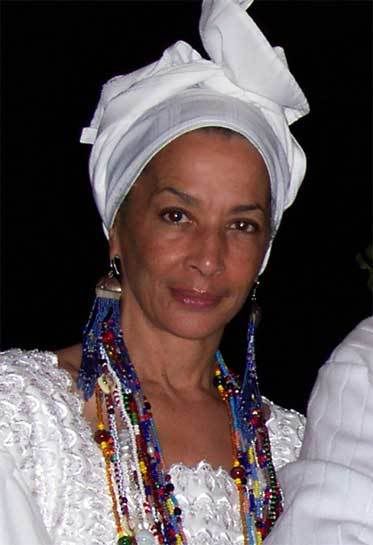 Candomble Iyalorishas (priestesses)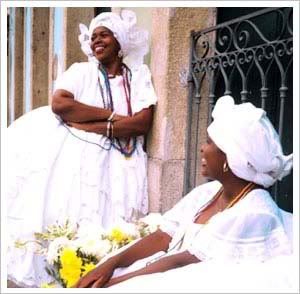 v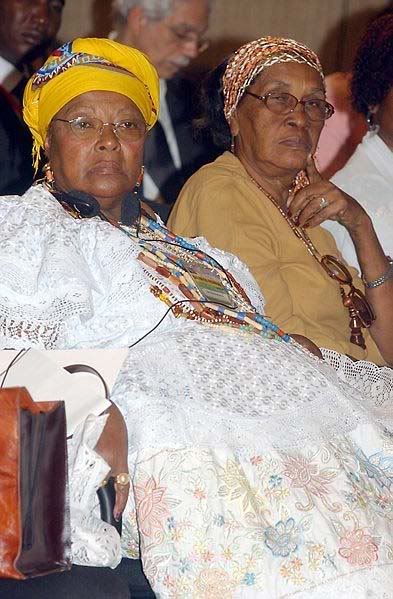 We are a plural society. More and more Africans are now citizens of the United States. The gele, or head wrap of African women is becoming a familiar sight on the streets of cities with large immigrant African populations.
More and more African American women search the net, or take classes in how to tie a gele:
The Gele is celebrated in music videos:
So let us celebrate diversity, in hair styles and head coverings. The Democratic party is a big tent. Plenty room in the tent for big head wraps as well. So if I ever make it to a Netroots gathering look for me in a headwrap. And when Barack Obama is sworn in in January, I'll be in the crowd, proudly waving my American flag, wearing an Obama button pinned to my gele.