We had a great day marching with the Eagle County Democratic Partyentry in the Vail, Colorado parade. It was a picture perfect sunny day in the high country.
How lucky were we to have Lieutenant Governor Barbara O'Brien marching with us! She was here to introduce State Representative Christine Scanlan (HD56-Eagle, Lake, and Summit) to the voters. This is the second time Lt. Gov. O'Brien has marched with the Eagle County Dems. In 2006 she commented on how great the Vail crowd was, but I didn't expect her back so soon. At the time, she was running on the ticket with now Governor Bill Ritter. When she was running for election, it was me introducing her to the local voters! My, how times have changed.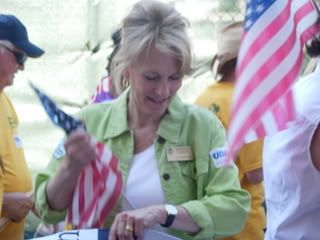 The Lt. Governor didn't know I snapped this photo as she checked her watch. I believe she and Rep. Scanlan were heading to Summit or Lake County to catch another parade.
More pictures of our group on the flip. Flip it good!
It is great to have our leaders take the time to help others. Rep. Scanlan was a vacancy appointment last winter when Rep. Dan Gibbs moved to the state senate. November will be the first time Scanlan will be on the ballot. They shook a lot of hands and met a lot of voters today. I thought it was a creative way for our beloved Lt. Governor to help our outstanding but relatively unknown new representative
Scanlan is opposed by an also unknown Republican candidate that is using creative marketing methods to get himself known. David O. Williams wrote about this contest at Real Vail recently.
The Town of Vail was packed today with typical Vail parade watchers - locals, visitors and second homeowners here to golf, attend the Bravo summer concert series or beat the heat and enjoy summer in the mountains. Both Vail parking structures were filled and parking spilled onto the frontage road. My neighbor tells me that the free lawn seating at Rochester Philharmonic Salute to Freedom concert performance was the biggest she had ever seen.
I always look forward to the election year parades in Vail. Anyone familiar with Vail Village can imagine all the narrow Alpine-like village streets lined with people from the top of Bridge street through the Lionshead area. The parade entries meander through the mountain village with ski lifts closed 'til winter and Gore Creek filled to the brim from this years record snowpack. I know I am biased towards my home town, but I think we offer one of the best places for a parade in the world. The streets are narrow and allow onlookers to shout out to people they know in the parade - and they do! Our Lt. Governor and other candidates can shake all the hands they would like. It's an up close and personal parade. Many of our local non-profits enter floats (the Medical Center won the 'best float' award today) and hundreds of local kids take part. The Town adds a couple of paid performances to add musical entertainment. But locals are the draw.
Packy Walker, a local lodge owner and legend is known for his creative anti-establishment demonstrations. One year he marched with a pink slipper on and a robe to demonstrate against Vail Resorts giving pink slips to a number of long time employees. Although I didn't see his performance today, I am told he did a skit or sung a song about Rob Katz - the VR CEO who hardly ever skis and moved the resort headquarters from the mountains to Broomfied, Colorado. Yes! You heard me right. Broomfield. Gone are the days where the 'hands on, like to ski, in touch with the skier' VR CEO that anyone could find joining them for a ride up a ski lift. Too bad.
We love our local parade today, but the local discussion about the Vail parade isn't complete without a mention of the Vail Precision Lawn Chair Demonstration Team. Now retired (some say old) they were the highlight of any Vail parade. Let me show you a peek. But just a peek. Don't peek too much.
Gone are the whacky days of the VPLCDT, but we still have a fun time.
Now that I have given you a brief background about the Vail 4th of July parade, let me continue about our county party. A few years ago, this diary could be titled "how a courageous local Democratic party marches in parade lined with (gulp) Republicans". But not any more!
In 2004 and again in 2006 we won all but one Democratic race on our local ballot. Although Sen. Kerry and some district and state candidates may have lost the state, they won in Eagle. Today we had almost every candidate that will be on the ballot represented in the Eagle River Valley Democrats entry. (The Roaring Fork Valley Democrats - the towns of Basalt and El Jebel that are far removed from Vail - marched in Aspen as guests of Pitkin County Democrats today. Thanks to our neighbors on the other side of the mountain.)
Sen. Barack Obama, Mark Udall - US Senate Candidate, Jared Polis - CD-02 Candidate, Christine Scanlan - HD56, Peter Runyon - County Commissioner running for re-election, Jon Stavney - County Commissioner candidate, and the Eagle County Democrats all marched together through the village. When the announcer called our name, people cheered and applauded! We worked the crowd and when we saw people that smiled we waved Barack Obama placards their way and got them 'fired up'. There was more applause for the Democrats than I have ever experienced in my 30 years.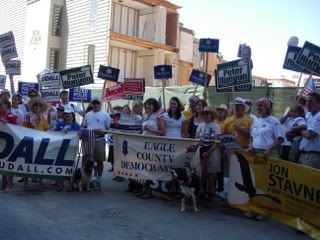 Our group at the end of the parade.

State Representative Christine Scanlan with Lt. Governor Barbara O'Brien. Local PCP, Danny Padnick is in the yellow shirt. All three of Christine's teenage daughters marched with us. Two are pictured here. Annie Goodman, our county party treasurer is wearing the hat and holding the banner.
Look closely at the banner that is held by the Lt. Governor. It say's Lt. Governor Barbara O'Brien supports Christine Scanlan for State House of Representatives. The Lt. Governor and Rep. Scanlan worked together all day. The Lt. Governor would approach a voter, introduce herself and introduce Scanlan. It thought it was a creative way to introduce our new but relatively unknown Representative. Scanlan was a vacancy appointed representative last fall when Dan Gibbs won a vacancy appointment to the State Senate. She had to start in the state house right after being appointed and because of Colorado law, she couldn't campaign until the session ended.
She has a Republican opponent that worked all winter campaigning and using his own creative marketing to introduce himself. Scanlan has a little catching up to do. I felt today demonstrated how our elected leaders are willing to help her. That's a good thing. A very good thing. Voters will see her name on the ballot for the first time in November.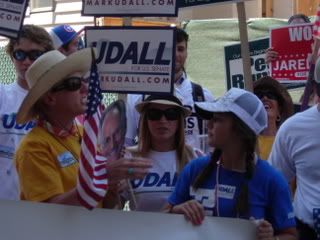 Our county commissioners wife, Beth Runyon speaking to marchers. In the background, peeking from behind the Udall sign is Jorian Schutz, Jared Polis's brother who, with a friend, represented Jared's campaign for CD-02 in the parade today. Jared's entire family is in the district and covered a number of district parades and events.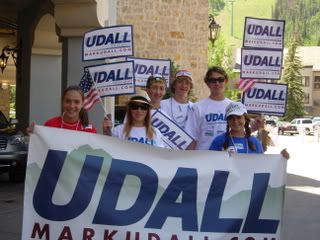 Mark Udall for US Senate was well represented with a friendly, smiling, enthusiastic group of volunteers.
They passed out lots of bumper stickers and as they marched the crowd cheered them on. It 'feels' good for Congressman Udall in Eagle County and as our Representative, he has won Eagle overwhelmingly.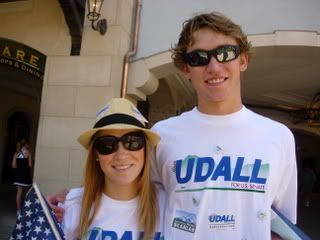 Two interns for Mark Udall's campaign. They were a great team and had lots of fun in Vail today.

Our County Commissioner Peter Runyon is all smiles.
Visibility is important to local parties. But so is organizing. As we were marching, Senator Obama's campaign organizing fellow was hard at work registering voters. We have had an active voter registration program going for weeks in the area. The previous organizer worked the area and he and the local volunteers exceeded their voter reg goals. Our new organizer, a very pleasant recent GW graduate Srinivas Rao - goes by Rao - who arrived about a week ago didn't miss a step. He continues to register voters and activate local volunteers. And did I say he is our own, Eagle County organizer (ok, we share him with Routt County)!
I have been calling for serious party voter registration and serious vote by mail program for years. There is nothing more important than party people registering voters. For far too long Colorado has relied on non-profits and others to register voters. It is a dream come true to have Senator Obama growing the numbers.
Oh and in case anyone is wondering, the local Republicans were in the parade too. They had a big, I mean big as in gas guzzling pick-up truck with monster speakers blaring music from the bed with McBush banners all over. And it was black, like black-gold, Texas-T black. All I could think of was big oil is alive and well in the local Republican party.
I hope you enjoyed reading about our little part of the country and Democratic politics. It was a great day for Eagle County Democrats in the ERV today.
How was your day? Leave a comment.
Crossposted at SquareState.Net.