Yesterday's diary talked about proposed changes in the Securities and Exchange Commission's regulations on "proved" oil reserves when oil companies claim when they seek investors. There are some good parts to these new regulations, and some scientifically valid arguments for others.
There is also the possibility that the new regs, combined with an elimination of the ban on offshore drilling, could mean a financial windfall for oil companies, whether or not they actually drill more oil.
Climb aboard and let's go exploring.
The Oil Business and the Oil-drilling Business
First, it's important to understand that the oil business is very different from the oil-drilling business. The oil-drilling business is what the oil business used to be: find a promising field, put down some exploration holes, start pumping if you get lucky.
The oil business is a five-ring circus. In each ring, a giant multinational corporation juggles what President Bush calls "fancy financial instruments" and occasionally tames wild animals--those would be actual, independent, old-school oil companies, independent oil-drilling companies and the exploration divisions of the Big Five.
The point of the circus is not to make oil. That is the job of oil-drilling business. The job of the circus is to make money--for the circus. Or, to use more acceptable language, to "maximize value to shareholders."
While the "Drill Here, Drill Now" advocates will remind you that those shareholders are individuals, mutual funds and large pension funds, often they are the oil companies themselves, and their executives.
Don't Drill Here, Don't Drill Now
Many have asked why new fields should be opened to leasing when there are millions of acres already leased which the oil companies haven't yet explored. House Democrats, responding to unrelenting pressure to open new offshore acreage, proposed legislation requiring companies move ahead on exploring the 68 million acres currently under lease or forfeit their leases. The move, doomed to fail, had at least the merit of making Republicans admit that leasing acreage alone doesn't produce petroleum.
In fact, the Big Five oil companies are spending less and less of their increasing cash flow on exploring leased tracts for new oil fields, leaving smaller companies to do the mule work of actual oil drilling.
This trend, monitored by Rice University's James Baker III Institute for Public Policy, doesn't show any signs of turning around, despite record company profits.
Before we delve into the question of just what the heck they're doing with all that dough, let's knock off this boring business stuff and go look for some oil.
Deep Waters Run Expensive
Oil exploration techniques are largely the same no matter how deep the waters you're exploring. In seismic exploration, charges are exploded on the sea floor as boats tow hydrophones overhead, measuring echoes returned from the charges. Data from the echoes are analyzed, giving a general idea of the stratigraphic landscape below. Actually drilling for what lies beneath is a very different story.
Most people, thinking of offshore drilling, conjure up images of a standard drilling rig, its three or four feet sitting securely on the sea floor, the drill string snaking down through a few thousand feet of water to the seabed. This drilling method has been in use since the beginning of the 20th century and is relatively mature, safe and inexpensive. The Outer Continental Shelf leases the Bush administration is talking about opening up now are a very different kettle of oil.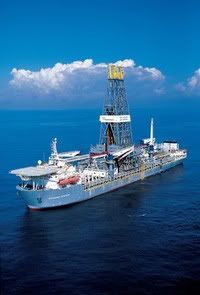 Deep water drilling, whether for exploration or for producing, is a very specialized and expensive proposition. There is currently a severe shortage of drilling ships capable of drilling in the deep waters of the Gulf. The dearth of deepwater rigs like the Enterprise-class Discover (pictured right) has driven the cost of drilling in deep water up from $150,000 a day just six years ago to over $600,000 a day now.
The explanation of the staggering price difference between shallow and deep water drilling can be found in the names. The top picture is a standard drill "platform." Once a proved reserve has been found, it can be towed into place, the legs extended to the sea floor and the drill string dropped to get working.
The Discover, by contrast, is a drill ship. It has no legs or cables to hold it in place, and its fragile, 10,000 foot and more drill string must be preserved by a GPS-controlled dynamic positioning (DP) system, consisting of several motors and jets. DP systems by themselves cost millions of dollars, one of the reasons why ultra-deep drillers cost $100 million last year. Now, with increased demand, the price has jumped to half a billion.
Enterprise-class deep drillers aren't the sort of tool you can rent at a local home center, either. Existing ships are booked solid for the next five years, a big reason why, no matter what Congress does or doesn't do this year, there will be no new oil flowing from OCS leases anytime soon.
So, why the rush to open those leases?
Drilling for Dollars
The Baker Institute study linked above showed that the Big Five don't spend their money exploring for oil. One would expect, with world demand soaring, that they would increase the percentage of gross profits spent on exploration to increase supply--and revenues. Instead, that percentage has remained in the mid-single digits for years.
What has increased, from 1 percent in 1993 to 30 percent in 2000, last year a whopping 55 percent of gross profits, is money paid out in dividends or spent repurchasing company stock. As a result, the amount of oil reserves controlled by the large, investor-owned companies has declined drastically.
In the first three months of this year, Exxon Mobil Corp., the world's biggest publicly traded oil company, shelled out $8.8 billion on stock buybacks alone, compared with $5.5 billion on exploration and other capital projects.

ConocoPhillips has already told investors that its stock buybacks for April to June of this year will come to about $2.5 billion -- nine times what it spent on exploration.

Stock buybacks are common throughout corporate America, not just for Big Oil. They shrink the amount of stock on the open market, essentially increasing its value and giving individual shareholders a bigger stake in the company.
Limiting exploration limits supply, which is one way companies "maximize return to shareholders," the shareholders being, increasingly, themselves. As ConocoPhillips spokesman Gary Russell said, "Could we spend $20 billion or $25 billion? Absolutely.Could we do it effectively, in a way that provides ultimate value to our shareholders? Probably not."
Sea of Green
With millions of acres leased and unexplored and exploration budgets flat, with deepwater drill ships booked solid, why in the name of Neptune are oil companies and their mouthpieces making new offshore drilling out to be the single most important issue facing the country?
Combined with the revised rules on classifying reserves discussed in yesterday's diary, those new leases offer opportunities to increase claimed reserves--and the bottom line for the companies and their shareholders--without expanding the oil supply at all.
The Democrats' response--that companies should first drill in the fields they currently hold--is overly simplistic, as it doesn't address the growing world demand. Then again, neither does the Republican mantra of "Here, Now."
There's only one way to deal with our energy problem to the benefit of all Americans, not simply the oil companies and their shareholders, and that is to reduce demand. Higher CAFE standards, better public transportation, more thoughtful use of our private autos, hybrid and all-electric vehicles. T. Boone Pickens' ideas of shifting the electrical grid to renewables and using natural gas for fleet fuel is worth adopting, despite the downside of making T. Boone Pickens even richer.
These are the real solutions to our energy crisis. "Drill Here, Drill Now," combined with "Trust us when we tell you what a proved reserve is" amount to little more than the Big Five getting their last, biggest Christmas present from an administration that's already been quite generous.
End notes: I've added the "teaching" tag to these diaries so that they can be included in plf515's weekly roundup "DailyKos University." I've certainly learned a lot in putting them together.
One aspect of the new regulations I didn't get to was the limitation of new technology in proving reserves without actual drilling in the deep Gulf. One geologist I spoke with, a thirty-year veteran of both private industry and the Dept. of Interior, rejected the idea out of hand, citing the unpredictable variations in subsea strata. The possibilities for false positives were too great to rely only on non-drilling methods. Only one professional's opinion, but I found the arguments persuasive.
Just by coincidence, ExxonMobil posted its second-quarter profits about 15 minutes after I posted this diary. $11.7 billion, a new record. Who'da thunk it?