Polls are coming in faster now....
Here I track the states that pollster.com rates as "tossup" in the presidential election and some others that appear close.
I used all the polls I could find on Pollster (except internet polls) in 2008. Each plot includes dots for every poll (red for Repub., blue for Dem.) and four lines, each line is a loess smooth, one is more smooth and one less smooth. The 'undecided' line is read on the right axis, and includes anyone who didn't pick McCain or Obama
I'm only including states that have new data since my last diary on this
COLORADO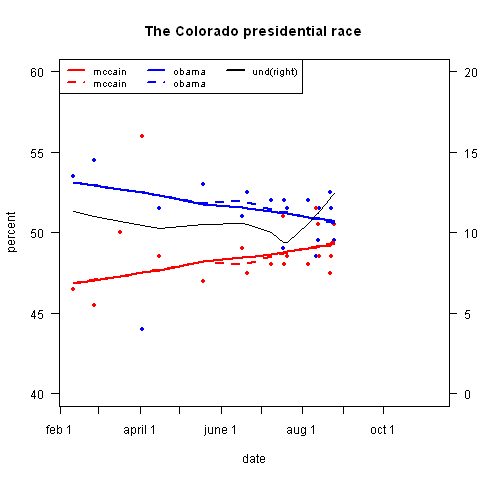 I don't get it .... I thought there would be movement towards Obama, with the convention and all. But it's going the other way. Still, Bush won here in 2000 and 2004
FLORIDA

Down in Florida, OTOH, things are trending our way.
INDIANA
Indiana wasn't even close in 2000 or 2004. Now? We might win!
UPDATE
MICHIGAN

Kerry and Gore both won, looks like Obama will too
NEVADA

I didn't include Nevada last time, but it's looking closer and closer. Bush won narrowly both times.
NEW MEXICO

I also didn't include NM last time. It was very close in 2004 (Bush) and 2000 (Gore). Although polls vary a lot, Obama looks to be ahead by a more comfortable margin
NORTH CAROLINA

Bush won easily in 2000 and 2004. McCain might win here, but it won't be easy.
OHIO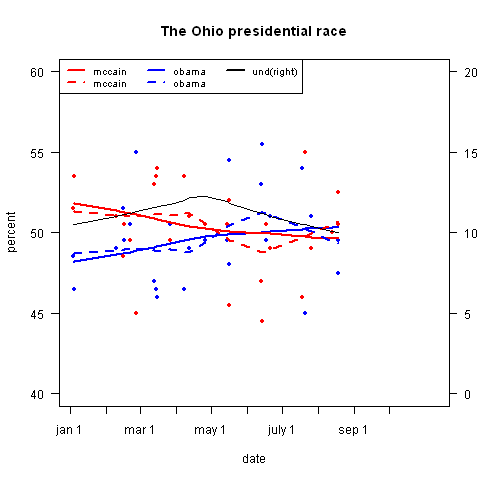 Bush won Ohio twice. It's close. Very close.
VIRGINIA

Bush won by 9 points and 8 points. McCain? He could easily lose