He is being held without charge at Ramsey County Jail.
They can hold him for 48 hours without charging him.
He was pepper sprayed but the county provided him with a clean shirt.
It sounds like he was arrested with a group. They were in a permitted park.
The arrest was under "obstruction" which is a gross misdemeanor. He could face up to one year in jail and/or $3000 fine. (He is a 19 year old senior at Savannah College of Art and Design.) If this isn't dismissed it should make getting a job loads of fun. At least he'll still be able to vote.
That's all I know. The guy at the jail answered my questions about gross misdemeanor and then hung up on me.
I'll update this space if I hear anything else.
I know this doesn't constitute a "diary" but so many here have shown how much they cared about what was happening I felt I should share.
Update: I am trying to set up something with Coldsnap and you fine folks for people being held whose homes might be in the path of Hanna so locals can check on houses/pets/whatever. Let me know if you can help. Thank you.
Update 2: Here are some links from diaries yesterday with information about what was going on. Sorry to not pull out my specific posts but I'm a little shaky.
Update 3: A plea for donations, PLEASE, to the fine folks at Coldsnap Legal Collective. They have a long week ahead of them and have gone way beyond the call of duty in an organized, respectful, and professional fashion. There is a PayPal link on this page.
Please show these folks some love.
And here's a repost of a pic my son snapped before he was snapped up by the long arm of the law.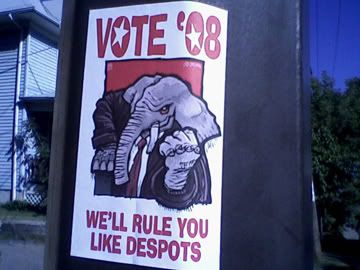 Update 4:
Coldsnap suggests several arrestees have not been booked but are being held at the Ramsey City Jail. They will not be seeing judges until wed.
Update 5: Coldsnap is announcing that calls from jail to Coldsnap have been blocked. Please call the jail at 651-266-9350 - and demand that they allow free calls to 651-356-8635.
IMPORTANT UPDATE: My son was finally allowed a phone call (at $4 first minute and I got another 3 minutes for $1.69 each then they cut us off) so here is what happened.
He was standing inside the permitted park. He was wearing a gas mask because they were spraying gas rather indiscriminately and he had gotten sprayed about 20 minutes before, also while standing inside the permitted park.
He was resting and watching the Funk the War folks when riot police marched up the street in an L formation - up the sidewalk and in a line across the street.
Officers grabbed his arm and dragged him into the street, then threw him to the ground and cuffed him for "disobeying an order to disperse".
This action was witnessed by at least 4 National Lawyers Guild observers, at least one of whom was taping the incident. Another may have been taking stills and a couple were taking notes.
My son yelled out his name and date of birth to them as he got thrown down.
He is in good spirits. He was soaked from the waist up with spray in a park with a permit to assemble by police outside of the park so when I asked him if it was cold last night in the jail (there had been requests for sweatshirts and blankets) he laughed and said, no he was still hot from the spray and the guys were joking about just rubbing on your skin to heat right back up if you got cold.
He was really worried I would be mad at him. I assured him I was very proud of him, albeit worried sick, and let him know I had made arrangements for the shuttering of his place in Savannah before we got cut off.
Now I need to find out how to find the observers who taped this.