Cross-posted at both La Vida Locavore and SF Kossacks.
From my perspective this is a very special happy story. A very fond memory that is about the many joys of blogging and the privilege of knowing OrangeClouds115. Truly a story of serendipity in the electronic age and one of those very rare days when I honestly felt that if there was one perfect place to be in this world, I was there!
This is also a story of friendship, fellowship and bathing in that often elusive sense of belonging. This is a people powered politics story about forming a bond with some of my fellow Americans who are bravely working for change in this very broken nation.
This is also the story of a plate;

Below the fold is the story of another great place that blogging just took me and why that plate flew cross country with me last week. That plate is now a souvenir that has a very special meaning to me after a wonderful dinner with some terrific people.

My happy story began with an e-mail from Jill Richardson who is also know as OrangeClouds115 around here but getting away from anonymity. Somewhere around August 15 Slow Food Nation had announced their final event. Jim Denevan, the founder of Outstanding in the Field was going to set his magical table in San Francisco's Dolores Park.

Set between the soil and the sky, Outstanding in the Field's long, linen-draped table beckons adventurous diners to celebrate food at the source. Bringing together local farmers and food artisans, chefs and winemakers, we explore the connection between the earth and the food on your plate. Join us as we feast on the gifts of the land.
Jill remembered that I once wrote a diary about Outstanding in the Field and asked me if I would write another for La Vita Locavour. Besides the fact that I would gladly do anything for Jill, Jim Denevan is the sort of person I love to write about. I was so fond of Jim Denevan that when I first heard of him I tried to start a diary series about Americans who work for change and called the series Outstanding in the Field.
I began working on Outstanding in the Field coming to San Francisco and one of the first things I learned was Slow Food Nation's motto, Come to the Table. It seemed a bit impulsive but as I wrote I realized that I really wanted to go and be a part of this event that was being billed as the Woodstock of food and meet some more Americans who are working for change. So off I went to Slow Food Nation for some serious learning;
Followed by a chance to come to that special table. One fabulous day of picking, preparing and eating with some young people who are trying to restore sanity into our food system;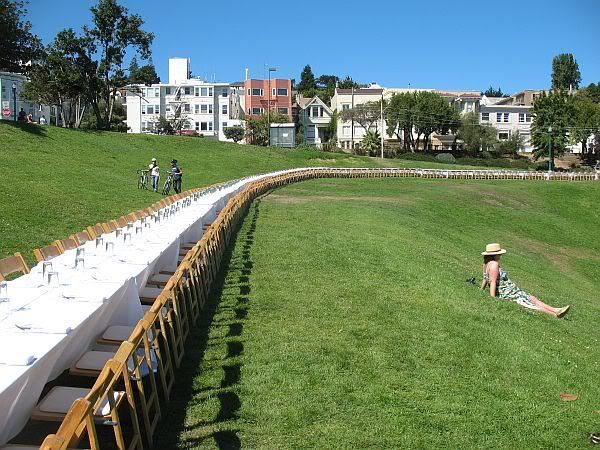 I considered the Eat In hosted by Jim Denevan to be the main event. But that was before I got a chance to shake the hand of Wendell Berry and hear him speak. A man that I had never heard of prior to last week;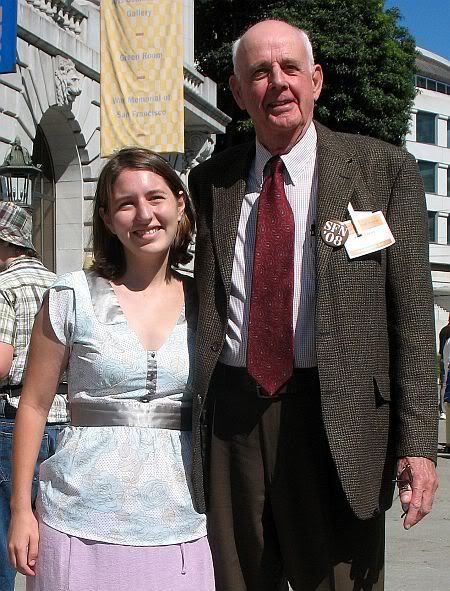 In for a penny, in for a pound. As much as I love walking the streets of San Francisco I wanted to spend plenty of time with Jill and learn a little of what she knows about the state of our national food supply. I signed up for as many sessions as I could. Sessions that seemed like Netroots Nation for "Foodies."
I learned a whole lot at those Food for Thought sessions where I also heard Michael Pollan, Eric Schlosser, Marion Nestle, Vandana Shiva and Carlo Petrini, who founded Slow Food in Italy in 1989. Not only did I get to hear the founder of Slow Food Nation, Jill and I took a little trip out to Berkley to enjoy the restaurant that Alice Waters owns Chez Panisse. I got to meet and plan to learn more about Dan Barber, the chef & co-owner of Blue Hill Restaurant in my home town, who is also the creative director of the Stone Barns Center.
I'm not totally unaware of the food issues facing this nation and I am into environmental issues but some of the things I heard just blew me away. While I always felt I had other priorities it was explained to me that food is my only relationship with the environment, food is when I am eating the environment. I believe it was Alice Waters who described America's school lunch programs as "training children to become model citizens in a Fast Food Nation." And the one fact that I can't let go of, with all of the damage we are causing, it takes ten calories of energy to produce one calorie of food in America.
After I was done with all of the listening and learning it turned out to be the same old American story, a crisis of democracy. Big business buying our elected officials and media so they can quietly destroy this planet. Of course with the food industry they are feeding us bullshit in more ways than one.
There was another great highlight before the Eat-In. Throughout the Food for Thought sessions it was mentioned over and over that slow food taste better. People came and they proved it!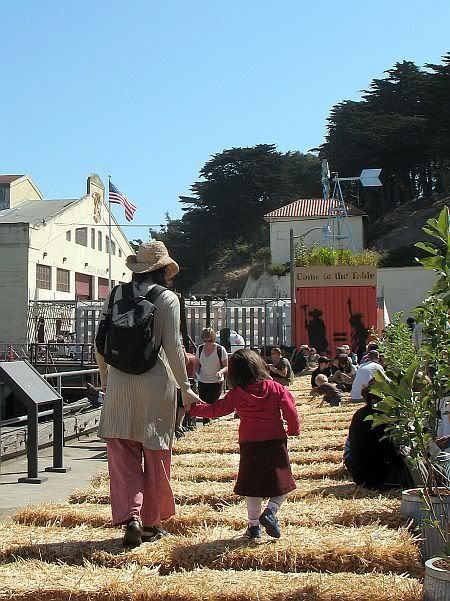 Jill and I spent most of the day Sunday at the Tasting Pavilion and the "good, clean, fair" food tasted amazing. Jill's description is far better than anything I can produce but the food was heaven. I can add a few photos;
Then came my big day. My chance to shake the hand of Jim Denevan and say thank you.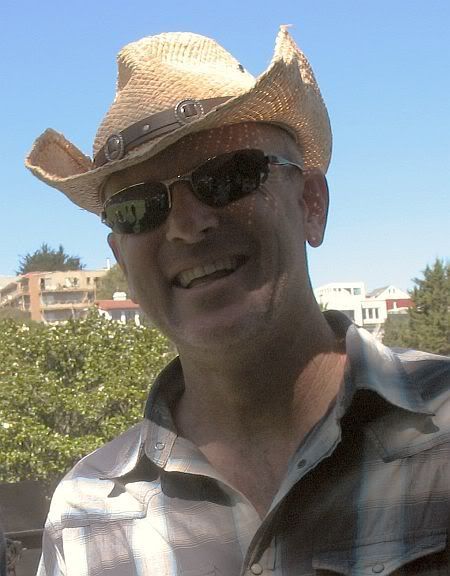 This event was a little different form the typical Outstanding in the Filed. Instead of paying for our meal we were volunteering to make this meal happen, either singing for our supper or going pot luck. It was also designated for young people but I figure since I still have plenty to learn and growing to do then I must be young too.
I signed up for the best cooking assignment. I got to meet John Bela in the garden he has been taking care all summer. The Day started out at a San Francisco Victory Garden right in from of City Hall. At seven o'clock in the morning the day started a little early for my taste but it was a great morning view;
This city boy ended up picking vegetables with some wonderful people. Alicia Paullin of Modern Tea was the team leader. I joined eight others and we picked 100 pounds of vegetables. Here is John giving some of us city folk instructions on picking the veggies;
Talk about local grown, we carried the food to Modern Tea to dice, slice and cook. Everybody worked and we enjoyed every moment of it;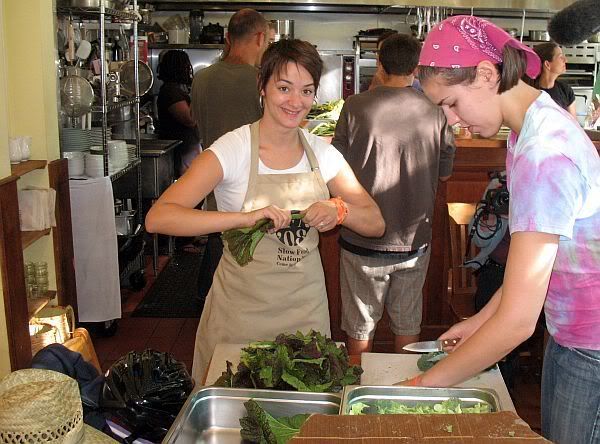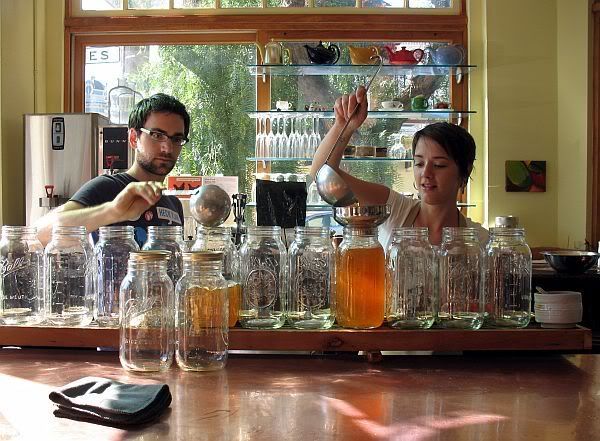 That peach ice tea was amazing. Sara and Josh made enough for everybody. I found this even more amazing. This is me using a cloth napkin to strip the skin off of beets;
I didn't even know you could get beets before they went into a can and these roasted beets tasted so good.
After having a great time preparing the food we walked or bicycled to the park to see what that table looked like. What a view!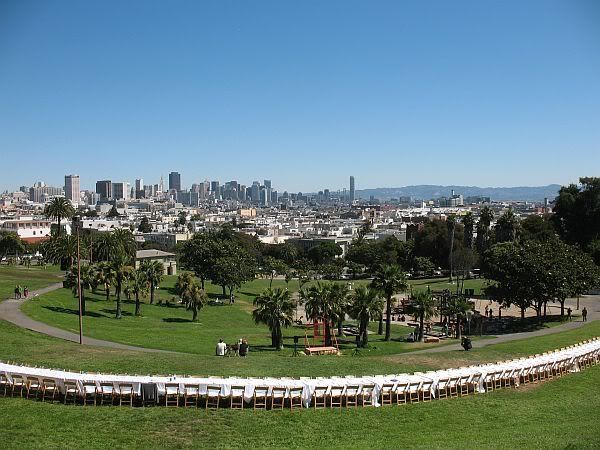 This is Katy Oursler who handles the business of Outstanding in the Filed and sees these wonderful outdoor dinners as a social mission;
And there's Jim walking the tables and making sure that everything is just right;
I was introduced to Jim Denevan by Martha Tischner of CBS Sunday Morning.

Jim Denevan is a maker of moments. He is about the perfect wave caught, the gentle geometry of a diner table in an urban garden on a warm September evening or this colossal design drawn into the sand, soon to be washed away by the tide. He is an artist whose art is the ephemeral, like the sound of his whistling, there and then gone. Once you know that about Jim Denevan all the rest makes sense. All the very different things he does.
But now I feel like I know the man and that is a happy story.
It was a great day. After we gathered on a hillside to hear about the success of Slow Food Nation;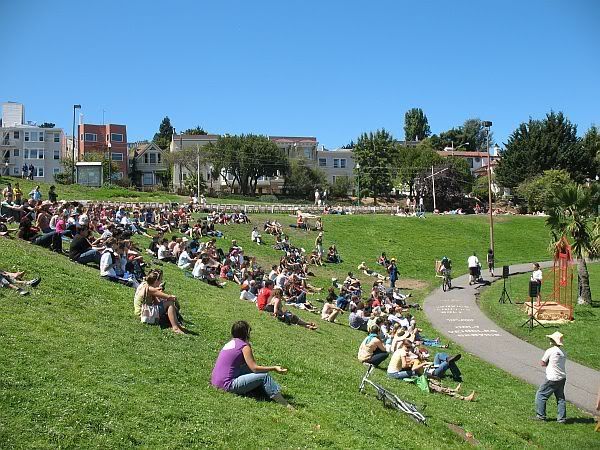 We gathered around the table and enjoyed what we all worked to achieve;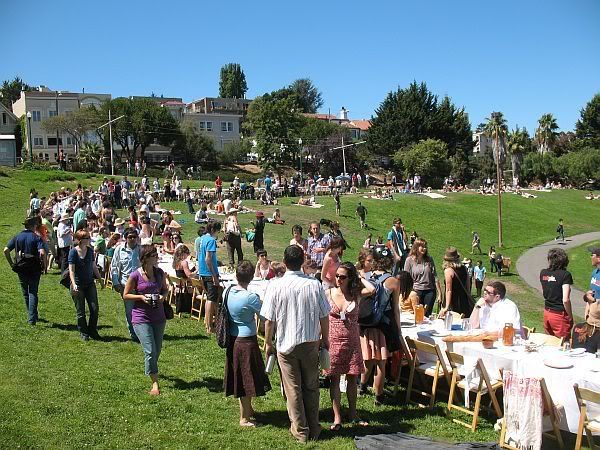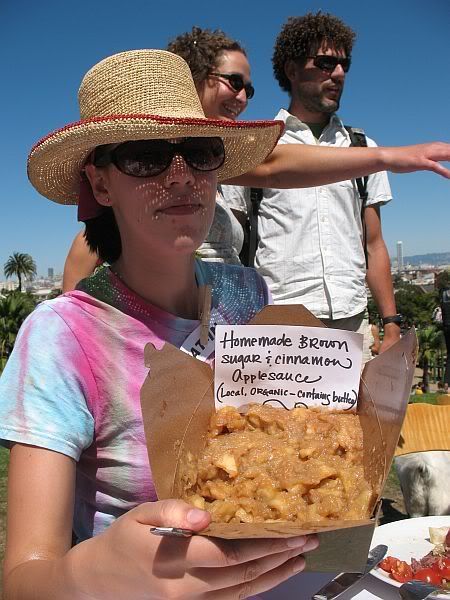 Now that was a happy story for me.
Oh and about the plate. An Outstanding in The Field tradition is bringing your own plate. Here are two who came with Frisbees for plates. I didn't get the name of the woman in the top photo but she is standing behind Kate McDevitt from my fantastic table and sitting next to me (in the bottom photo) is Mary Kathryn Wyle, a farm apprentice at a Georgia farm;