Oooooh no, Mr. Bill!!!!
There are bad diarists lurking among us....
On a daily basis, they make me read things that are silly....
I can't stand that. Why can't they all be model diarists, like me???
I will awake tomorrow ... and pounce on them ... I will awake early and berate them .... I MUST teach others how to write a diary....
After all, those bad diarists .... they drive me crazy .... talking nonsense all day ... just CRAZY!!! Why can't they write a proper diary ... Why aren't they model bloggers ... like I am ....
Ignore things I don't like or disagree with? ... just let it alone? Why? I have a right to post anything I want. And NO! DAMN IT! WHY CAN'T THEY FOLLOW THE RULES.
And while they're at it, furiously participating at their keybord, can't they look up proper spelling? Like me. I keep Strunk & White right here with me when I blog.
Look, I'm going to count their paragraphs. How many words is that... Hmmm? How many original ideas? DAMMIT! Don't these bad diarists realize that there's an IMPORTANT CAMPAIGN going on? That they're wasting time and bandwith! Dammint, why can't they just follow the rules. If Obama loses this election, it will be THEIR fault.
So, Sarah Palin has a lot of problems. DUH. Just cause the VP pick has STUNNED so many regular human American folk, made the cover of US magazine and the Enquirer at the grocery check-out in less than a week, doesn't mean that bloggers should talk about it. Look at me! I'm not talking about it. I'm just instructing those other BAD BLOGGERS who are talking about it. So what if Sarah Palin is lawyering up. So what if her whole family seems mentally unstable. So what if many female bloggers and their sisters and mothers think she's close to insane with that 8-hour-plane-ride-while-leaking-amnio-fluid-in- a-high-risk-pregnancy nonsense. It's not relevant cause I think so and I've been blogging a long time so I know. So what if she fires her political enemies and bankrupted a tiny tiny Alaska town. SO WHAT! THAT'S NO EXCUSE FOR NOT BEING A MODEL BLOGGER.
It's getting so that I can't STAND it. Everyone around here these days -- look how narcissitic -- they're not DOING IT RIGHT LIKE ME!
After all, what if the RIGHTIES are here? What will they think of us if we say bad things about their candidates? WHAT WILL BILL O'REILLY SAY ABOUT US!!!!
If someone says something stupid, the righties will hound us. They'll say bad things about us. They've got a point -- MY GOD! WE CAN'T LET THAT HAPPEN. So let's just stop all this chaotic, discussion. If we stop, maybe they'll stop.
Just look how the righties get everyone to fall in line. Everyone says the same thing... well, forget that Peggy Noonan stuff, too ... We need to be more like them -- watching, watching every word so that nobody steps out of line, with reprimand at the ready. Onward, diary soldiers...!
P.S. with Pooties
Now, it's a very rainy day in the northeast -- Here comes Hanna. I wanted to write a pootie diary today. And I will. After all, It's a good day to crawl up on the couch with the furry guys!
Mr. Wiley LOVES Obama! And Bobo says -- John Kerry gave a great speech! What can I tell you he loves Kerry! (I think it's a Maine Coon / New England / navy stripes thing.)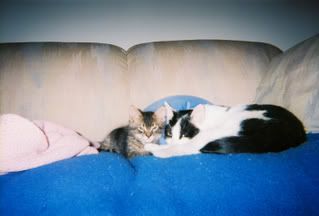 (Uh - oh! Gotta run before they start banning Pooties, too).
AND NOW BILCERO WILL CENSOR THE DIARIST'S TAGS???? WHAT THE FUCK????