This is meant to be a sort of companion diary to the excellent Action Diary by EliseInstead of complaining, MAKE A DIFFERENCE! And Obama is giving us a new tool to do it! I opened my e-mail this morning to find a message describing an incredibly creative new tool that is now available on BarackObama.com. Here's CNN talking about the technology and the specifics of the tool are below:
If you work odd hours, or time constraints make it impossible to get to your nearest campaign headquarters this is for you! Here's the lowdown on the Neighbor to Neighbor tool.
I immediately clicked on the link to find out what it was all about and here are the specifics:
Neighbor to Neighbor:

Reach Out to Voters in your Community

This campaign is built on the belief that everyday Americans, when organized and focused, can change their country.

Now you can have an even greater impact on your community. Start today by logging in to our new voter contact tool to find voters near you to reach out to. You can go door to door or make calls at any time that's convenient for you. There's no one who knows your community better than you do, so help us build support for Barack Obama and this movement for change by beginning in your own neighborhood.

When you log in you'll see that we've prepared all the resources that you need, including:

* A list of voters in your neighborhood who we need to reach out to
* A script you can use in your conversations
* A customized flyer you can distribute
* Easy interfaces to report back the results of your efforts to the campaign
* Support and training to answer any questions along the way

Log in now and get started!
Very cool! I logged in and immediately got a list that was printable of names and addresses of 25 people in my neighborhood. And they are all within a 3 block radius of my house! When the list prints, (each voter gets their own survey) it prints with a script of what to say and how to respond to the voters responses. If a voter is supporting Obama, you mark what issues swayed them to vote for Obama. It also, and this is what impressed me the most, lists questions to ask about the local races going on in your state, district, and precinct. There's even a flyer to print out to leave with the voter. When you've completed your list, you log back on to the Obama website and enter the results! Just think of all the targeted voter data the campaign will be getting from all 50 states. This is market research on a vast scale. We'll all essentially be pollsters for the Obama campaing! How cool is that?!!!
It also tracks your progress. It's like the phone banking tool but now you have a direct line back to the campaign to record your data. And just like the phone banking tool, you can keep track of your progress: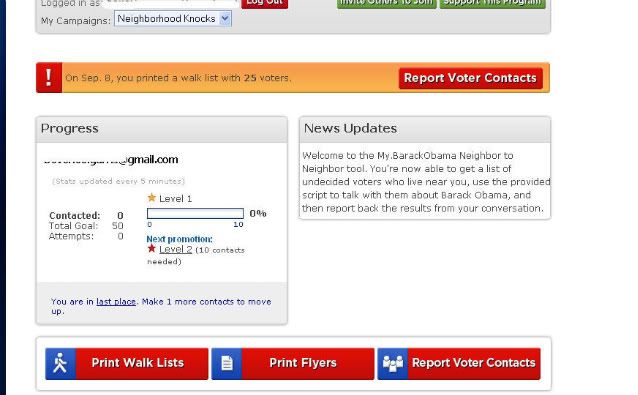 The Obama camp is making voter outreach extremely easy this campaign. He and Joe are working their tails off out on the trail, talking to people in small towns and large. Let's do the same for them.