You know what they got in Vegas?
No, not that. No, that, either. No, NO. We don't even want to talk about THAT!
They have thousands upon thousands of young, hot, nubile, ready and willing... UNREGISTERED VOTERS!
Which is why I'M going to Vegas with a large group from the Santa Monica, California office of the Obama campaign the weekend of September 26th-28th.
But what good will it be if I'M there and YOU'RE not?!?!
There's a bus to get you there if you're from SoCal.
There a cheap hotel rooms if you commit by Monday.
There's ME screaming, "COME ON 10" at the craps table at 3AM.
There's KERRY STATES + IOWA + COLORADO + NEVADA = President Obama.
Come on... you know the saying... "What's registered in Vegas, votes in Nevada!"
THE PLAN
Volunteers will travel to Vegas on their own or on THE BUS (more on this in a second) on Friday September 26th with the intent on canvassing Saturday September 27 and Sunday September 28th.
There's a debate between Joe Biden and There's Such a Thing As A Bush Doctrine™ at 6PM so the hope is we can all watch it together there at THE HOTEL (more on that as well).
After I Hate Moose and Polar Bears Almost As Much As Rape Victims™ has been destroyed by Mr. Biden, there will be some frivolity and rolling of dice, but not so much as to prevent...
Saturday morning at 9AM there is training and then we hit the streets to register until 5PM.
Repeat Friday nights activities, drinking heartily and bitching loudly about The Original Maverick™, but not so late as to prohibit...
Sunday is more registering from 9AM-!PM, or until you want to go home.
WHAT COULD BE MORE FUN?
As for the bus... FREE TRANSPORT as long as space is available. There are like 56 seats and its on a first commit, first with a window view of the desert service.
As for the hotel... DISCOUNTED ROOMS ($79 a night) THROUGH MONDAY at the Rivera Hotel.
(800) 634-6753.
CODE: California Volunteers.
QUESTIONS?: Email david.rodwin@gmail.com
***
Can't go to Vegas, but want to do something for this effort?
Get your butt and all the parts attached to your butt down to the Santa Monica Obama office at 900 Wilshire Boulevard tonight between 5PM - 8PM to make calls to OTHERS who are thinking about this Vegas Trip.
***
Can't do any of these things? Live elsewhere? Well, there are like 49 OTHER states...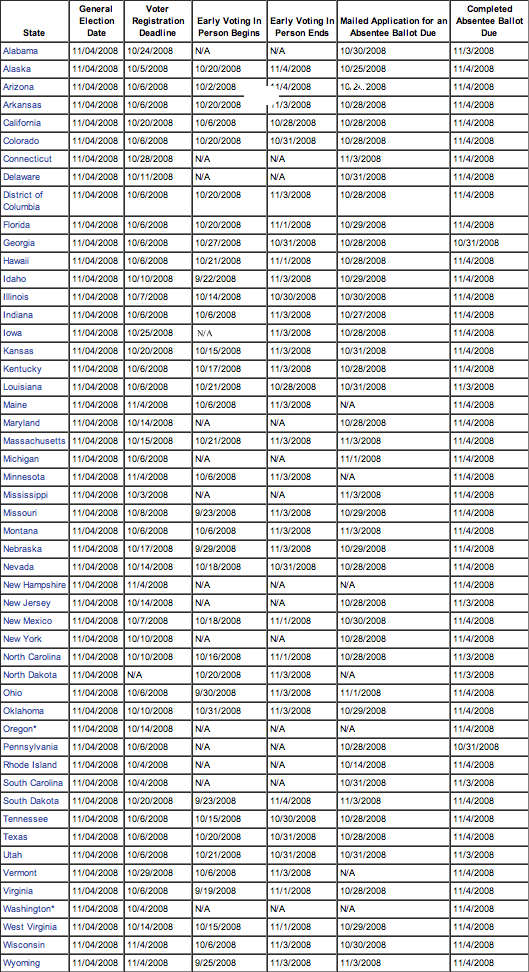 Oh, and, if you check your OWN voter registration status here!