This is my first diary and while I've been reading/lurking a while (only a week ago actually creating a profile), I don't know that I'm quite up to diary-ing with the big leagues. What I DO know is that as a Mom trying to set an example for a small child and also as an entrepreneur/business owner, I am in full support of buying from the small business owner whenever I can. Reading today about small town values and what it does and doesn't mean furthered my desire to create a diary showcasing some ways to show your support for your candidate while buying handmade from entrepreneurs and artists readily accessible right here online! Sure, you can buy your Obama bumpersticker at the mall but what better way to make a statement than by buying from the source, American made by people struggling to make a living, people using their art to express their love of politics, people taking a risk by stating their beliefs in their place of business?
I shop on etsy all the time, but only recently discovered there is a growing political bent among sellers and artists there. All you really have to do is go to the site and type in "Obama" (or whomever you're looking for) and you'll find some pretty cool stuff, all handmade!
Some highlights from the site....
Obama "FORWARD" shirt from seller 57thirtythree
I really love the image on this shirt, from maartenj13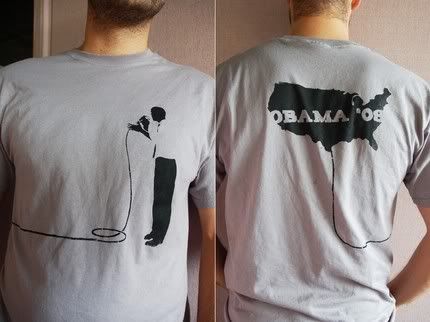 A great button, "Middle Aged White Women for Obama" from seller RememberMeEmily, who has other fantastic buttons including a great one that says "Elitists For Obama"....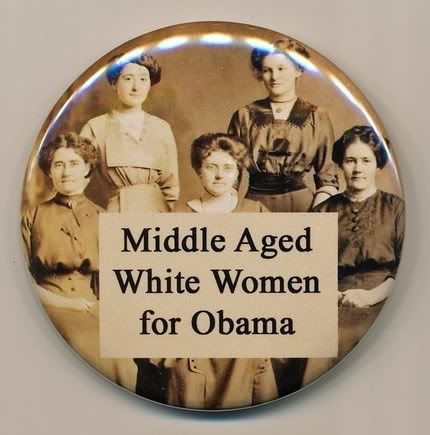 Old school boxing match poster done in letterpress by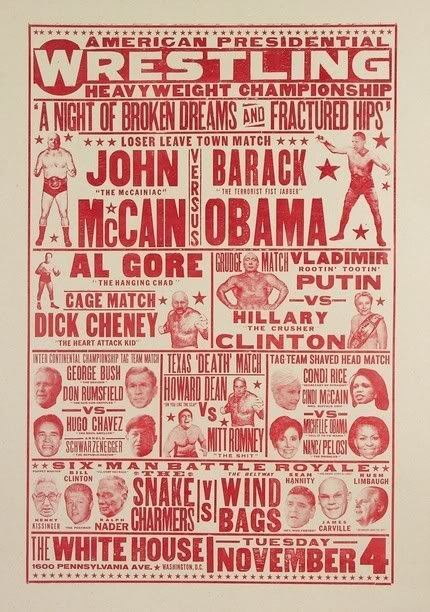 9 pack of anti-McCain/Palin buttons by psychedelictara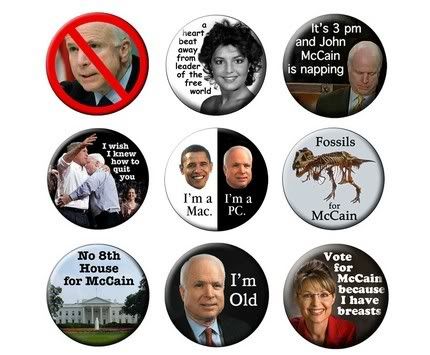 These candles would be a great way to show your support lit in a window at night....a nice alternative to a yard sign. This seller, rebexa, also has a fantastic Michelle Obama t-shirt!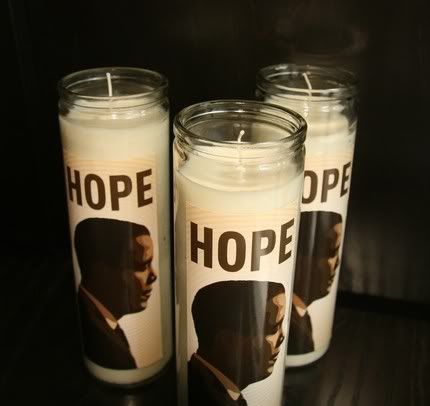 I do not personally know any of the sellers I've mentioned, nor do I work for etsy so this is in no way of personal benefit to me to write about. I'd just like to see the hardworking small business owners and artists get a little credit for what they're doing!