in a Story that TPM is currently breaking and which may or may not break into the American press with this economy news, but
Well, it doesn't appear to have registered in the American press yet. But the story keeps bubbling in the Spanish press about McCain's bizarre gaffe about the Spanish Prime Minister. Here's the front page cut out from the Spanish news channel that did the interview. They've talked to the interviewer now. Her take? McCain didn't know who Zapatero was ...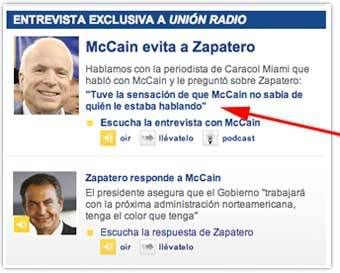 Spanish New Channel's front page cut that did the interview.
and as one of the readers over there responded
I listened to the interview. The characterization is correct. I originally gave McCain the benefit of the doubt, thinking that he was just snubbing Zapatero (something that would be welcomed by the Spanish right). When I was there, there was a lot of agitation among Spanish conservatives because Zapatero was ignoring the country's relations with the U.S. and making overtures to more leftist countries in the Latin America--Cuba, Venezuela, Bolivia (all the countries mentioned in this interview before Spain). There was even a controversy because Zapatero sat down when the U.S. flag was passing by in a parade. I believe his excuse was "his legs were tired." So I figured McCain was giving the Zapatero the cold shoulder in the same manner as the Bush administration has done.

After listening to the interview, however, I agree with the characterization that McCain was unaware of our relations with Spain, or even the country's geographical and political position. When asked about meeting with Zapatero and the country's relationship with the U.S., McCain ignored the question and went into some boilerplate about America's friends and enemies and analyzing relations (think Palin and the Bush Doctrine). Then, he tried to transition his answer into more friendly territory, discussing President Calderon's government in Mexico. He never really addressed Spain, but pushed right into commenting about Mexico. The interviewer actually tried to redirect him several times (again, think Charlie Gibson and Palin), until she actually stated that she wasn't talking about Latin America anymore, but rather Europe. For whatever reason, McCain responded to this question by repeating what he said before about analyzing America's relationships with our friends and enemies.

Seriously, this was pretty bad.
McCain needs to be hammered on all sides for this, this man is just not fit to lead this country, I mean I am now wondering whether or not the American press will pick up on this, I know with TPM on it, this will slowly spread through the blogs.
we need more Spanish speakers on this
Wanna give a nod over to archibaldtuttle it has a link to some audio of this and to other Spanish sites, as this is already spreading in the Spanish Press.
Update [2008-9-18 0:27:22 by Political Truth]: As was pointed out in the comments over at TPM-Cafe a natural speaker provides a rough translation
I am not a professional translator, but I am a native Spanish speaker. The translation follows:

The republican candidate to the White House, John McCain, eluded up to four times committing to meet with the Head of the Spanish Government, Jose Luis Rodriguez Zapatero, if he were to become the next president of the United States.

"I would meet with those leaders that are our friends and that want to work with us in cooperative action," answered McCain, in an interview with the broadcasters of Union Radio group, of which the SER Chain is a part.

When the question was insisted on, he limited himself to evasive answers. "I can assure you that I will establish closer relationships with our friends and that I will face off against those that wish to harm the United States," he answered on one occasion. "I would meet any leader that has the same principles and philosophy that we do: human rights, democracy and freedom. And I will stand against those that don't," he added on another occasion.
as he said, head over to TPM for the full translation of the article from a Spanish paper reporting on the incident.

Update [2008-9-18 0:51:26 by Political Truth]: ok did this just get worse? See I thought McCain simply didn't know who he was talking about its understandable, I have no clue who rules Nigeria right now, there are alot of world leaders out there. It seems though McCain at least back in April knew who this man was
Here is a translation of the next paragraph of the article (just below the translation you have up). I have pasted the original Spanish below it.

'These statements by McCain contract with those that he made to EL PAIS last April, when he said 'now is the time to leave past discrepancies with Spain behind' he added 'I would like for him (President Zapatero) to visit the United States'.

In diplomatic terms (?) one can attribute the attitude of the republican candidate for president to a mix-up (confusion), the interviewer centered around relations with Latin America and the journalist had to remind him that Spain is a European country when he insisted on using Mexico as an example. In the best case scenario it was evidence of his ignorance with respect to Zapatero.

Estas declaraciones de McCain contrastan con las que hizo a EL PAÍS en abril pasado, cuando dijo que "es el momento de dejar atrás discrepancias con España". Y añadió: "Me gustaría que [el presidente Zapatero] visitara Estados Unidos". En medios diplomáticos se atribuía ayer la actitud del candidato republicano a una confusión, pues la entrevista se centraba en las relaciones con Latinoamérica y la periodista tuvo que recordarle que España es un país europeo cuando insistió en poner como ejemplo a México. En el mejor de los casos evidenciaría su ignorancia respecto a Zapatero.
Update [2008-9-18 7:56:42 by Political Truth]: I just wanted to update with the link to the english audio Link here
Update [2008-9-18 11:12:22 by Political Truth]:
McCain campaign finally has a response:
McCain foreign policy adviser Randy Sheunemann said McCain's answer was intentional.

"The questioner asked several times about Senator McCain's willingness to meet Zapatero (and id'd him in the question so there is no doubt Senator McCain knew exactly to whom the question referred). Senator McCain refused to commit to a White House meeting with President Zapatero in this interview," he said in an e-mail.

I think Josh Marshall smacks this down nicely
ut on this, nice try, Randy. I don't doubt that Scheunemann and his neocon pals still have it in for Zapatero for pulling his troops out of Iraq. I admit it is difficult to believe that McCain either doesn't know who Zapatero is or doesn't know which continent Spain is currently a part of. And we can question the wisdom of a major party presidential candidate suggesting that a major NATO ally might be part of McCain's Axis of Evil -- along with Hugo Chavez. But Randy's attempted save here does not add up. If McCain knew who Zapatero was, why did he repeatedly refer to him as a Latin American leader? Spain is not in Latin America.

Read the transcript or listen to the interview. The most logical explanation of this gaffe is that McCain got asked about Zapatero right after being asked about Chavez, Castro and Morales. Not remembering who Zapatero was, he assumed he must be some other Latin American tinpot dictator and answered the question accordingly. We could be generous and assume he was just upping the ante on the normal neocon line. But by repeatedly referring to Spain as a country in Latin America, McCain just doesn't make that interpretation tenable for any fair-minded reader.

Face it, he got confused.
With the current economic crisis it does seem this might not break through (where are ya Keith and Rachel!), so unless something more comes from this I see this as a back burner for now.
But don't forget next week with Palin at the U.N and Biden's huge speech on monday, Foreign policy will be coming back next week, and THAT would be the pefect time for the MSM to finally pick up this story, so that McCain is actually forced on the defense on his supposed strength.