If you take a closer look at the photo that was released by the Heath family of Palin as a City Council member (provided), you'll notice a publication on her desk. On closer inspection the magazine she has under her pen is "American Opinion," it was the official John Birch Society magazine before it became "The New American."
[UPDATE 9/19]: It would seem Ben Smith from Politico has contacted the John Birch Society about this image and this is what they had to say:
An interesting event occurred late last night. Politico blogger Ben Smith contacted us to ask if a photo of Sarah Palin showed her with a copy of one of our publications.

Apparently the Palin family had released the photo to AP and the New York Times picked it up for an article last week. Politico was inaccurate in identifying the reprinted article as the cover of the magazine.

Clearly seen in the photo is a reprint of an article from The New American magazine back in 1995, entitled "Con-Con Call" in a three-ring binder in front of her.

Does this show some type of connection between JBS and Palin? It does not connect her to The John Birch Society any more than a copy of the New York Times sitting on her desk would connect her to the New York Times Company.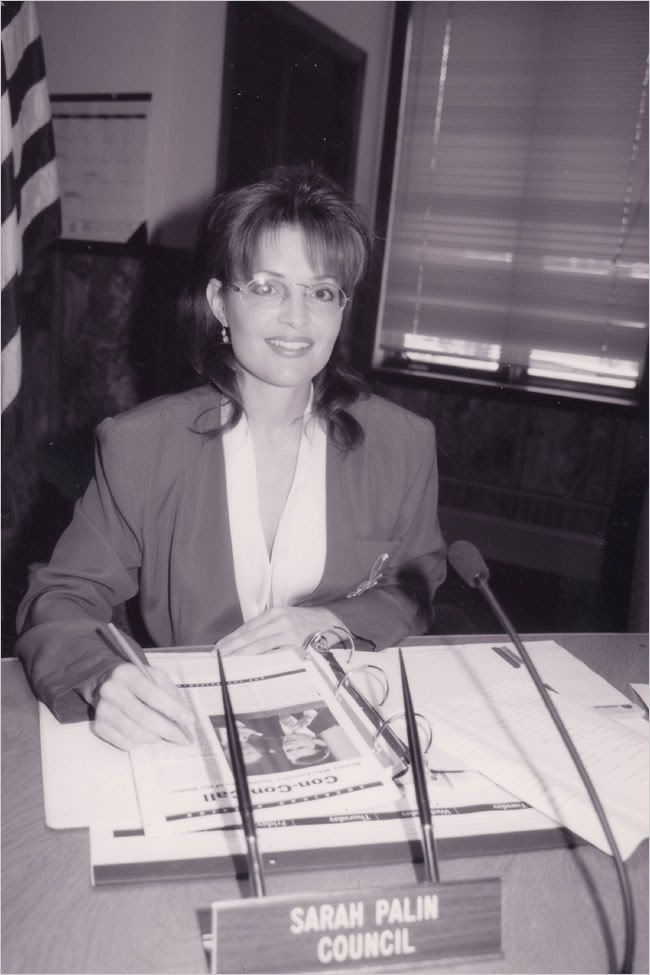 Thanks to Democratic Underground, I found this post from BAGnews Notes about the Palin photo when she was on the City Council (which contains the larger image of the photo).
If you think about the "whispers" of her allegiance to AIP and the subtle accusations that she has no minorities on staff it could add up to Palin being a radical that shouldn't be elected to national office. Forget all we already know about her--her dubious "qualifications", her hockey mom "charm" and all the lies we've uncovered. This is some scary stuff folks when you combine it with her apparent "rapture-ready" mentality.
If anyone knows anything about the March 1995 issue of "American Opinion" it would be nice to see what else was in that magazine other than "Con-con Call" by Don Fotheringham.
Edited to add Digg link.