Really, I've never seen anything like this in Jacksonville. I'm not a political creature, quite, so I have little to compare, but this is bigger than any rock concert held at the same park (Metropolitan Park)! I don't recall any rallies this size, unless you count monster truck... I'm boggled -- boggled, I say! Join me over the flip side to witness my boggledness.
When I got there, the line had already wrapped itself three times around the park. Once on the green, it looked pretty hoppin', however most of the people were still behind me in line!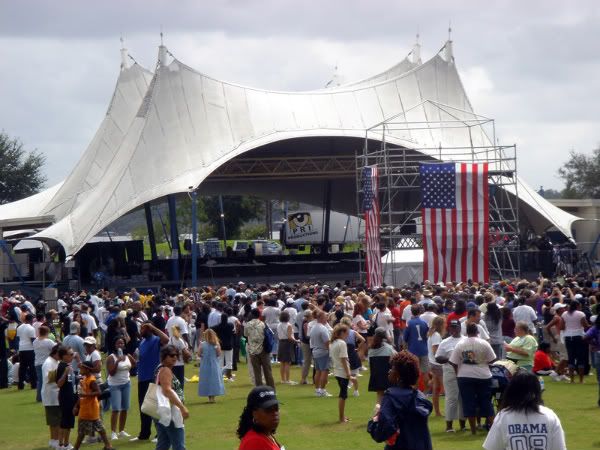 In little time, the crowd had swelled to capacity. I've never seen Met Park like this!
Then Bill Nelson came out, to raucous applause.
Barack arrived on a black bus, and you could hear the excitement from way to the back of the crowd, before anyone around me knew he'd arrived. The place exploded when he took to the stage. He informed us about the bombings in Pakistan. Then he launched into a dismantling of McSame's ridiculous shell game: his lobbyist-riddled compaign staff, chief among the many examples.
The crowd loved it!
This was my first political rally, and it didn't disappoint. It should be said (and this is part of the point of this diary) that the campaign is on top of the voter caging issue. The rally bubbled with dozens of volunteers reminding people to reregister if they'd moved since registering, and Congresswoman Brown told us to reregister if we hadn't voted for four years, a problem of which I'd previously been ignorant. This shocked me. Disenfranchised just because you hadn't voted in a cycle? Outrageous! I'm going to have to make some phone calls, and not just for the campaign...
Update: Hat tip to FORUS50 for this --
"Quoting a former president from his home state of Illinois, Obama told the crowd that Lincoln had said this to his opponent during the campaign: 'If you don't stop lying about my reputation, I'm going to start telling the truth about yours.'"
Update Again: by the way, 8,000 people were locked out in overflow! Crazy...
Update Again, Again: WOOHOOO!!! First time on the Rec List! Thanks, Kossacks! I hope this gets out the word about reregistering voters in Jacksonville. Anyone who knows folks there needs to spread the word about being dropped from the registry if they haven't voted in four years. Tell everyone!
UPDATE AGAIN CUBED: About 20,000 folks turned out!
And here's a panorama:
Another pic:
I remarked to no one in particular that, "Passing the bill to your kids isn't very patriotic either, dumbass." That drew some laughs. Of course, that sounds like I'm accepting the ridiculous premise that my taxes will somehow be raised. I am not.
Updatelicious: How about some more photos?
The sunlight did not reach the grass.

We were pumped!