Watch Rep. Tom Feeney (R-24) pee in his pants shooting this paid commercial.
It's a slick professional apology for his first Jack Abramoff bribe, during the first of his three consecutive terms---and three consecutive spots on CREW's list of Most Corrupt Members of Congress, a singular historic distinction.
Why is Feeney panicking?
What Republicans fear most: a smart-as-a-tack, laid-back grandma.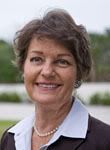 Suzanne Kosmas, a term-limited state house three-timer who's outspokenly anti-war, pro-environment, alternative energy and space (think a younger Sen. Bill Nelson) stands a good chance of beating him.
Polls say the race is almost tied, and the Democratic National Committee sees the race as a prime opportunity to oust a Republican incumbent.
In November, 2000, while Democrats were demanding accurate vote counts, Feeney---Speaker of the Fla. House---browbeat colleagues to certify Florida's Republican electors before the recount. His pitch was pure whiggery: recount delays might disqualify Florida's electors altogether.
Term-limited, Feeney hand-carved his own majority congressional district, and three weeks after 9/11 he was elected.
He earned a perfect score from Grover Norquist's Americans for Tax Reform. He handed out "Conservative Check Cards" to friends---wallet-sized lists of neocon principles. He met Jack Abramoff, who took him golfing in Scotland.
Aside from its oddity, Feeney's mea culpa focuses solely on the Abramoff bribe.
But he's also in trouble for flying to Korea on the tab of foreign agents and vacationing in Palm Beach on lobbyists. From the CREW report:
Rep. Feeney's campaign committee has paid $60,000 in legal fees since July of 2007. Since July 2007, Rep. Feeney's legal defense trust has paid FTI Consulting over $56,000 and his campaign committee has paid the company an additional $12,000. Apparently, FTI, which specializes in computer forensics and email recovery, was hired to help Rep. Feeney recover documents to provide to the Department of Justice.
Yeah right.
A couple weeks ago Feeney played the 'terrorist attack' card.
...he received a suspicious package at his home near Oviedo, but the package contained souvenir-type items sent by a constituent, said Ed Moffit of the U.S. Postal Inspection Service. Feeney had been warned to look for suspicious mail because of powder-filled envelopes sent to his congressional offices, said Pepper Pennington, his spokeswoman. Two envelopes opened at district offices contained flour. Because a third envelope received at his Titusville office was not opened, a lab will be able to fully analyze it, Moffit said
Five days ago he attacked Kosmas for accepting campaign contributions from the notorious Rep. Charles Rangel.