Have you ever heard of Jim Denevan?
Today on CBS Sunday Morning there was a segment on an American who is working on a positive change in how we look at food. Here is Martha Tischner's poetic intro;
Jim Denevan is a maker of moments. He is about the perfect wave caught, the gentle geometry of a diner table in an urban garden on a warm September evening or this colossal design drawn into the sand, soon to be washed away by the tide.

He is an artist whose art is the ephemeral, like the sound of his whistling, there and then gone. Once you know that about Jim Denevan all the rest makes sense. All the very different things he does.
His effort known as Outstanding in the Field is just so commendable, an American who has found a quirky and delicious way to make a difference.
Senses are heightened in the fresh air. And it's not every day you get to sit next to the person who planted the beans, raised the lamb, and shaped the cheese on your plate. - Jim Denevan, Founder
A New York Times magazine article Sand Blast captures the birth of Outstanding in the Field.
Denevan began his mission in 1999 after he orchestrated a series of farmers' dinners at Gabriella Cafe, a small restaurant in Santa Cruz, Calif., where he once worked as a chef.

''Farmers who were shy and generally didn't want to talk really loved it when people were listening to them,'' he said. ''They really opened up.''

Denevan figured they would be even more open on a farm, so he organized a dinner in his brother's apple orchard in the nearby Santa Cruz mountains. The following years he did a few more, and word spread among the Northern California food elite and supporters of sustainable farming. In 2003, when Alice Waters attended a dinner at Frog Hollow Farm on the Sacramento River Delta, intended to benefit her Chez Panisse Foundation, Denevan had the culinary equivalent of the Good Housekeeping Seal of Approval.

The timing was perfect. Across the country, farmers were replacing chefs as the new celebrities of the culinary scene, and farmers' markets were opening by the hundreds.

''I'm spaced out,'' Denevan said, ''but I also know why and when something becomes interesting to someone and it's time to hold out the fruit and say it's ripe.''
And now these farm feasts are presented across the nation bringing people closer to there food, sometimes sitting just a few feet from where the dinner was grown. People are educated to some of the advantages of locally grown food as this seems to be the only rule of these informal but expensive meals on location.
This man is actually a food activist and presents people with a better way to consume food. They tour the farms where local produce is grown and learn why that local food is more wholesome and safer to eat. They are presented with the faces of both farmers and livestock. They can hear from the farmers just what goes into growing and learn why the practical shipping of this high-quality food to their better markets and finer restaurants is better for the enviorment.
The success of these presentations seem to be because Jim Denevan is an artist and his art is even more fascinating than his mission to present outdoor meals in the perfect setting. His art is sculpted in the sands of beaches but only for a very short time. This KQED Arts Profile explains this art.
Jim Denevan performs drawings -- making temporary sculptures on the sandy beaches of Northern California. Using only a stick and a rake, Denevan's work is monumental in scale but as fleeting as any live performance...

It was Denevan's passion for surfing that led to his vision of the beach as a blank canvas. The shapes he fashions -- spirals and other simple geometrics -- are familiar, yet their scale and location are particular and proportions amazingly precise. The drawings exist for a few precious hours before they are erased by the incoming tides, and one has to view the drawings from 150 feet up or more in order to see them in their entirety.

Denevan considers process an integral part of his artwork and chooses his locations thoughtfully. In his mind, every step is a kind of temporary sculpture. Denevan then walks for miles, leading his chosen drawing stick in a dance performed to the music of the ocean and the spirit of the place. Denevan says, "My movement has a present. And then where I want to be, that's the future. ... Then the line has a past."
There doesn't seem to be a CBS Sunday Morning clip online yet but you can watch this nine minute video from KQED to get a better understanding of what this man does on the beach.
Here is a still photograph from The New York Times Magazine;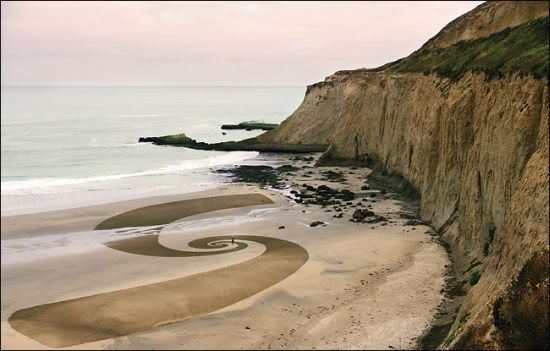 Jim Denevan's art may be his own but the story of Outstanding in the Field would not be complete without Katy Oursler who lends "form and focus to Deneven's airy musings" and is presented in Sand Blast as "Wendy to his Peter Pan."
That is the real beauty of this operation. They take their bus out on the road and operate on a shoe string to do something that is good. It sounds like a good old American Carnival but it not for profit. Katy Oursler has her work cut out for her.
Examining the books or the business plan or the nonprofit status of Outstanding in the Field is difficult because the organization essentially has none of those things. Although some dinners are so successful the group can donate money to local organizations that support open space or small-scale farming, the road events barely generate enough cash to get the crew to the next dinner. They barter seats at the table for services and supplies and pick up volunteers along the way with a simple pitch: ''We need you to do it for the farmers.''
Well at least that's the way it was back in 2005. Recently Outstanding in the Field got on a big old jet airliner and took their presentation to Florence, Italy. You have got to see the photo of that table.
If you would like to try getting a seat at Outstanding in the Field, here is their reservations page.
I know I want to give it a try when they come to Manhattan in September.
When I'm doing a drawing, I'm personifying the place that is empty. A place that is unmarked. - Jim Denevan