It has been clear for some time now that the corporate media is actively excluding John Edwards from its coverage of the 2008 race.
After Iowa, there was every reason for the corporate media to have started including John Edwards in its narrative. After all, even though Edwards had been third place since the summer, trailing Hillary by double-digits in several polls, he erased that gap completely, and he did so on a relative shoestring budget. As BruinKid has shown, Hillary and Obama each spent twice as much per vote as Edwards.
But instead of paying more intention to Edwards, since Iowa the corporate media is paying less attention. The corporate media blackout of John Edwards continues, and it's getting worse.
One way of measuring the corporate media's systematic exclusion of Edwards is to look at the frequency his name is mentioned during news broadcasts. CNN publishes a transcript of its programming, so I was able to run a quick analysis comparing how frequently they mentioned his name on caucus night to the day after caucus.
Here's the night of the caucus:
Here's the next day:
It's no surprise that Barack Obama got the most attention; he won the Iowa caucus, and as much as I wish he hadn't won it, I can't begrudge the fact that CNN told its viewers about it.
But there's no good reason for Edwards' coverage to fall the day AFTER the caucus. It should have gone UP not down; the news of Obama's victory had already been told, and Edwards' strong showing in Iowa should indicate a strong reservoir of support.
Even relative to Hillary, Edwards' coverage declined: on the day of the caucus, Edwards received 41% of the mentions of either Edwards or Hillary; they day after the caucus, he received just 36%, despite narrowly edging Hillary out, even though she'd led Edwards in nearly every poll for the preceding five months.
NBC News, er, General Electric News, provided perhaps the most shocking example of the corporate media blackout of John Edwards. They gave him just four seconds out of nearly nine minutes of political coverage last night, and said that Edwards had finished BEHIND Hillary.
Another way of looking at the corporate media blackout is analyzing the frequency with which Edwards is mentioned in multi-candidate headlines.
According to a search of the Google News archive, in 2007 Edwards was systematically excluded from coverage of the 2008 race, which the corporate media portrayed as a choice between Hillary Clinton and Barack Obama: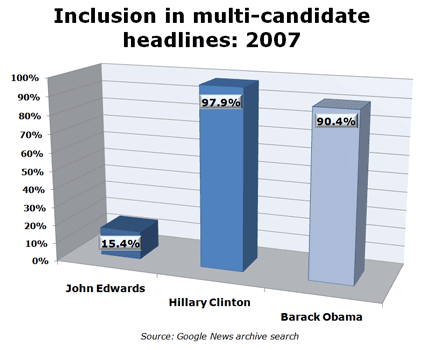 Amazingly, since Iowa, this exclusion has gotten WORSE.
As you can see, Obama's share of coverage increased relative to Hillary's, but Edwards fell relative to both of them.
The growing corporate media blackout of John Edwards is really a rather extraordinary development.
Edwards spent $2.7 million on TV ads in Iowa, compared to $8.3 million for Obama and $6.5 million for Hillary.
Edwards had 175 paid staffers in Iowa compared to 300 for Obama and 400 for Hillary.
Edwards had been in third place since August, trailing both Hillary and Obama in nearly every poll.
Obama's victory was clearly the "news of the day," but Edwards' surprise second-place showing should have put him back in the discussion, just like Bill Clinton's eight point loss in New Hampshire in 1992 sent him on his way to the White House.
Instead, the corporate media stepped up its campaign of exclusion.
Here's an example of Chris Matthews from caucus night. In this video he praises Hillary's campaign for plotting a brilliant comeback strategy, yet browbeats Edwards.
Here's a longer clip from last night's General Electric news, including a report from Andrea Mitchell aka Mrs. Alan Greenspan. NBC doesn't pull any punches: their systematic exclusion of John Edwards is extraordinary. Edwards was mentioned once in their entire broadcast, and in that one mention, they said that he had finished behind Hillary.
The choice in this election is clear.
We've got a field of three strong candidates. There are good reasons to vote for any of them.
If you think that corporate greed and corporate power are at the heart of America's problems, however, there's really only one choice: John Edwards.
It is John Edwards' voice that has been systematically excluded from the debate. It's been excluded by the propaganda arm of the corporate elites who stand to lose the most if his campaign is successful.
John Edwards isn't being excluded because people aren't interested in his message. The Iowa results prove that. He came in second despite being outspent and despite being shut out by the corporate media.
John Edwards is being excluded because he is talking about something that makes the corporate media truly uncomfortable: the growing concentration of power and wealth in the corporate elite.
We aren't powerless in the face of corporate power. We can start the peaceful revolution; we can start stripping the corporate giants of their authority.
We can donate, volunteer, and vote. We can tell our friends and family and neighbors about what is going.
We can tell them: you have a choice. You don't have to vote for who the corporate media chooses. You can vote for real change. You can vote to change the system.
It's in your hands. It's in our hands.