The Washington Post's Marc Fisher departs from the immediate Metro area today to share his conversation with Rep. Wayne Gilchrest, (MD-01) a Republican leaving Congress after losing a brutal primary battle. Gilchrest doesn't lament his primary loss – he directs his anger at the party, its leadership, and even voters who let themselves be deluded by candidates unworthy of their vote. He also has some interesting thoughts on the Presidential race:
He's had it with his own party, which he says "has become more narrow, more self-serving, more centered around 'I want, I want, I want.' " He's finished with his party's presidential candidate, John McCain, who Gilchrest says "recites memorized pieces of information in a narrow way, whereas Barack Obama is constantly evaluating information, using his judgment. One guy just recites what's in front of him, and the other has initiative and reason and prudence and wisdom."
More on the flip...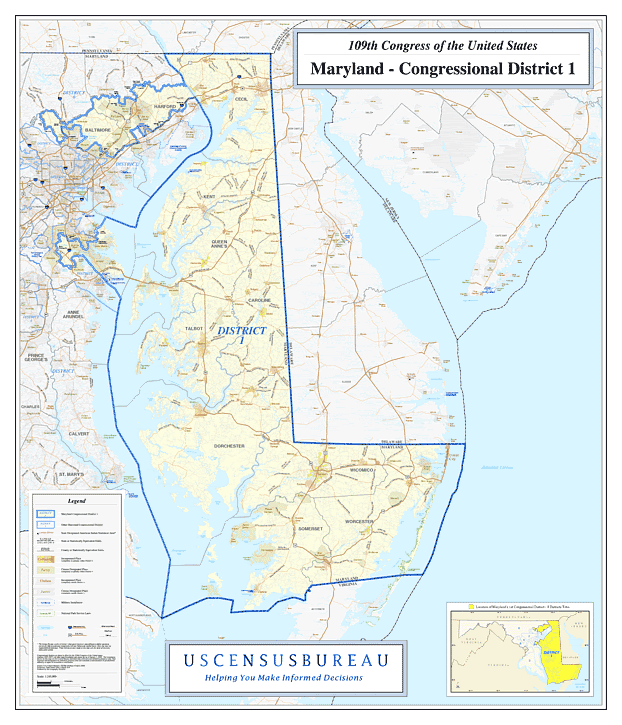 I live in Gilchrest's district – in fact, I was born and raised here, and only lived away from here for the 4 years I went to the University of Maryland. Rural doesn't BEGIN to describe most of this district. I grew up on a heavilty traveled residential street just outside of Salisbuyry's city limits, but there were chicken houses on the street 300 yards from my house. The local TV news still lists grain prices as it goes to commercials. I grew up knowing what prices Top Hogs were fetching on the market. High Tides and Low Tides are a staple of every weather forecast. We're talkin' rural with a capital RRRRRRR.
In fact, I was skeptical of Gilchrest at first because he's not from here – he's from (God forbid!) New Jersey, although he's taught in local schools for a while. The district's shape has been the victim of gerrymandering by Dems in the state legislature to ensure 6 of the 8 congressional districts. A laudable goal,I suppose, but one that leaves the district touching 12 of the 23 counties in the state and snaking around the Chesapeake Bay like a drunken reptile. Any every are it touches it a Republican enclave. That's not by accident.
Gilchrest has voted with Bush WAAAAY too often for my liking, but the Dems who've ran against him – Rep. Roy Dyson, Rep. Tom McMillen, and a number of unknowns who had no resume or true connection to the area – left me feeling comfortable voting to return Wayne to Washington 8 times. He's been influential in protecting the Chesapeake Bay, and until this primary season, refused to take any PAC money or any donations from out of state.
But Andy Harris changed that. He and his Club For Growth support and the support of some big medical industry fundraisers meant Harris could afford to campaign at a level that Gilchrest couldn't match. And while it will strike many as sour grapes, the following reflects Gilchrest's view of what has happened to the American electorate:
"We've become a country that sits down in front of the boob tube and listens to people shouting about freedom, but now people equate freedom not with the acquisition of knowledge but with comfort," Gilchrest says. " 'Give me my flat-screen TV, the gas-guzzling car, the goods made in China.' The whole concept of freedom has become the idea of comfort, with a complete lack of responsibility."
It's easy to assign this as the rantings of a defeated politician looking to blame others. But I've met Wayne. I interviewed him for the better part of a day when he first was elected. He truly thought he was fighting the good fight in DC. He was wrong to support President Bush's budgets and the war, at least at first. But he eventually saw the war for the mistake it was. And he never wavered in his push for responsible environmental protection.
Gilchrest sees the shifts in his party, and doesn't like them one bit. From the WaPo column...:
"I haven't stepped away from my party," Gilchrest says. "The party has stepped away from Eisenhower and Goldwater and Nixon and Ford and even Ronald Reagan. It's been driven away by this anti-government combination of Milton Friedman and Jerry Falwell."
That's the same reasoning Reagan used in leaving the Democratic Party after World War II, that he didn't leave the party, it left him. If the Republicans are driving away men like Gilchrest, they will be a minority party for a generation.
Oh, the Republican Party did leave him. and they're telling him that, too. From C. Fraser Smith's column, in The Baltimore Sun last week:
In a way, Mr. Gilchrest was punished by voters in the new First for the trait that made him seem such a perfect fit for the old, pre-redistricting Shore district.

"Wayne would rather be out in hiking boots checking on a bird sanctuary than attending a GOP dinner," said John W. Cole, Republican chairman of the Caroline County Board of Commissioners. "That did not serve him well."
So, let's just be clear - Republicans would rather their candidates spend ALL their time raising money than actually doing things normal people in their districts do. Hiking boots and bird santuaries may seem weird to a DC pol, but that makes perfect sense on the Shore. And that ethos trickles down from the party leadership to its local officials: "It's not about the voters, it's about us." The kicker to that quote? Cole has now endorsed Kratovil. That's how sick the local republicans are getting of having Harris jammed down their throats.
Gilchrest has given his enthusiastic endorsement to Democrat Frank Kratovil. He said he based the decision not on his loss, but on Frank's abilities:
Gilchrest said he made his decision to support Kratovil like he did all his votes in Congress, by thinking independently and probing the issues.

"I didn't make this decision out of bitterness," he said. "I made it based on Frank Kratovil's values and beliefs."
And it's not just Wayne who's running away from Harris. From April 2008:
The top campaign aide to Rep. Wayne T. Gilchrest, who was defeated in February's Republican primary for Maryland's 1st Congressional District, has joined the campaign of the Democratic nominee for the seat, Frank Kratovil.

Kratovil's camaign announced today that Lynn Caligiuri is coming on board as a finance director. She had served as campaign and finance director for Gilchrest since 1999.
Television ads for Democratic Congressional candidate Frank Kratovil now almost solely focus on Gilchrest's endorsement. It's that important. It's driven a race Republicans thought they were sure to win to a statistical tie, with almost a quarter of the electorate undecided.
"The poll conducted by Grove Insight and paid for by the DCCC shows Queen Anne's County State's Attorney Frank Kratovil (D-Stevensville) and state Sen. Andy Harris (R-Cockeysville) with 36 points each and 25 percent of those surveyed undecided."

"This poll shows that momentum is on Frank Kratovil's side," said Carrie James, a DCCC regional press secretary, in a statement. "This moderate district is looking for an independent voice and Andy Harris' extreme record of supporting more tax cuts for the wealthiest few while middle class families struggle is simply out of touch."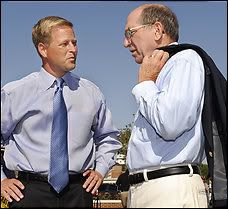 I see Wayne Gilchrest as the canary in the coal mine of the Republican party. If they lose him and replace him with the like of CfG troll Andy Harris, that party has truly lost whatever soul it ever had. Now is the time for More Democrats, Better Democrats. We have the chance of a generation this election.
This won't be an easy race. Club For Growth just announced its money drop for Andy harris, urging members to drop the federal limit of $2,300 on Andy Harris to continue lies about Frank. The Salisbury TV stations are filled with ads for both sides during local news and on the morning shows. We've got to make sure this Club For Growth, anti-regulation, pro-unrestrained development Republican NEVER steps foot in the capitol building.
Frank's swinging back, as well. He's called out Harris for his CfG ties before, but never more powerfully than at Tuesday's only candidate debate held in Salisbury:
"Andy Harris and his Club for Growth puppeteers on Wall Street are now looking to profit off of a crisis that they helped to create," said the Queen Anne's County state's Attorney. "Over the past eight years, the lack of oversight of private financial institutions has led to a housing crisis, a declining job market, a devalued dollar, higher gas prices, and an uncertain future for millions of American's who now doubt their retirement security."
Look, it's going to be an uphill battle. MD-01 went for Bush both times. My county's one of the most Democratic in the district, and it went for Bush in '04. But Frank Kratovil is showing progressive ideas work, and will be supported. Let's do what we can to get a Better Dem elected. Frank Kratovil's Red to Blue page is here.